David Lynch & the darkness next door
Tuesday Jan 7, 2020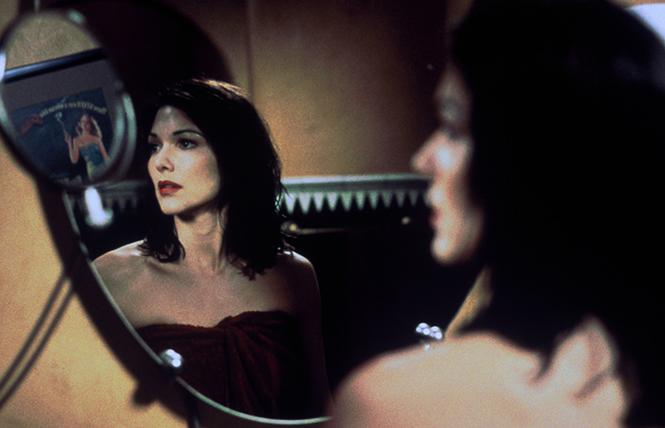 "There are, in movies, few places creepier to spend time than in David Lynch's head," Manohla Dargis wrote in The New York Times. "It is a head where the wild things grow, twisting like vines and taking us into their captive embrace." Lynch has also been called a pornographic fabulist whose powerful, dense imagery imprinted itself on the American subconscious and never let go. One of cinema's great visual stylists, the former fine art student and Eagle Scout from Montana has been mixing a singular brew of expressionism, surrealism, the macabre and emotional longing, and sharing his nightmarish fever dreams with audiences for over 40 years. The artist behind the "Twin Peaks" TV series and the heavy sensuality of the deliriously bizarre, operatic, ultimately toxic Hollywood fantasy "Mulholland Drive" gets a well-deserved if incomplete retrospective at BAMPFA. "Next Door to Darkness: The Films of David Lynch" includes flawed masterpieces such as "Blue Velvet," dominated by Isabella Rossellini as we had never seen her; "The Elephant Man," with a top-notch John Hurt as John Merrick, a disfigured Victorian carnival side-show attraction who finds salvation and a measure of dignity; "Lost Highway" and the "The Straight Story," where the late Richard Farnsworth, with his weathered face and kindly, ancient eyes, starred as an elderly farmer who drives across the Midwest on his lawnmower to visit his dying brother. Lynch has described this uncharacteristically folksy adventure as his most experimental film, explaining in his inimitable way that "tenderness can be just as abstract as insanity."

Many had their first encounter with Lynchworld in his queasy 1977 directorial debut "Eraserhead," a demented cult classic, shot in black-and-white, about a naïf with a pregnant girlfriend who spawns a grossly deformed offspring; those easily grossed out need not apply. Unfolding in an alienating urban landscape, this exercise in body horror, with its repulsive fluids, fixation on sex, not-quite-dead dinner entrees and birth revulsion, incited and polarized audiences. "When 'Eraserhead' was making the rounds in the 70s, I took a first date to the Roxie to see it," recalls BAMPFA's former media curator, Steve Seid. "Halfway through the film, she turned to me and said in an unconsciously loud voice, 'I don't think I like this anymore.' The audience chuckled. And our relationship was doomed." Lynch's cautionary tales, he says, "present an empathic derangement where what we rely on, a predictable reality, is thoroughly shaken. Behind the radiator, beneath the severed ear, beside the bottle of Pabst Blue Ribbon dwell disturbing desires that threaten our comforting innocence."

The severed ear Seid refers to was a ghoulish clue that surfaced in "Blue Velvet," a kinky, noirish descent into depravity. Lynch orchestrates an atmosphere of danger and dread in a lurid tale that unfolds in a Norman Rockwell town stuck in the 1950s. He assembled a terrific cast of odd characters: the pure-hearted, true-blue blonde (Laura Dern); a masochistic torch singer and seductress, played by Rossellini, who nearly runs away with the movie; Dennis Hopper as a coked-up, sadistic hoodlum who uses his abduction of Rossellini's husband and son to coerce her sexually; and the clean-cut college kid (Kyle McLachlan) who stumbles upon the aforementioned ear.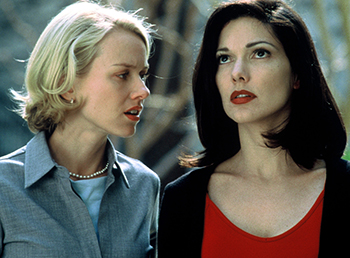 Berkeley author and screenwriter Barry Gifford, who worked on two films with Lynch, whom he met in 1989, will introduce the Feb. 14 screening of "Wild at Heart," which takes its inspiration and 80% of its dialogue from one of Gifford's six "Sailor and Lula" novels; and "Lost Highway," which they co-wrote and hoped would be made in black & white. (It wasn't.) Set in motion by a jazz musician's murder of his wife, "Lost Highway" trots out morphing identities and look-a-likes, by now familiar Lynchian tropes, plus a seedy porn underworld and an enigmatic figure notoriously portrayed by Robert Blake in white Kabuki makeup. "With 'Lost Highway' we went the farthest, took the most chances, and got slapped for it in some quarters," Gifford ruefully observed in a conversation we had several years ago. "Now there are books and college courses about it. People got confused that the main character became someone else. Have they never read Kafka?" It's worth catching these screenings to hear Gifford, an articulate raconteur with a colorful, picaresque past and pithy insights into Lynch and writing for the screen.

"If 'Blue Velvet' acted as the blueprint for Lynch's films, then 'Mulholland Drive' is his career's thesis statement," wrote Christopher Runyon in Movie Mezzanine. "All of his thematic obsessions and visual motifs coalesce in this one film. The dualities between dreams and reality, blondes and brunettes, day-worlds and underworlds, American iconography and American Dreams, come full-circle." Illusion and the inevitable disillusionment that follows play out here in an intricately plotted, non-linear narrative with doppelgangers and a psychological murder mystery that owe a debt to noir and Hitchcock.

I saw "Mulholland Drive" when it was released in 2001, and it hit me hard. Few films have so potently conveyed the weight of erotic desire, the intoxicating, euphoric intensity it induces. A pair of lovers: an amnesiac with a sordid past played by the sumptuous Laura Harring, and Naomi Watts, an initially perky, aspiring ingénue newly arrived in Tinseltown, are under its woozy, judgment-impairing spell. A late-night tryst culminates in the wee hours in a set-piece at the Club Silencio, a hallucinatory, out-of-the-way nightspot on a deserted, debris-strewn street in downtown LA. An a cappella singer (Rebekah Del Rio) takes the stage, belting out an emotionally rending, Spanish version of Roy Orbison's "Crying," a performance that brings the chanteuse and the women to their knees. Some 20 years after seeing it, the devastating sensation lingers. Was it real? It hardly matters. To enter a theater and watch a Lynch movie is to surrender to a dream.

Jan. 10-Feb. 29; check www.bampfa.org for program and ticket info.
Comments on Facebook