Best films of 2019
Tuesday Dec 17, 2019
Week 1 of our annual Top Films salute is full of spectacular work drawn mostly from pre-Turkey Day releases. Among the highlights, not one but two full-length features devoted to the late Judy Garland. Here are a dozen entertaining films with, in some cases, quite useful journalism.

"Gay Chorus Deep South" The #1 feel-good LGBTQ movie of the year has both choral-music-lovers and queer liberation advocates traveling to the heart of Trump country to show how a half-century of tough post-Stonewall history has made us both fighters and lovers. Thank you, director David Charles Rodrigues!

"Sid & Judy" Director Stephen Kijak's bio-doc revisits the half-century since the death of the extravagantly talented and tragically short-lived singer/film star Judy Garland. Her career spanned four decades: "The Wizard of Oz," her early-40s comedies with fellow kid star Mickey Rooney, a series of MGM musicals, and brilliant late-career performances in "Judgment at Nuremberg" and CBS-TV's "The Judy Garland Show." Revealing and poignant, rich with film clips and rare concert footage, her story is told through the memoirs of the man who, for a tumultuous decade, was her confidant, producer, and husband, Sid Luft.

"Judy" The fourth feature from British director Rupert Goold has Renée Zellweger and a great supporting cast (Jessie Buckley, Finn Wittrock, Rufus Sewell, Michael Gambon) taking on the last year of Garland's life as she lands in London to headline a five-week sold-out run at The Talk of the Town. While 12-year-old Judy may have been abused by handlers, hangers-on and studio executives, that was nothing compared to the battering the 40something diva receives from management, musicians, friends and adoring fans. While charming the hell out of everyone onstage and backstage, she sets out on a whirlwind courtship with her soon-to-be fifth husband, Mickey Deans. As she belts out some of Garland's best-loved songs, Zellweger demonstrates her thorough grasp of the qualities that allowed Judy to be not only one of the great entertainers, but also an icon to millions of gay men.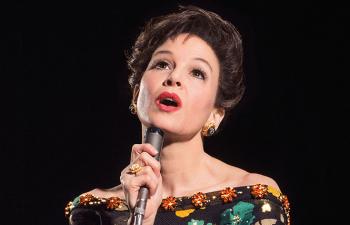 "The Irishman" chronicles one of the greatest unsolved mysteries in American history, the disappearance of charismatic union boss James Riddle Hoffa. Al Pacino sizzles as Hoffa in his first appearance for director Martin Scorsese, who offers a trip through the hidden corridors of organized crime: its inner workings, rivalries, and ties to mainstream politics. At 210 minutes, this may be Scorsese's final cinematic statement on the Mob, a vision stripped of sentimentality or any effort to find nobility in a field of scumbags.

"Bombshell" This prickly docudrama showcases the sudden fall from grace of Fox News founder Roger Ailes, undone when a series of female Fox employees accuse him of sexual misconduct. The film details the coldblooded way the Murdoch family unceremoniously kicks Ailes out of his corporate nest when the #MeToo movement threatens their multi-billion-dollar cable empire.

"Sorry Angel" This younger gay hustler/older writer romance kicks off in a Paris cafe, circa 1993, where a single-parent writer, Jacques (Pierre Deladonchamps), meets Arthur (Vincent Lacoste), a 20something wannabe filmmaker. The film is the latest work from French writer-director Christophe Honore, who has a nice approach to the themes of loss, youthful flings and aging. In French with English subtitles.

"Parasite" This is a merciless and witty class satire in which an impoverished family begins to leech the resources of a much wealthier one. Director Bong Joon-ho is the first South Korean winner of the Palme d'Or at Cannes.

"Marriage Story" In Noah Baumbach's film, a divorcing couple (Adam Driver & Scarlett Johansson) turn their domestic civil war bicoastal, fighting their case from New York to California and back. Driver is compelling as a man who experiences the breakup as an emotional and physical gut-punch.

"The Aeronauts" In this wild adventure over the skies of 1862 Victorian England, actors Eddie Redmayne and Felicity Jones swap gender roles as a male/female team exploring the practical uses of an enormous helium balloon.

"Where's My Roy Cohn?" The late Roy Cohn stood for the dark arts of American politics, producing dangerous demagogues. He went from sidekick of 1950s anti-communist bully Sen. Joseph McCarthy to his final role as a "Trump whisperer."

In "The Ground Beneath My Feet," shown at this year's Frameline fest, Valerie Pachner as Lola is at one moment the ruthless costcutter, the next the acrobatic lover with her equally blonde boss, and still later the anxious sibling. This is sophisticated queer filmmaking whose concerns stretch beyond the ghetto and the boardroom. The ending is both shockingly brutal and brutally surprising. In German & English with English subtitles.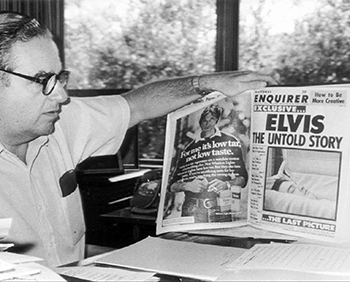 "Scandalous" In his detailed, bitterly funny new doc, director Mark Landsman provides an incisive history of the supermarket tabloid The National Enquirer. Publisher Generoso Pope, Jr. discovered that bloody front pages did not go over well at checkout counters, so he tweaked the content to favor the bizarre. "LSD Made Me a Prostitute" was a fairly typical headline. There is a hilarious account of how the paper acquired one of its most notorious scoops, a picture of dead Elvis Presley in his open coffin, as well as discussion of one of the tabloid press' darkest deeds, the pursuit of the late UK Princess Diana leading to her death in a Paris auto tunnel crash.

By the Reagan 80s the Enquirer had moved to muckraking the sexual transgressions of former Colorado Senator Gary Hart and William Jefferson Clinton. Then the doc jumps to the present day and charges that the paper helps Trump keep his own unruly private life out of more serious publications by the scandal-sheet practice of "catch and kill" journalism: women with stories about the president's behavior were paid for their tales by the Enquirer, which does not print them, but does bar the subjects from taking them elsewhere through legally binding non-disclosure agreements.
Comments on Facebook