Rocky road to 'Honey Boy'
Tuesday Nov 19, 2019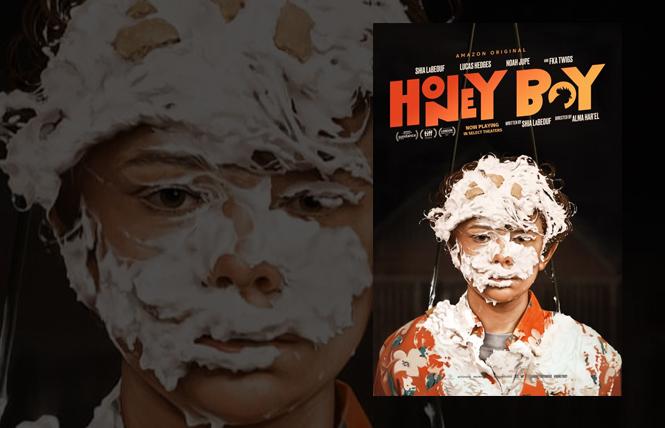 It seems like a lifetime ago that I chatted with a young rising star with the improbable but memorable name Shia LaBeouf. Back in the infancy of the new century, LaBeouf was working his way up the Disney Studio food chain. Having graduated from the Disney Channel's "Even Stevens Show," he had just starred in the Bill Paxton-directed Disney golf movie "The Greatest Game Ever Played," detailing a 1913 competition when a teenage golfer beat out adult champs in a world-class match. Sensing that this gay feature-writer might enjoy a "homo hook" for the "Greatest Game" piece, LaBeouf informed me that he had a lesbian aunt.

Flash-forward 18 years, and the now-30something actor is more than just a household name. With 58 credits on the Internet Movie Database (IMDB), LaBeouf has his own big-bucks franchise series ("Transformers") and works with industry giants like Robert Redford ("The Company You Keep") and Oliver Stone ("Wall Street: Money Never Sleeps"). In "Honey Boy" (now in theaters), LaBeouf's screenplay provides a compelling fictionalized account of his rollercoaster life to date. The film traces a young actor's rocky childhood and early adult years as he attempts to come to terms with a rodeo-clown dad and his own substance-abuse demons. In the LaBeouf tradition, "Honey Boy" director Alma Har'el raised some hell at this year's Sundance Award ceremonies.

"I'm really proud to be here in a year where 44% of the directors are women," she said. "The hustle is real. We're here, we're ready. Stop sending us to shadow fucking white men!" Her chip-on-her-shoulder approach contributes to the tension in 12-year Otis' attempt to move on past his loutish dad. The film's main plot, aspiring kid actor Otis (Noah Jupe) duking it out with blowhard dad (LaBeouf, hair thinned, hardass demeanor), overshadows the subplot, where 22-year-old Otis (Lucas Hedges) finds himself in young-adult rehab. LaBeouf is effective as the raging Cajun dad, whose company could easily inspire a kid to run away to join the circus. Hedges is fine, but his part of the film is upstaged by the 12-year-old's trying to survive the abusive father. The Hedges subplot would probably work best as a third-act coda.

There's a moment late in the film that best captures LaBeouf's take on childhood's end, a scene where Dad complains about being given handouts from his son's burgeoning acting earnings.

James: "How do you think it feels to have my son paying me? How do you think that feels?"

Otis (sadly): "You wouldn't be here if I didn't pay you."
Comments on Facebook