San Francisco Dance Film Festival captures bodies in motion
Friday Nov 1, 2019
For over 100 years, audiences have been captivated by the intersection of dance and film. 19th-century cinematic innovators such as the Lumière brothers and Eadweard Muybridge captured the beauty of the human body in motion, producing groundbreaking films that laid the foundation for Busby Berkeley, Gene Kelly and Fred Astaire. In the 1950s, Arthur Murray and Dick Clark brought the dance floor into our living rooms, and in the 70s, PBS brought ballet and contemporary dance to American audiences through live-captured performances and documentaries. In recent years, the explosion of televised competition shows like "So You Think You Can Dance" and "World of Dance" has introduced yet another generation to a dizzying array of dance artists and styles.

All of this is to say: the dance film genre is more popular, diverse and dazzling than ever, and the 10th annual San Francisco Dance Film Festival reflects that. According to festival founder and director of programming Greta Schoenberg, this year the festival received 370 submissions, which she and her team narrowed down to 124 films from 25 countries, to be shown in five venues around San Francisco, Nov. 2-10.

Reflecting on the astounding growth of the festival, Schoenberg said, "The festival has changed and grown because the world of dance film has changed. Online video and social media have had a tremendous impact. When I first started working in dance film, we had to describe what we were doing by words and maybe a photo. Now we can post a one-minute video preview, and before you know it, people around the world are watching and sharing it. It's really working for us."

A Northern California native, Schoenberg danced with Norwegian National Ballet and in Copenhagen, Amsterdam and San Francisco before turning her attention to dance film in the mid-2000s. At the time, she felt that Bay Area dancers were somewhat isolated and not being represented in the dance-film genre. She launched the festival to provide opportunities for West Coast dancers and filmmakers, a vision she sees becoming a reality today.

"This is my community, and I want to continually promote our artists and bring us together," she said. "Yes, we do show live-captures of amazing international dance companies that you wouldn't have the opportunity to see in San Francisco. But that's not the majority of our films. There's been huge growth in short dance films by Bay Area artists, more diverse types of dance, and more local dancers making and appearing in films. I love our closing night: we've got people from the voguing community, ethnic dancers, San Francisco Ballet dancers, contemporary dancers, filmmakers and choreographers. It's my greatest joy, seeing the dance community come together in the same place."

Some highlights of this year's festival:

Sat., Nov. 2: The North American premiere of "Queen + Bejart: Ballet for Life" brings together the music of Queen, fashion by Versace and choreography by Maurice Béjart. If you're not familiar with Béjart, look up a video of his masterful take on Ravel's "Bolero," which will get you excited to check out the festival's opening-night feature at Lucasfilm Premier Theater in the Presidio.

Sun., Nov. 3: Akram Khan's "Giselle" performed by English National Ballet. The New York Times called this, Khan's first full-length ballet, "beautiful and intelligent, probably — and improbably — the best work Mr. Khan has created."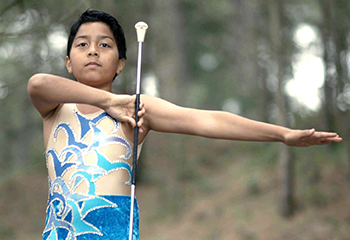 Thurs., Nov. 7: "Brava Theater Kick-Off" is an evening of short films by international and local choreographers, including Hofesh Shechter's "Clowns," a macabre dance-comedy of murder and desire; films by Smuin Contemporary Ballet's Ben Needham-Wood and SF Ballet's Myles Thatcher; and a live performance by artists from Post:Ballet.

Sat., Nov. 9: "Finding Me" is an evening of documentary short films focusing on unique individuals finding their identity through dance. "The King of Twirl" features Janero, an 11-year-old boy with a passion for baton-twirling. He is the only boy of his age in Northern Netherlands who competes in the sport, but he is determined to prove that baton-twirling is not just for girls. "Dance, Dance, Evolution" explores transgender people's relationship to dance, and how dance can highlight the internal experience of gendered embodiment.

Sat., Nov. 9: "Lil Buck: Real Swan" is a documentary about the revolutionary artist Lil Buck, who specializes in street-style dance called "jookin." Raised in a poor neighborhood in Memphis, Charles "Lil Buck" Riley skyrocketed to fame after Spike Jonze used his cell phone to capture Lil Buck's interpretation of "The Dying Swan." Riley's collaborators include Madonna, Yo-Yo Ma and the artists of Cirque du Soleil. Lil Buck will be on hand to receive the festival's first Embodiment Award for Artistic Excellence and Influence.

SF Dance Film Festival, Nov. 2-10, various venues. Tickets/info: www.sfdancefilmfest.org
Comments on Facebook