Giraffe whisperer studies in the wild
Tuesday Oct 1, 2019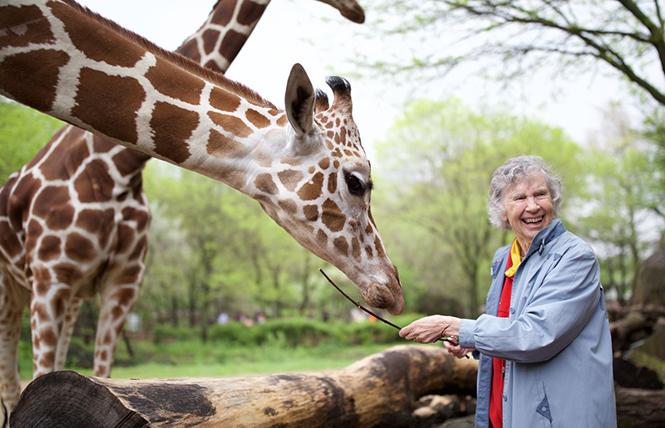 With "The Woman Who Loves Giraffes," openly lesbian filmmaker Alison Reid creates a uniquely captivating hybrid of a movie: the story of a bright-eyed and curious young woman, 23-year-old Canadian scientist Anne Innis Dagg, who as a child visiting the Chicago Zoo fell deeply in love with the tallest mammal on earth.
Armed with a degree in biology, Dagg put on hold marriage to a sensitive young man who promised he'd be waiting with a ring as his bride-to-be traveled to the wildest region of racially segregated South Africa to photograph a beautiful animal whose very existence was threatened by both trophy-hunters and desperate tribes facing a critical food shortage. Driving a tiny car that is practically another character, Dagg used a 16mm Bolex camera to record a moment in time, perhaps the last moment before some of South Africa's great animal treasures would succumb to the lightning-like spread of Western technology.
My conversation with Dr. Dagg and filmmaker Reid began with a discussion of the challenges that faced her in a country whose people were diabolically divided by the racist apartheid system while great mammals were being pushed towards extinction. Reid also described how she worked with editors Mike Munn and Caroline Christie, who together and separately have shaped some of Canada's most important nonfiction features.
Alison Reid: When Anne [Dr. Dagg] went to South Africa in 1956, she studied at a cattle and citrus ranch known as Fleur de Lys, where about 200 giraffes roamed freely. She used the camera to capture giraffes doing behaviors like necking and fighting. [David Lamble: "Boxing! You show one male delivering an uppercut to a rival!"] As time went on, the ranch owner started doing everything he could to help the young prodigy write the definitive textbook on giraffes in the wild.
David Lamble: What's so remarkable is your splicing together this footage shot in the early 1950s with film shot many years later when Anne Dagg returned to a South Africa liberated from racial segregation but now facing terrible pressures on its stock of endangered species.
Reid: We also have letters Anne wrote to her fiancé and to her mother. They're just poetic, beautiful letters, read by voiceover actors, including Victor Garber.
Returning to Canada with her treasure trove of research and film, Anne Dagg married her patient sweetheart, only to discover that the powers-that-were-then, a reactionary old-boy network, had no intention of either hiring or publishing a married woman who threatened their power over academic tenure, and thus control over how their field would evolve. Dagg retreated into married life — two boys, one girl, who is seen on screen assisting her mom.
Among the many quirky findings Dr. Dagg produced in her pioneering text on giraffes in the wild was this observation: "At one point a male mounted another male. I was really shocked, but I was interested, and I wasn't interfering with the results." As a kind of Dr. Kinsey in the study of giraffes, Dr. Dagg observed how males sometimes sampled the urine of females before choosing them as reproductive partners.
Dr. Dagg's story has a long-delayed happy ending. As a new generation of students learned from her textbook, they sought her out while they revolutionized the field. Eventually she was hailed as a pioneer and allowed to revise her textbook. Now in her mid-80s, Dr. Dagg is working with students young enough to be her grandkids and with representatives of the Kenyan government to try to prevent some types of giraffes from going extinct.
"The Woman Who Loves Giraffes" opens Friday at the Roxie Theater, and has already climbed onto my list of Top Films of 2019.
Dr. Anne Innis Dagg with a long-necked friend in director Alison Reid's "The Woman Who Loves Giraffes." Photo: Zeitgeist Films
Comments on Facebook