Frameline 43 previews
Tuesday May 28, 2019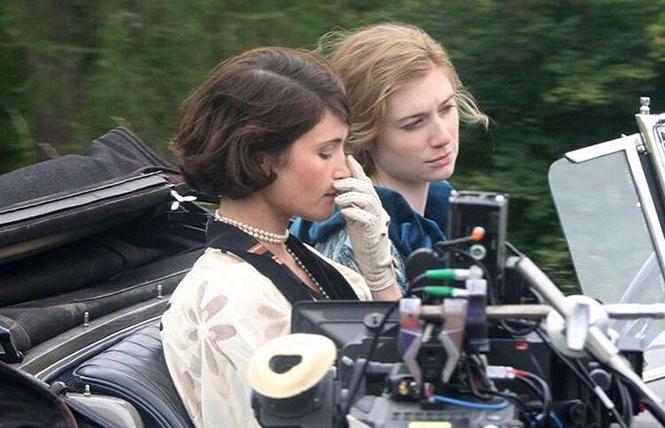 Before you know it, LGBT Pride will be upon us in the form of the 43rd Frameline film festival, June 20-30. Here's a preview of some highlights from this legendary queer film showcase.
"Vita & Virginia" Director Chanya Button gets star turns by Elizabeth Debicki as Virginia Woolf and Gemma Arterton as Vita Sackville-West, combining to bring to life one of the great lesbian love affairs of the 20th century.
"Gay Chorus Deep South" Director David Charles Rodrigues tells the story of a Southern tour by the San Francisco Gay Men's Chorus, set against the reemergence of anti-LGBTQ laws and hate crimes.
"Sid & Judy" Director Stephen Kijak's world premiere bio-doc commemorates a half-century since the death of the tragically short-lived entertainer Judy Garland, whose perseverance and charisma have made her a gay icon for generations.
"Before You Know It" Director Hannah Pearl Utt introduces the eccentric Gurner family home, perched atop their business, a community theater in downtown Manhattan. Type A lesbian Rachel's duties as manager of their professional and private lives have prevented her from having her own life.
"Temblores (Tremors)" Jayro Bustamante focuses on sophisticated Pablo as he discloses he's leaving his wife and kids to live with his male lover. Set in an evangelical slice of Guatemala.
"A Luv Tale: The Series" Director Kim Oyegun's episodic (with writer Sidra Smith) provides a modern remake of the classic 90s film "Love Jones." The Harlem-set story follows four beautiful queer women of color as they navigate their friendships, love lives, and artistic careers.
"Bit" Director Brad Michael Elmore's American premiere is a summer vacation in LA that quickly turns into a fight to survive for Laurel (Nicole Maines), a transgender teenage girl who falls in with a quartet of queer feminist vampires. Unsure if they want to kill her, eat her, or recruit her, Laurel tags along with the bloodsucking clique as they rid the streets of predatory men.
"End of the Century" Director Lucio Castro's sexy, funny, moving feature debut. Set in picturesque Barcelona, the film explores the relationship between lovers Ocho and Javi over many decades and different realities.
"Kinky Boots: The Musical" Directors Jerry Mitchell & Brett Sullivan present the world premiere screening of the Tony and Olivier Award-winning musical, in a HD-cinema, live-captured performance from London's Adelphi Theatre. Book by Harvey Fierstein and original songs by Cyndi Lauper, starring West End sensations Killian Donnelly as shoemaker scion Charlie and Matt Henry as Lola, the feisty drag queen who tries to save the factory with her fetish creations.
"Trixie Mattel: Moving Parts" Director Nick Zeig-Owens offers a behind-the-scenes exposé of "RuPaul's Drag Race" star and country music songstress Trixie Mattel, a glimpse into the backstage drama of a drag superstar.
"You Don't Nomi" Jeffrey McHale spotlights local icon Peaches Christ in an enlightening reassessment of the once-celebrated Hollywood disaster that has risen again, Paul Verhoeven's "Showgirls." Is it a misunderstood masterwork, misogynist trash, unintentional camp, or all three?
"Kattumaram" Director Swarnavel Eswaran takes us to a small tsunami-ravaged Indian village where a fisherman cares for his orphaned schoolteacher niece, Anandhi, who refuses to be married off. When her friendship with a fellow female teacher blossoms, people begin to suspect why.
"Changing the Game" Michael Barnett's doc examines the fight of trans athletes to compete.
"Clementine" Lara Jean Gallagher's lesbian love melodrama finds a blonde and brunette doing each other's hair in the rural lakeside cabin of an ex-lover.
"History Lessons" Mexican director Marcelino Islas Hernandez provides female teacher/pupil fireworks in this love tryst, in Spanish with English subtitles.
"Straight Up" James Sweeney presents the story of a relationship between a (possibly closeted) man, Todd, and a straight-identified woman, Rory.
"Stray Dolls" Director Sonejuhi Sinha tracks the adventures of Riz (Geetanjali Thapa), a young Indian immigrant whose life in a lowdown motel is enlivened by teaming up with Dallas (Olivia DeJonge), a Dolly Parton-quoting Texan.
"This Close: Season 2" Directors Stephen Cone & Jordan Firstman explore the world of deaf queer people. The first three episodes of the Sundance Channel series' 2nd season.
www.frameline.org
Comments on Facebook