Film festival season is upon us
Friday Mar 29, 2019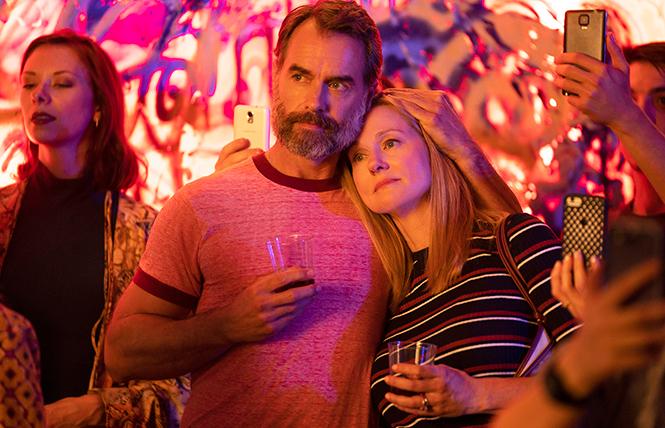 Springtime is in the air, and for Out There that means big-time film festivals are on the horizon. Last week SFFILM offered its press conference for the 2019 San Francisco International Film Festival, coming up April 10-23; and Frameline leaked some photos from the filming of its San Francisco LGBTQ Film Festival, transpiring June 20-30.

Let's take the 62nd SFFILM Festival first. Opening night will present the very first episode of the new Netflix original series "Armistead Maupin's Tales of the City," in which Mary Ann (Laura Linney) returns to present-day San Francisco and the turf of her old friend Anna Madrigal (Olympia Dukakis) and other denizens of 28 Barbary Lane.

Maupin will be in the house for the premiere of course, as will Linney, who gets her own tribute night at the festival, complete with a screening of one of her best films, "The Savages" (director Tamara Jenkins' 2007 gem, with the late great Philip Seymour Hoffman). Other tribute nights will celebrate filmmaker Claire Denis ("High Life"), actress Laura Dern ("Trial by Fire"), actor John C. Reilly ("The Sisters Brothers") and documentarian Madeline Anderson, this year's recipient of the Golden Gate Persistence of Vision Award.

Other SFFILM highlights include "Unsettled: Seeking Refuge in America," Tom Shepard's profile of gay and lesbian refugees from Syria, Congo and Angola who come to San Francisco to save their lives. "Bloodroot" introduces us to Noel and Selma, a lesbian couple of a certain age who run a vegetarian collective restaurant and bookstore in Connecticut. We'll also get documentaries about such American icons as Toni Morrison, Miles Davis, Dr. Ruth, Molly Ivins¸ Alexandria Ocasio-Cortez aka AOC ("Knock Down the House"), and 1970s fashion queen/coke victim Halston. San Francisco gallerist Cheryl Haines gives us international artist Ai Weiwei. Werner Herzog interviews Mikhail Gorbachev: a meeting of great minds.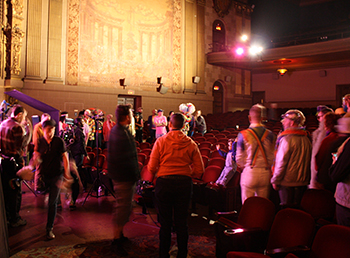 There's much more to come. As SFFILM executive director Noah Cowan observed at the presser, "Initiatives to encourage women and people-of-color filmmakers have borne fruit." Boots Riley ("Sorry To Bother You") will deliver the State of Cinema Address. "Grass Is Greener" tells the history of cannabis in America (on 4/20!) as told by director Fab 5 Freddy. Closing night will bring Gavin Hood's "Official Secrets," based on the true story of a British whistleblower calling out the misuse of power in the run-up to the Iraq war, then charged with treason. Tickets are already on sale, info at www.sffilm.org.

Last Tuesday a film crew set up shop in the Castro Theatre. They were there to film the trailer for Frameline 43, the San Francisco International LGBTQ+ Film Festival. No word has yet leaked on the theme or title of the trailer, but we do know it's being directed by Jennifer Kroot ("The Untold Tales of Armistead Maupin," "To Be Takei," "It Came from Kuchar"), and will feature over 70 local performers, activists, community figures, and extras. We can only imagine what it took to herd those cats. The Festival takes place June 20-30, 2019.

Red alert

Out There was proud to represent the Bay Area Reporter as the American Red Cross of the Bay Area presented the annual Red Cross Gala in the glamorous rotunda of San Francisco's historic City Hall last Saturday night. This year marked the 25th anniversary of the volunteer-led fundraiser, dedicated to recognizing local heroes and supporting the Red Cross mission to prevent and alleviate human suffering in the face of emergencies by mobilizing the power of volunteers and the generosity of donors. The red-tie event featured a cocktail reception, three-course dinner by renowned Paula LeDuc catering, live auction, entertainment and an afterparty. Proceeds will support the programs and services of the Bay Area chapter of the American Red Cross, which happens to be the B.A.R.'s next-door neighbor on Gough St.

Talk about a good cause. Thanks to Gala Co-Chairs Lindsey Haswell and Meredith Kendall Maines and the ARC for making sure we were part of the compassionate scene.
Comments on Facebook