Operatic Bette Davis in new 4K format
Tuesday Mar 17, 2020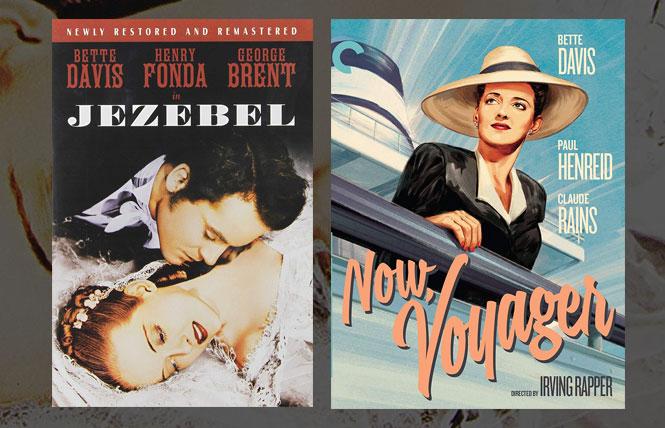 Critic Cecelia Ager wrote about "Deception," a 1946 Bette Davis film, "It's like grand opera, only the people are thinner. I wouldn't have missed it for the world." That witty, perceptive comment applies to many of the Davis vehicles assembled for her by Warners during her peak period (1937-44). She battled the studio for better material, yet was often at her best in improbable melodramas, where her nervy conviction demanded admiration. Two of her biggest successes are now available for home viewing in the new 4K format, which restores the original rich black-and-white cinematography that had diminished over the decades.
William Wyler's "Jezebel" (1938) in set in antebellum New Orleans. Davis is Julie Marsden, a "headstrong" Southern belle. She's in love with Preston Dillard (Henry Fonda), a conventional, prosperous banker. On a whim, Julie decides to wear a red dress to a gala ball at which unmarried women traditionally appear in white. Her Aunt Belle (Fay Bainter) is appalled. Pres warns her not to do it. Julie suggests he is too cowardly to escort her, a challenge he naturally accepts.
At the ball, Pres insists they dance. Scandalized, all the other couples leave the floor. The orchestra stops playing, but Pres demands they resume. Julie, chagrined, begs him to take her home. He refuses. He forces her to continue dancing. When he does bring her home, they quarrel. She goes to her room, certain he will return the next day. But he doesn't. He goes up north on business.
He comes back as New Orleans is enduring a dreadful yellow fever outbreak. Julie, Aunt Belle, and their household have moved to their country house. They hold a reception to welcome Pres home. A humble Julie, dressed in white, kneels before him, begging forgiveness. He's embarrassed. To her utter dismay, he has brought his Yankee bride, Amy (Margaret Lindsay), with him. Julie, though gracious, is determined that he will divorce Amy and marry her.
But when Pres is stricken with the fever, he, like all its other victims, is taken to an island where lepers are also quarantined. Julie believes only she can save him. But she's not his wife. Will Amy let her take charge of her husband's life?
Under Wyler's firm guidance, Davis acts with an intensity, an utter belief in the story, that is gripping. She commands the screen, daring the audience to doubt she is beautiful. Her performance earned a second Best Actress Oscar. Bainter won for Best Supporting Actress. Fonda is excellent. With George Brent, John Cromwell (a gay actor who was Angela Lansbury's first husband) and Donald Crisp. Davis hurled herself into the Scarlett O'Hara casting sweepstakes, believing she was perfect for "Gone With the Wind." Producer David Selznick knew better, but Davis went to her grave insisting that she would have been brilliant in the part.
Clement Ripley, Abern Finkel, and John Huston adapted Owen Davis's play, which had failed on Broadway despite starring Tallulah Bankhead. Superb cinematography by Ernest Haller. Orry-Kelly (once Cary Grant's lover) designed the sensational costumes. Max Steiner wrote the splendid score.
In "Now, Voyager" (1942), Davis plays Charlotte Vale, a repressed, homely spinster under the firm control of her wealthy, domineering, Boston Brahmin mother (Gladys Cooper). Davis, wearing thick, false eyebrows, glasses, and dressed in dowdy clothes, embodies a woman who apologizes for living.
The constant criticism drives her to seek help at a sanitarium. There, with the assistance of a kindly psychiatrist, Dr. Jaquith (Claude Rains), Charlotte gains confidence in herself and moves towards independence. The transformed Charlotte is soigne and elegant.
While on a cruise, she meets Jerry Durrance (Paul Henried), a married man whose wife won't divorce him. They begin an affair. She returns to Boston to confront her mother. When mother dies of a heart attack following an argument with her, Charlotte becomes wealthy in her own right, but is guilt-ridden. She returns to the sanitarium. There she meets Tina (Janis Wilson), a girl who turns out to be Jerry's daughter. Tina's mother doesn't love her, either. Charlotte is drawn to Tina, who responds to her maternal affection. Jerry is delighted.
Davis thrives in this mad, over-the-top world, clearly believing every word she utters. To her many fans, her determination erases all disbelief. Others, even admirers, will battle giggles, but won't stop watching. She was nominated for the Best Actress Academy Award, losing to Greer Garson in "Mrs. Miniver." Rains spouts psychobabble with warmth and authority. Henried is sympathetic and sincere. Cooper, nominated for a Best Supporting Actress Oscar, is outstanding. With Ilka Chase and Bonita Granville as members of the Vale family. Davis and Henried are forever smoking: he lights a cigarette, takes it out of his mouth, puts it in hers, then lights another for himself. This is the movie in which Davis exclaims, "Oh, Jerry, let's not ask for the moon when we have the stars."
Irving Rapper directed smoothly. Casey Robinson adapted Olive Higgins Prouty's novel. Like Davis, they take the material seriously. Max Steiner composed the ripe, Oscar-winning score. Sol Polito's cinematography is crisp. Orry-Kelly once again designed the terrific costumes.
Comments on Facebook