Juvenile justice
Tuesday Mar 26, 2019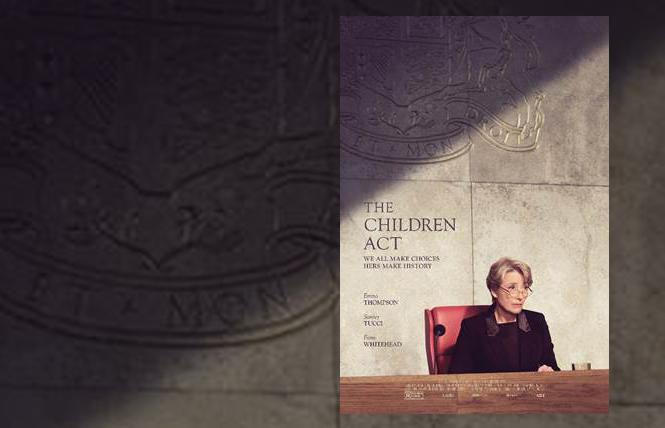 Some actors you want to watch in films because they give great performances, even in movies that might not pique one's interest. Maggie Smith, Daniel Day-Lewis, and Cate Blanchett come to mind, and Emma Thompson, who gives a standout performance in "The Children Act," a hit at last year's SF International Film Fest (Lionsgate DVD). With her character Fiona May, Thompson has her best movie role since "Sense and Sensibility" (1995). With her fierce intelligence, subtlety, and expressive face, Thompson has been underused in films. "The Children Act" is a compelling moral drama and solid character study brimming with emotions, at times wallowing close to melodrama.

The film opens with Judge Fiona May in the family High Court of Justice, ruling on a case of conjoined twins about whether to separate them surgically, which would kill one of them. Not intervening, which is what the parents desire, would kill both. Citing Parliament's 1989 Children Act as protector of minors, she rules in favor of surgery, remarking, "This is a case of law, not of morals." No sooner is this case dispatched than she is faced with 17-year-old Adam Henry (Fionn Whitehead), suffering from leukemia, whose only hope for survival is a blood transfusion followed by drugs. But Henry and his parents are Jehovah's Witnesses, who oppose blood transfusions as being anti-Biblical. May shatters protocol by visiting Henry in the hospital to discover whether he recognizes the implications of choosing not to have a transfusion. Sharing their mutual love of music, they sing "Down by the Sally Gardens" together, and May witnesses his potential. She returns to court and authorizes the transfusion.

Meanwhile, May's own family is falling apart. Her husband of 30 years, Jack (Stanley Tucci), a university professor, tired of being neglected, wants to have an affair with a younger colleague, asking her permission. May is horrified and starts divorce proceedings. Henry, in remission, becomes infatuated with May, following her to a conference in Newcastle, announcing he wants to live with her, spontaneously kissing her. She sends him back to London. Just before performing at a Christmas concert, she receives word he has relapsed. Now 18, he has refused treatment, and may not make it through the night. What happens after this newsflash concludes the film.

Ian McEwan wrote the screenplay, based on his 2014 novel. Richard Eyre has directed in a precise manner, depicting upper-middle-class angst in posh surroundings. Underneath all is the question of whether professional women can have it all. May is childless, and her encounter with Henry forces her to reevaluate her own life. British repressed feelings rear their heads.

The real love interest is not Tucci, but Henry. The Tucci subplot is a waste, as we don't understand the dynamics of that relationship. Whitehead, so good in BBC's "A Grand Day Out" as a gay teenager in London, easily keeps pace with Thompson, expressing excitability at being in love, and questioning his religious faith. Romance is iffy, but earnest performances keep it afloat. The radiant Thompson brings out all the tradeoffs she has made to become a success. "The Children Act" might be her greatest dramatic achievement.
Comments on Facebook