Finnish lines
Tuesday Jan 1, 2019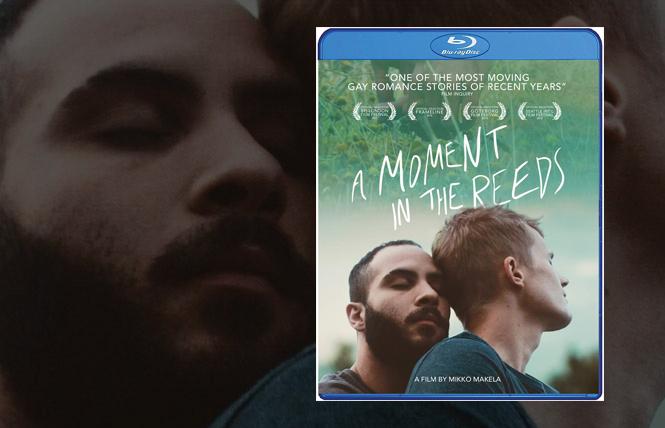 2017 was a historic year for Finnish film, as the country produced its first three LGBTQ movies, "Tom of Finland," "Screwed," and "A Moment in the Reeds." The latter film is the only one written and directed by an openly gay director, Mikko Makela; both leading actors are also openly gay. It played Frameline last year to great success, and is released on DVD by Wild Beast Productions. Makela encouraged the actors to craft their characters and improvise not only their dialog, but also their backstories. Details of the actors' own queer life experiences are put to naturalistic effect in steamy love scenes, which leave little to the imagination.

The story is simple. Having moved to Paris to attend university, Leevi (Janne Puustinen) returns to his native Finland during the summer to help his estranged father (Mika Melender) renovate the family lake house. His artistic mother has died a few years earlier. His father suspects Leevi is gay, but doesn't say it out loud. He's irked by Leevi wanting to become a French citizen to escape compulsory Finnish military service. Leevi's father hires Tareq (Boodie Kabbani), an asylum seeker and architect from Syria, to help with the renovation. Tareq doesn't know Finnish and takes the job so he can learn the language, but communicates with Leevi in English. When Leevi's father must return to town on business, the two young men have a chance to get acquainted through beers and a sauna, fall in love, and spend a few days discovering one another. They start wondering whether their brief chance encounter can work long-term. Leevi wants to return to France, while Tareq, happy to have escaped repressive Syria, longs to enjoy the freedom and opportunity of his new homeland. Can the two men overcome their circumstances, confronting issues they both have ignored, to forge a future together?

At first glance, the film bears a resemblance to "God's Own Country," made at the same time: a gay man has a love affair with an immigrant on the family land. Not quite the artistic triumph of "GOC," "Moment" is quieter, more intimate, less violent, more picturesque, and doesn't have the same fairy-tale ending. Both characters are fleeing their "homelands" for a better life to be themselves. Leevi rejects conservative Finland, while Tareq finds a home where he can live freely. Makela is upfront about the rise of xenophobia in the country following the 2016 Syrian migrant crisis.

In production notes for the movie, Makela writes, "The film can be seen as representing most things antithetical to Trumpism and Brexitism: open borders, freedom of movement, international solidarity, and respect for ethnic, sexual, and religious diversity." Makela stages a love story between two men of similar hopes and dreams. Comparable sexual experiences transcend geographical borders, bringing together two disparate lives.

The film confirms the advantage of having openly gay actors play gay roles. The passionate sex scenes feel real and essential to the plot. Both actors deserve accolades for their emotional honesty, but especially Kabbani for taking the risk of coming out to his native Muslim Syria, where homosexuality can result in prison. At the Frameline Q&A he said he received death threats for his performance. The complex homophobic father/gay son relationship is intelligently explored here. You feel empathy for the father due to Melender's nuanced portrayal of a lonely man struggling with his wife's death. "A Moment in the Reeds" is elegant and entertaining, its characters lingering in our memories.
Comments on Facebook