Over the decades, "Nutcracker" has conquered the nation, and is an institution here greater even than in Russia.
Former Smuin company dancer Rex Wheeler, a.k.a. Lady Camden, is rehearsing the lead role in "Santa Baby," a work created by late company founder Michael Smuin that will be the centerpiece of "The Christmas Ballet" LGBTQ+ Night on Thurs., Dec. 19.
"Stomp," the so-called "international percussion sensation," played A.C.T.'s Geary Theater in San Francisco for eight performances last week, and Out There and a lot of vicarious percussionists were in the house.
They were ready. Nothing short of a fire that could engulf Berkeley would have kept Cal Performances from presenting the Russian ballet "La Bayadere" in Zellerbach Hall last week.
The dance film genre is more popular, diverse and dazzling than ever, and the 10th annual San Francisco Dance Film Festival reflects that.
Alonzo King LINES Ballet's fall program at Yerba Buena Center for the Arts featured two brand new works: "The Personal Element," which premiered at the Vail Dance Festival in August, and the world premiere of "Azoth."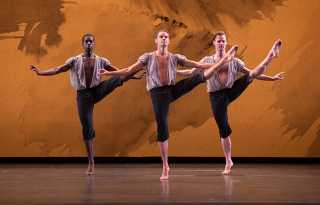 Cal Performances finally kicked off its season of major international performing arts last Friday night in Zellerbach Hall with a brilliant revival of Mark Morris' "Mozart Dances." I am glad to see it again.
Choreographer James Kudelka is putting the final touches on his ballet "The Man in Black," the top-billed work on Smuin Contemporary Ballet's first program of the season.
This week begins our modest effort to offer a Fall Preview in the Arts & Culture pages. In this issue find previews of the fall season in Bay Area art museums, at the San Francisco Symphony, in Film, TV, Poetry and Prose.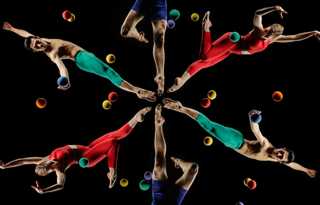 Garrett + Moulton Productions wowed us last Friday night. Their show packed the theater at Yerba Buena Center for the Arts; the audience left exhilarated.
On August 29 and September 5, we'll present our annual two-part Fall Arts Preview issues. From the museums and galleries, to local theatre, -- our fall arts preview editions will cover it all.
When Tony Yazbeck takes the stage at Feinstein's at the Nikko on Aug. 15 & 16, you'll get the expected singing and storytelling, but you'll also get tap-dancing, a craft infrequently plied on the small-to-non-existent stages of cabaret venues.