Just three months before his death, Paul Taylor, who for years refused to name a successor, surprised the dance world by naming Michael Novak, a company dancer for just eight years, as Artistic Director-Designate.
This year marks the 10th annual Bay Area Reporter readers' poll, the Besties, and voting begins Thursday, January 30.
San Francisco Ballet is back in the Opera House, and they opened their season, Helgi Tomasson's 35th as artistic director, with a ballet that is sure to please.
San Francisco Ballet's Gala dances ticked off the boxes an Olympics judge might face: technique, style, artistry, showmanship, and musicality. Everybody gets an A.
Director Alla Kovgan's captivating bio-doc "Cunningham" (1919-2009) provides a hypnotic view of the fabled gay star dancer/teacher Merce Cunningham's choreography.
Over the decades, "Nutcracker" has conquered the nation, and is an institution here greater even than in Russia.
Former Smuin company dancer Rex Wheeler, a.k.a. Lady Camden, is rehearsing the lead role in "Santa Baby," a work created by late company founder Michael Smuin that will be the centerpiece of "The Christmas Ballet" LGBTQ+ Night on Thurs., Dec. 19.
"Stomp," the so-called "international percussion sensation," played A.C.T.'s Geary Theater in San Francisco for eight performances last week, and Out There and a lot of vicarious percussionists were in the house.
They were ready. Nothing short of a fire that could engulf Berkeley would have kept Cal Performances from presenting the Russian ballet "La Bayadere" in Zellerbach Hall last week.
The dance film genre is more popular, diverse and dazzling than ever, and the 10th annual San Francisco Dance Film Festival reflects that.
Alonzo King LINES Ballet's fall program at Yerba Buena Center for the Arts featured two brand new works: "The Personal Element," which premiered at the Vail Dance Festival in August, and the world premiere of "Azoth."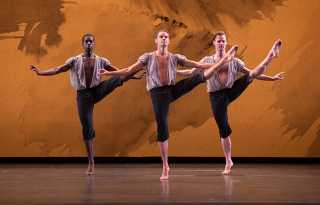 Cal Performances finally kicked off its season of major international performing arts last Friday night in Zellerbach Hall with a brilliant revival of Mark Morris' "Mozart Dances." I am glad to see it again.