Classy classical Christmas: music, dances, plays and choral treats for the holidays
Tuesday Dec 15, 2020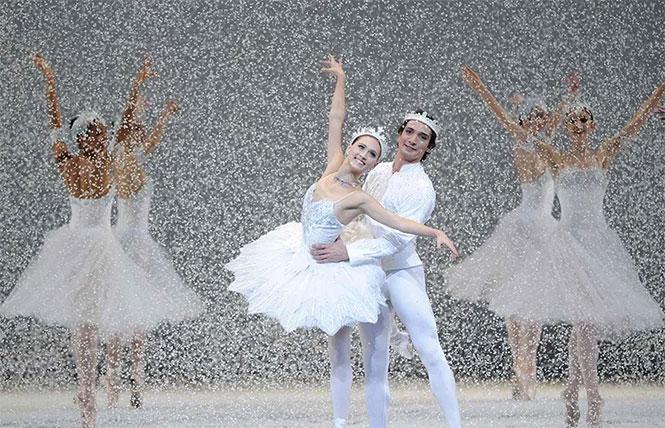 With lockdown restrictions, a gloom has descended on the holiday season with all in person concerts and performances canceled. But despite a make or break year for most arts groups, many Bay Area classical music and dance stalwarts have ingeniously risen to the occasion and are offering holiday entertainment virtually that also function as fundraisers.

All the events listed below are available for streaming through the end of this month. Some charge admission prices while others are free and/or request a donation. During this critical period, these cultural institutions need audience backing. If at all possible support them financially so they can return in full force, hopefully by Fall 2021.

For the San Francisco Ballet, The Nutcracker has been a monetary lifeline even in successful seasons. In this financially devastating time, the company will present an online Nutcracker and interactive journey. This visually stunning 2004 production, choreographed by former artistic director Helgi Tomasson, was the most expensive ballet ever mounted by the company. It was set during the time of the 1915 Panama Pacific International Exposition here in San Francisco.

The scenic design is exquisite. Recorded in High Definition video and true surround sound, it was filmed and released on DVD in 2008, still available today. If you haven't seen this version, it is one for the ages and worth the steep $49 ticket. Even if you're familiar with this adaptation, the admission price also includes in this virtual Opera House, a photo booth where Nutcracker-themed images can be downloaded, an opportunity to learn some of the ballet's choreography, a special Nutcracker-themed podcast, a history video, and a chance to browse items in the SF Ballet Shop. Viewers can also enter the virtual backstage area for a peek at Victorian houses shrouded in snow. www.sfballet.org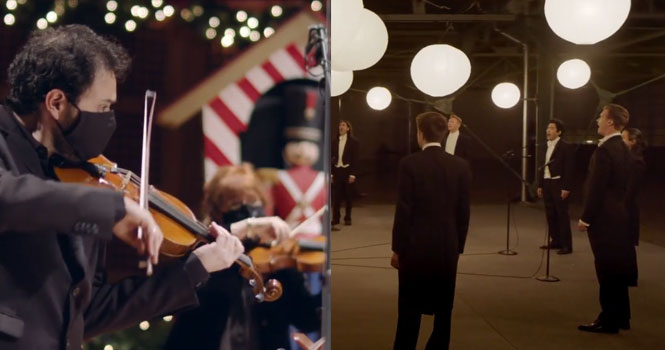 San Francisco Symphony's annual family-friendly 40th anniversary Deck the Hall Holiday Concert, a half hour of seasonal favorites, includes a reading of the "Twas the Night Before Christmas" poem with symphonic accompaniment as well as an audience sing-along. Free/donations.

For many Bay Area residents, Christmas didn't officially start until they hear the vocal ensemble Chanticleer sing at St. Ignatius Church. They have preserved this precious tradition on film, A Chanticleer Christmas: From Darkness to Light, directed by Independent Spirit Award-nominee Frazer Bradshaw, and friends at Stanford Live.

The male a cappella 'orchestra of voices' self-isolated for the final weeks of rehearsal and filming. They performed in the Skyroom at the Craneway Pavilion on the waterfront acres in Richmond. Entering tuxedo-clad with their traditional candle-lit procession, the men sing 15 familiar and new carols, ranging from Renaissance to contemporary American, interspersed with brief selections of poetry written by women.

While one wishes there were some holiday decorations to cheer the sparse sterile warehouse surroundings, Chanticleer summons up the festive Christmas spirit with their soaring crystalline voices. Standouts include the sublime "Praeter rerum seriem" by Josquin des Prez, gay composer Steven Sametz's mystical "Gaudete," an apropos "Count Your Blessings" (Irving Berlin), the definitive "Ave Maria" (Biebl), culminating with the rousing spiritual "Oh Jerusalem in the Morning." www.chanticleer.org




A hallowed Bay Area tradition has been attending San Francisco Gay Men's Chorus (SFGMC) holiday concerts at the Castro Theater on Christmas Eve. Joyfully, SFGMC will live-stream their annual songfest, At Home for the Holidays, featuring special guests Laura Benanti, Bianca Del Rio, Matt Nathanson, Jessica Bejarano and the SF Philharmonic, among others on Dec. 24th at 5 PM. www.sfgmc.org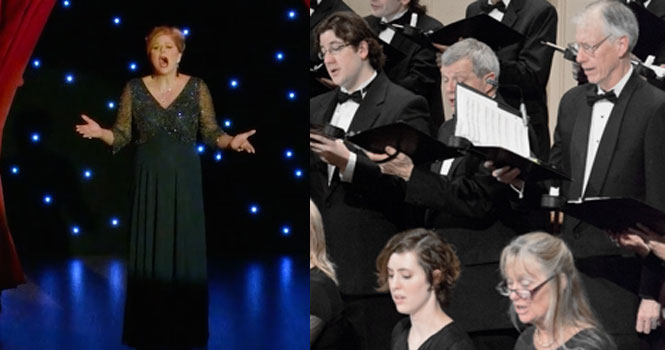 World-renowned mezzo-soprano Susan Graham will headline the cast of Opera San Jose's first fully-staged digital production of gay composer Jake Heggie's chamber opera Three Decembers, based on the late gay Tony Award-winning playwright Terence McNally's unpublished play Some Christmas Letters, about a family's struggle to connect over three stormy decades. On Dec. 31, enjoy a free virtual performance, conceived and curated by bass-baritone Nathan Stark, The Parting Glass, a New Year's Eve program of drinking songs inspired by music from across the globe. This sounds like a fun frolicking way to bid farewell and good riddance to 2020. www.operasj.org

San Francisco Bach Choir, an 85-year-old auditioned volunteer choir conducted by artistic director Magda Solomon, originally specialized in Bach and other Northern European classical composers. Their beloved candlelight Christmas concerts at Calvary Presbyterian Church, this year entitled Comfort and Joy: A Homemade Holiday: From Our Homes to Yours, will be live-streamed with guests including Velocity Handbell Ensemble and The Whole Noyse Renaissance Wind Band among others.

Traditional carols (including their popular inimitable interpretation of the "Boar Head's Carol" and a few other sing-alongs) as well as the world premiere of "Mendocino Coast, September 2020" ("an elegy for a difficult year"), written for SFBC by Oakland composer Ted Allen, will be presented and includes interviews with composers and guest artists. www.sfbach.org





Cal Performances features a special live-streamed adaptation of Charles Dicken's A Christmas Carol. Performed by the Manual Cinema Company, the production stars hundreds of paper puppets, miniatures, silhouettes, and an original live music score.

Another event, A New Year's Eve Musical Celebration, includes a celebratory evening of exclusive performances recorded especially for the occasion with artists Yo-Yo Ma (cello), Leif Ove Andsnes (piano), Julia Bullock (classical singer), Bria Skonberg (trumpet and vocals) among others, performing works from Debussy, Grieg and Mozart to Arlen, Kern, and even Kool & the Gang. www.calperformances.org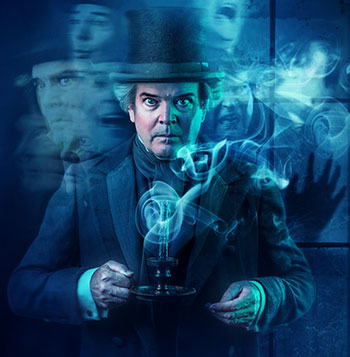 By all means relish Cal Performance's A Christmas Carol with its puppet wizardry. But for those who want a unique human rendering of this timeless classic, one cannot recommend highly enough a special 1.5 hour filmed one-man staged version by the gay director Michael Arden (Spring Awakening). This version stars actor Jefferson Mays, best known to LGBTQ audiences for his Tony Award-winning performance in I Am My Own Wife as Charlotte von Mahlsdorf, the transgender woman who survived the Nazi and Communist regimes in East Berlin.

In Mays's emotionally stirring interpretation, he brings to vivid life over 50 roles in a virtuosic master class of acting that must be seen to be believed. Using adept vocal intonations, facial expressions, and physical gestures, Mays, a connoisseur of English caricature of all classes and genders, can quick change characters in ten seconds with their distinct personalities (even as narrator).

Dickens used to tour readings of his 1843 novella out loud with practiced gesticulations that mesmerized audiences. In his abridged but faithful to the text version, so does Mays, alone on stage the entire running time, with minimal props, wall animations/pictures, recorded sounds, and a spooky production design enveloped in shadows and special lighting effects to conjure convincingly the spiritual world of the haunting Christmas ghosts.

In a brilliant stroke, this magnum opus incorporates the melancholy Christmas music of the indie singer/songwriter and multi-instrumentalist Sufjan Stevens, nominated for an Oscar honoring his songs in the gay film Call Me By Your Name. At times dark and gloomy, Mays's interpretation restores Dicken's theme; how greed and selfishness destroy society and the need to help the poor. This is useful advice for these economically devastated pandemic times. This not-to-be-missed adaptation is a riveting hammy-free tour de force, absolutely worth the hefty $50 ticket price. www.achristmascarollive.com
Old First Concerts, celebrating its 50th anniversary at SF's venerable Old First Church, sponsors three holiday concerts this season. A Choral Holiday Special of choral holiday music by the Ragazzi Boy's Chorus, Piedmont's East Bay Children's Choir, Musae, and Lacuna Arts covers lesser known holiday music.

Two other live-streamed events are the choral group Kitka's Wintersongs, seasonal music from a wide variety of Eastern European ethnic and spiritual traditions and secondly, the local Irish vocal band Golden Bough performing rare versions of Celtic Songs of Winter and their unique take on popular Christmas carols. Free on their YouTube channel with links for donations. www.oldfirstconcerts.org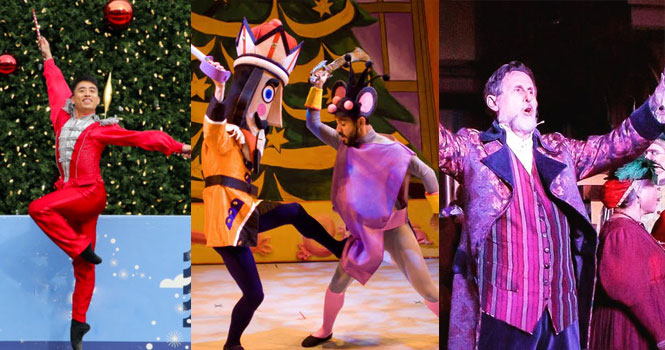 SF's Smuin Contemporary Ballet (since 1994) with its distinctly American style of merging classical ballet and contemporary dance, brings the wit and warmth of their yearly Christmas Ballet directly to viewer's homes. Each virtual showing includes new works and select holiday/non-holiday favorites filmed in their studio, followed by an hour-long recording depicting memorable dances from the past.

The streams rotate between three different programs (A, B, and C); the compilation recording that follows is the same for all performances. There are 15 virtual performances showcasing premieres by Amy Seiwert, Ben Needham-Wood, Rex Wheeler, and Company Artists, acclaimed for their innovative repertoire, inventive choreography, and uncommon physicality. www.smuinballet.org

Mark Foehringer Dance Project, based on his 80+ works for ballet, contemporary dance, and opera, now in its 25th season in San Francisco, is dedicated to a creative process involving collaboration with other local artists. They are noted for their annual outdoor dance festival in Golden Gate Park and sponsor a mentoring workshop for emerging young dance makers.

Foehringer's enchanting Nutcracker Sweets, designed for families with small children, encapsulated in 47 minutes on Vimeo, also includes numerous bonus features, such as meeting and chatting with the cast, viewing the costumes, learning the soldier dance, and encountering theater magic with the Sugar Plum Faerie, among others. www.mfdpsf.org

Another Bay Area touchstone, The Christmas Revels in Oakland, is celebrating its 35th annual show entitled Unruly Magic: A Spiritual Celebration of the Winter Solstice, using ancient traditions of bonfires, rituals, dances, and songs. A young Reveler turns to a magical staff to help her find a way through these somber Covid times.

For a local production, the special visual effects are skillfully and believably executed, blending older archival footage with newly filmed pieces. This folk wisdom has something to teach us about coping with the fear and uncertainty of the pandemic, but retains the joyful holiday enchantment without being preachy. The catchy music is vintage Renaissance fair/Celtic. The entertaining Unruly will appeal to children with its amateur but community-based infectious enthusiasm, including their quintessential offerings "The Abbot Bromleys Horn Dance" (filmed at Muir Woods) and a reading of "The Shortest Day," with guest artists Shira Kammen, Shay Black, the Windborne Singers, among others. www.californiarevels.org

Help keep the Bay Area Reporter going in these tough times. To support local, independent, LGBTQ journalism, consider becoming a BAR member.