Going deep into the heart of Cinderella
Tuesday Jan 28, 2020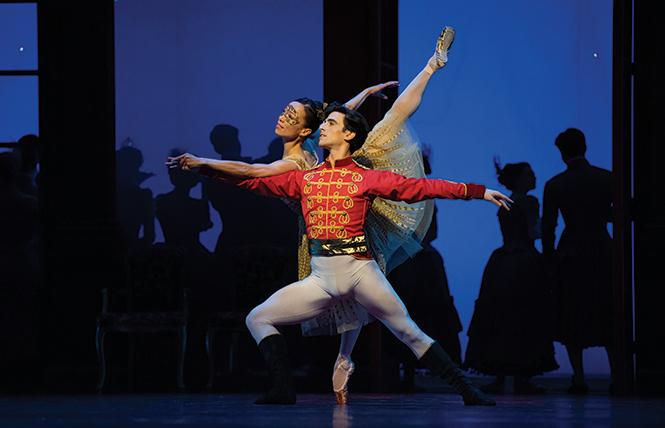 San Francisco Ballet is back in the Opera House, and they opened their season, Helgi Tomasson's 35th as artistic director, with a ballet that is sure to please. "Cinderella," with a romantic score by Sergei Prokofiev, has a full-spectrum fantasy of events, from tiny but cruel incidents at the Cinderella house, where her step-mother and -sisters persecute her in a thousand ways, to the other end of the spectrum, where the whole Universe is on her side and sends her support in a myriad of forms, embodied in characters who come to her aid when she needs it.

Who's not going to like that? It's as good in its way as "The Amazing Spiderman," with better choreography for the unbelievable parts, and very good bits for the ordinary people. Only Sarah van Patten as the stepmother and Ellen Rose Hummel as the goofy stepsister can approach Sally Fields and Martin Sheen as the Ordinary People. Gotta say, we knew van Patten was a great actress, but with Hummel, a star is born. Hallelujah, what a wonderful performance!

This "Cinderella" is not SFB's first. There's a legendary version by Lew Christensen and Michael Smuin from decades ago that starred both Lynda Meyer and Gina Ness, beautiful in their day (sigh). But this new version is so fantastic, it won the Benois de la Danse Prize of a million dollars back in 2013, and it's truly spectacular and solid. You ought to go see it; last performances this weekend, Sat. matinee and evening, and Sunday matinee.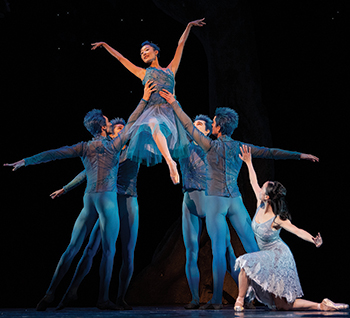 Christopher Wheeldon, choreographer of this version, can put on a show. He's OBE on the Queen of England's list, which means he'll probably soon be Sir Christopher. What gets you is how deep this Cinderella goes into the heart of the story. Cinderella (Sasha da Sola) is a slave in her own family, the victim of favoritism by her stepmother (the fabulous Sarah van Patten, in full "Mommie Dearest" drag). What queer is there, male or female, who hasn't had to fight not to be disowned by their families? Did you ever fear being put out on the street? What were your strategies for making yourself necessary, or useful or charming? How did you save yourself?

Wheeldon is one of us. He married his husband during the time he was choreographing this, a co-commission with the Dutch National Ballet. He totally gets it: when Cinderella's mother (Madison Keesler, wonderful in the role) dies and is buried, her spirit returns to hover over her child, supported by four "Fates" who hang out with Cinderella for the rest of her life. When "Cinders" goes to her mother's grave and spends her happiest moments there, and a tree grows out of it, and she waters it with her tears, and the tree grows, the invisible powers of Karma (Max Cauthorne, Daniel Deivison-Oliveira, Steven Morse, Alexander Reneff-Olaon) unite to foster the child and shield her from despair. They help her cook, clean, and in spectacular scenes they raise her into the overhead space as the domestic chores she tends get done.

The big scenes are the work of the puppet-master Basil Twist, who's created a spreading chestnut tree with his puppeteering wizardry, which takes up the whole stage. Her mother's care is embodied in dozens of woodland sprites who gather round Cinders and imbue her with superpowers — grace, strength, delicacy, fluidity — in preparation for the ball.

It was the grace of de Sola herself that made the dancing at the ball astounding. Her lightness puts me in mind of Gelsey Kirkland, she floats so lightly over the difficulties of the choreography of her solo in the ball scene. When the time comes for her to dance, she uses the steps and moves that the 4 Seasons have taught her and touches down, only to reconfigure in another way, never stopping, always floating. Every new opening of the thighs is an easy move, every touchdown a soft basis for the rebound that brings you back toward the beloved. De Sola was simply unbelievable. She never stopped, never balked.

Wheeldon's craft tends toward perpetual motion. As the prince, Luke Ingham's finest moments came in his big jumps, each of which ended in a big position from which he had to pivot drastically. If his leg was behind him, he had to turn to face it and jump forward from there. No step was easy, he was in perpetual motion, the objective correlative for young love, where always the spirit of love is lifting you up, lightening your burden. Both of them were well-matched in these virtuoso pas, which they made look so easy.

Ingham is not a great actor. He certainly came through in his big moments, but in the storytelling, his best-buddy Benjamin, played by corps dancer Myles Thatcher, took the cake. Since he falls stupidly in love with the bespectacled stepsister (Ellen Rose Hummel), the two guys are well-balanced.

This balance of the common-folk and the aristocracy makes the show appealing, and the kind forces of Nature make us feel that some necessary equilibrium has been restored. Many corps dancers are in the ballroom scenes, making the place look elegant. Big kudos to Anita Paciotti and Ricardo Bustamante as the King and Queen, and to veteran dancers Val Caniparoli and Katita Waldo as Benjamin's dad and the kids' dancing master.

It's a wonderful show. Go see it.
Comments on Facebook