San Francisco Ballet Gala opens with a bash
Tuesday Jan 21, 2020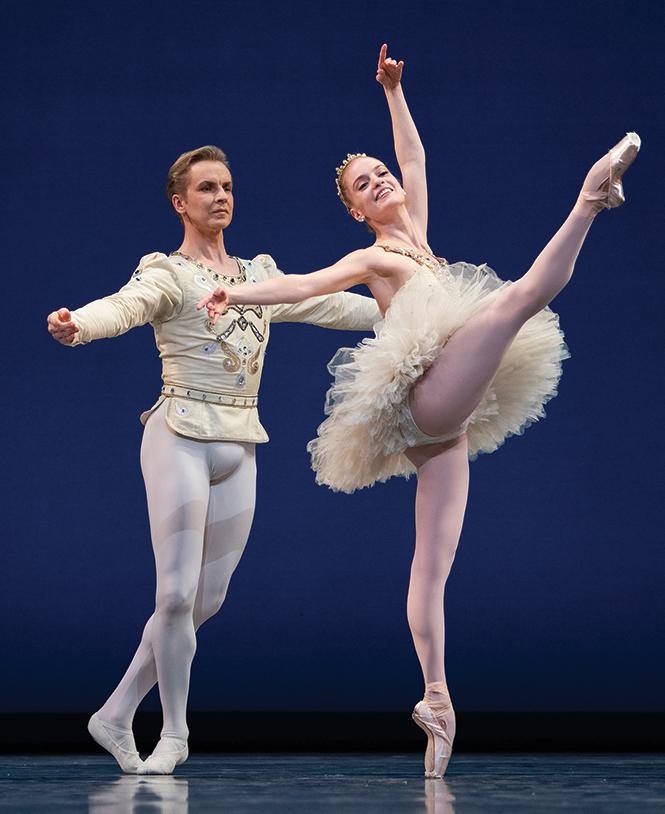 What a bash! The costumes in the audience for San Francisco Ballet's Gala opening night last week were maybe more fantastic than those onstage: ladies uncommonly feminine (ruffled pink chiffon, red satin, with trains you could step on); the Kings, my dear — brocade frock coats, swallowtail; and the Queens — ODC dancer Christian Squires took the cake, IMHO, in a floor-length vanilla explosion, tres bouffante, with a torso cutout and gold lamé pasties — star-shaped cutouts, very tasteful.

At a ball afterward, SFB principle dancer Benjamin Freemantle ruled in a crown of vine leaves: naked, creamy bust, rising from velvety black, sprayed-on tights, big as life.

The show itself was an amuse bouche between the sold-out High Society dinners and the after-party, with patrons wall-to-wall at City Hall. They raised $3,000,000. Dancing: hip-hop DJ stage right, Pop Rocks live "wedding band" stage left. For me, this was a watershed: it's been Pride and Joy (read: blues, R&B, Motown) for decades, but now it's Queen. Last song is no longer "Shout!" but "The Time of My Life" — and before that, a lot of songs where your only option, if you wanted to dance, was to Pogo. The younger crowd isn't into African-American swing and rock and R&B, they like the 80s.
So the party isn't any fun anymore. But the show itself remains a major civic event. Artistic Director Helgi Tomasson always uses it as a non-verbal manifesto. This is what we stand for! Just as centuries ago, Louis XIV used state ballet as a way of rebuking his enemies and showing the way of the future: the Prince of Conti will bow to the Sun King; i.e., there will be no more rebellion.

Before the curtain, Tomasson said, "We're all Americans now." Icelandic by birth, he's been here for 35 seasons now. He understands ballet as showing us how we live, who we are, what we value. Right now the issue is immigration. He led off with the cadets' march from Balanchine's "Stars and Stripes." Since Nancy Pelosi has made us all proud to be Americans, he showed us just how good our "ordinary" dancers are: all corps de ballet dancers, and even their "star," Lucas Erni, is a corps dancer, who comes from Argentina. Most of SF Ballet, in fact, comes from abroad. The dancers all get it: the best dance of the evening was to Sousa's great "Thunderer" and "Gladiator" marches.

The evening's dances ticked off the boxes an Olympics judge might face: technique, style, artistry, showmanship, and musicality. Everybody gets an A. The congeniality prize goes to Angelo Greco, supporting the super-technician Misa Kuranaga in the Soviet-era "Corsaire" pas de deux, smiling through slight mishaps of his own. She needs to lose the coy mannerisms. The Cutest Boy was Max Cauthorne, who scooped up all the charm in August Bournonville's classic "Jockey Dance." The Rising-Above-It-All prize to Sofiane Sylve, for dancing in the ugliest white panties this side of Kmart, in the usually estimable David Dawson's "fresh take" on the "White Swan" pas de Deux (Tchaikovsky), which managed to erase the famous original without etching any new images of its own. I'm willing to see it again, and in fact am eager to see his "Anima/Animus"(Program 5) this coming March. It was a wonderfully birdlike, fabulous ballet.

Wona Park, our next ballerina, suffers from resembling Ms. Kuranaga so closely. I suspect she has greater staying power.

Star of the show was Yuan Yuan Tan, in her 25th season here, still a heroic dancer, magnificent in her effects, in Yuri Possokhov's heroic "The Bells" (Rachmaninoff), showing his mastery of the great Bolshoi style in which he was bred. Vitor Luiz, her magnificent partner, leaves the company now, going out in grand style, and at the curtain calls, he got a hero's ovation.
Comments on Facebook