San Francisco Gay Men's Chorus' annual Crescendo gala goes online with honors to singer-actor Billy Porter, activist Ariadne Getty, and special guests Kristin Chenoweth, Alex Newell, Wilson Cruz, and more.
Up Your I.P.! Sorry, but nearly every event is online, including the otherwise public kinkfest Up Your Alley street fair. But that doesn't mean you can't have fun, so long as your router's rooting and your IP's percolating.
The Gay & Lesbian Alliance Against Defamation's annual awards will be held online, with a fab array of special guests, including Dolly Parton, Dan Levy, Lil Nas X, Angelica Ross and many others.
Artists who'd like to be part of the 17th annual Hearts in San Francisco public art design competition can submit to the fundraiser for SF's Zuckerberg San Francisco General Hospital programs.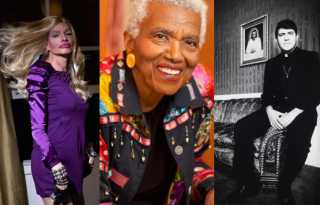 The QueerCore Podcast, hosted by August Bernadicou, elucidates radical, LGBTQ activists' dark histories. It is a spotlight on the catalysts who fought in the front-lines, in the back-lines and in the trenches of civil rights.
Happy Blursday. When is that Zoom drag bake sale fundraiser string quartet? We'll do our best to delineate one event from another amid the midsummer maskness.
Fame came early for Brian Falduto, a child actor in 'School of Rock.' Falduto is now back in the limelight, albeit in a very different way. He's an LGBTQ life coach and Country music singer-songwriter.
A new scholarly project at Cal State Fullerton, created by Assistant Professor Eric Gonzaba, maps LGBT bars, cafes and hotels from the historic Bob Damron's Gay Guides.
The United States Conference of Mayors adopted a resolution urging Congress to provide long-term arts and culture relief funding in the wake of the COVID-19 pandemic.
It's rare that a non-fiction book as richly detailed as 'The Deviant's War: The Homosexual vs. The United States of America' (Farrar, Straus and Giroux) moves along at the brisk clip of Eric Cervini's new account of Frank Kameny's pre-Stonewall activism.
Four new and recent photos books celebrate Pride's decades of parades, celebrations and protests, in photos by Alyssa Blumstein, Fred W. McDarrah, Ron Williams, and from The New York Times archives.
Out in the Bay, the LGBT radio show and podcast, returns after a four-year hiatus. In its return episode, producer Eric Jansen hosts a discussion on LGBTQ responses to anti-Black violence.