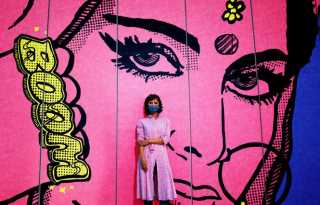 As health safety precautions remain in effect, some large museums have reopened under careful guidelines, while others, including smaller galleries, showcase beautiful and thought-provoking works online.
The most unusual new theater season in ages is now officially underway at Bay Area companies. From live-streamed productions to audio adaptations, new and classic plays are finding online audiences.
In honor of LGBTQ History month, HBO Max has produced a new limited four-episode docudrama series called Equal about the trailblazers and unsung heroes who fought for queer justice and equality in the pre-Stonewall era.
'Dash,' the new noir-themed graphic novel from Northwest Press, blends classic mystery intrigue with a modern queer style.
Two years before the Bay Area Reporter premiered, the New York City-based GAY covered politics, arts, civil rights and sexuality with a bold and groovy style. The complete issue collection from 1969 to 1974 is online.
Mid-October, fall is ripe for surprises and scares. But you can still enjoy arts, nightlife and community events online, with several bars, museums and venues cautiously re-opening, too.
Chanticleer, founded in 1978 in San Francisco and dubbed as "the world's reigning male chorus," is not immune to the disruption engendered by the coronavirus. Yet despite tour cancellations, they continue to evolve and engage fans.
New LGBTQ poetry available to distract and delight your senses and tickle your literary fancies, with works by Felice Picano, Michael Montlack and Yvonne Zipter.
Based on a true story, 'Bad Education,' the school financial corruption scandal tale, embodies our current political and social condition all too well. The acting and direction make it one of the finest movies of the year.
Three new photo books visualize queer lives from the past and present day in uniquely different ways: Rainbow Revolution, Loving: A Photographic History of Men in Love 1850s-1950s, and Self Evident Truths: 10,000 Portraits of Queer America.
As more venues open to the public, we're keeping track of them, as well as online events in Arts, Nightlife and Community.
Set in his home state, Texas-born writer John Fram's distinctive debut novel examines the dark occurrences circling around the small hamlet of Bentley.