Hearts in San Francisco's call for artists
Thursday Jul 16, 2020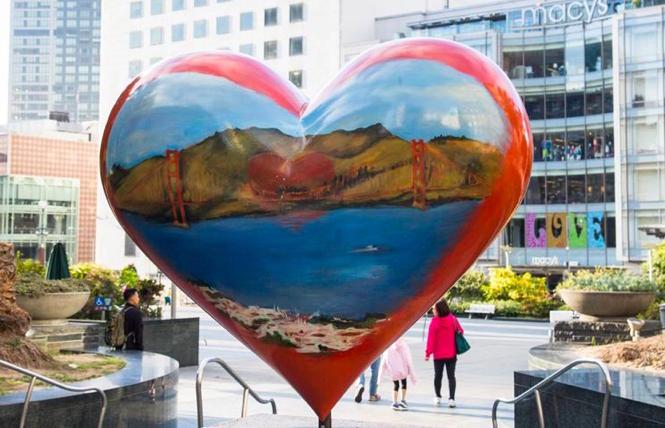 Artists who'd like to be part of the 17th annual Hearts in San Francisco public art design competition can submit to the fundraiser for SF's Zuckerberg San Francisco General Hospital programs.

Hearts in San Francisco is one of the most widely recognized public art projects in the country. Since the project's inception in 2004, San Francisco Bay Area artists have created more than 460 hearts that have gone on display all across the city of San Francisco and beyond, from Union Square to the lobbies and conference rooms of corporate supporters throughout the state, including Kaiser, Genentech, Bank of America, Intel, and Wells Fargo.

Each Heart is a unique, one-of-a-kind work of art and celebrates the diversity of San Francisco through designs made of acrylic paints, mosaic art, mixed media sculptures, Swarovski crystals and other media.

Artists have the option to propose a design for either a large heart (5' tall x 6' wide x 40" deep; 400 pounds), table top heart (16" tall x 17" wide x 8" deep; 25 pounds), and/or mini heart (7" tall x 6" wide x 2" deep; 5 pounds). Select large hearts will have the opportunity to be displayed in San Francisco's Union Square from February 2021 through October 2021.

Artists interested in applying must complete an application and submit with a full-color design rendering (8.5" x 11" or larger) on or before Monday, August 31, 2020. Artists may submit a maximum of three design entries. Materials may be submitted online, via U.S. mail, or email. Entrants must provide their own workspace and meet the artwork completion deadline of Friday, November 13, 2020.

Artwork guidelines, official regulations, and artist applications are available at https://sfghf.org/events/create-a-heart/.
Comments on Facebook