Lounging at the Palace Hotel
Tuesday Oct 8, 2019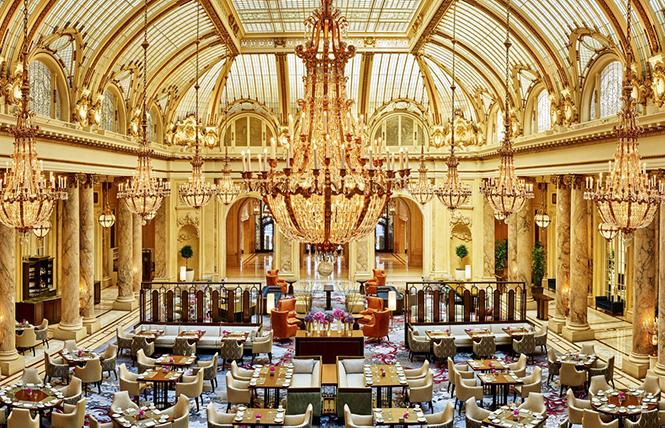 Faithful Out There readers know that over the years we've written a series of "Staycation" columns in which we go on overnight trips to various hotels, inns and hostelries around the Bay Area. The idea has always been that it's great to get out of one's routine and experience this magical metropolitan area from the eyes of a tourist every now and again. For OT, this means leaving our rent-controlled, walk-up flat in a Hayes Valley tenement for the ease and comfort of a big-city hotel.

We've had some great and hospitable hosts over the years, but surely the jewel in the crown of OT's hotel columns must be the night we spent last week at The Palace Hotel, one of San Francisco's truly grand old hotels, a downtown landmark. The Palace surely figures in San Francisco history, as you can tell when you see the framed photographs of presidents and prime ministers on the walls of The Pied Piper Bar, but we realized it also plays a part in our own personal history. See below!

We checked in after work, enjoyed the glamorous lobby, took an elevator up to the 7th floor, and were delighted when our keycard opened the door onto a luxurious corner suite. Big windows framed the San Francisco skyline: we saw the tower for the Mexican Museum/Four Seasons addition going up; we spied on roof decks. In the million-dollar condo across the street, we saw a resident dry her sneakers out on the window ledge.

Inside, a surprise awaited us in the suite's living room: a bottle of Chandon brut chilling in a silver ice-bucket, and a cake inscribed with the words, "Happy Birthday, Pepi!" It was indeed the impeccable Pepi's birthday, and a kind and thoughtful press agent had noted it.

Taking a moment here: No, Pepi is not his real name. Years ago, when we asked him what name he'd like us to use for him in our column, "Pepi" was his answer. Now people ask after Pepi wherever we go. They love it when he appears in print, maybe because he always has some impish commentary to offer. One day we'll simply turn the whole column over to him and call it, "The Pepi column." But this is not that.

Anyway, Pepi enjoyed way too much of his cake — light, filled with vanilla cream and strawberries — while OT polished off the bubbly. Then we traipsed off to find the hotel pool. It was large and heated, and covered with a glass roof so plenty of natural light filtered in. A family-sized hot tub bubbled heatedly beside it.

The Pied Piper Bar & Grill was expecting us for dinner, and gave us a corner table so we could watch the action. We had the famous burgers: Wagyu beef, house pickles, Fiscalini smoked cheddar, washed down with some good Rose. We've always loved the PP, and often take out-of-town visitors there to enjoy the wood-paneled atmosphere. The famous Maxfield Parrish painting over the bar, commissioned by The Palace in 1909, depicts the Pied Piper (a self-portrait) leading the children out of Hamelin, Germany. Their parents hadn't paid the exterminator bill. The painting was restored in 2013, and threats of its sale were put to rest when SF residents and press insisted it remain, glorious and gleaming over its namesake bar.

Brunch the next morning was glamorous in The Garden Court Restaurant, the hotel's shimmering, chandeliered centerpiece. Pepi had an omelet, and OT had a lobster roll that was surprisingly curried and delicious. In its early years, the Garden Court was the establishment's carriage house; horses would pull up there to disgorge guests. OT's first, youthful impression of it came thanks to our very first job out of grad school, when our boss at The Recorder printing & publishing generously took his working-class Proof Room boys out to lunch there. Thank you to our erstwhile supervisor!

There's a lot more history to the storied Palace Hotel. President Warren Harding died in a suite there, of cardiac arrest. We know this because it made the front page of The New York Times the day our mother was born; she died this year at 95. Mother can rest in peace knowing that her youngest son attained a glorious overnight staycation at SF's legendary Palace Hotel.
Comments on Facebook