Visiting the City Different
Tuesday Oct 1, 2019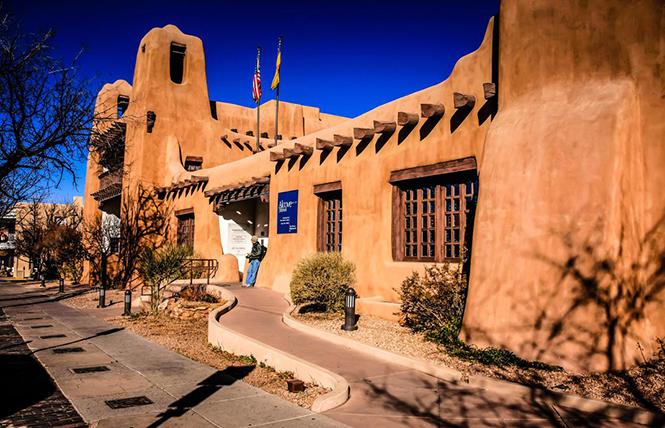 Santa Fe, New Mexico was calling to us, in the form of a wee press trip last week for a tour of the cultural riches on offer. It was brief, but there was a lot for us to savor.
This small city looms large in Western history. Founded by Spanish colonists in 1610, it's been U.S. territory since the 1848 war with Mexico. After New Mexican statehood in 1912, it's held the title of oldest state capital in the country. Of course, the native Pueblo people have been chilling in the vicinity since at least the 1200s.
We took a walking tour given by a New Mexico Museum of Art docent that began in the town's historic central Santa Fe Plaza. The Palace of the Governors is the oldest continually occupied public building in the US (1610). The Museum itself (1917) is a sterling example of Spanish Pueblo Revival Style that mixes elements of Pueblo architecture with templates of Spanish churches. Also in the city center: the Georgia O'Keeffe Museum — the only major museum devoted to a woman artist in the U.S. — the New Mexico History Museum and a lively market of Native American handicrafts.
O'Keeffe famously took to New Mexico as inspiration for her mature work, but she is only the tip of a vast artistic history. There are good reasons so many artists have made their home here: the drama of the landscape, the wide open spaces, the luminescent light, the clean air, the art traditions, the Native American and Hispanic cultural mix. When you've spent enough time contemplating the Sangre de Cristo foothills in the New Mexican landscape, even the clouds begin to look like mesas.
Bruce Naumann, Agnes Martin, Sam Shepard, Robert Altman, Lou Harrison: all have spent time here. Armistead Maupin and Michael Tilson Thomas are among San Francisco luminaries who have had second homes here. Willa Cather and Lew Wallace ("Ben Hur") tied their literary fortunes to Santa Fe. Recent celebrity sightings include Shirley MacLaine, Robert Redford and longtime resident Ali MacGraw, who frequents the Farmer's Market and is reportedly quite chill.
Snapshots from Out There's Santa Fe, the so-called "City Different": an elegant dinner in the courtyard of Santacafe restaurant, which Tom Ford called "the place to see and be seen" in SF; authentic Hatch green chilies at locals' place Tia Sophia; half a mile of art galleries on Canyon Road, including a strong showing of work by Hung Liu; the French Romanesque Cathedral Basilica of St. Francis of Assisi (Cather's "Death Comes for the Archbishop"); sunset drinks at the Bell Tower rooftop bar atop grand hotel La Fonda; an afternoon lost in the contemporary art installation-funhouse House of Eternal Return created by art collective Meow Wolf.
So many of our Santa Fe memories are sensory: the aroma of roasting green chilies wafting through the Santa Fe Farmers Market in the repurposed Railyards; sampling savory delights for a workshop in traditional New Mexican cuisine at the Santa Fe School of Cooking. Culinary instructor Allen Smith, on offering cookies baked with lard to visiting friends: "If they say, 'But I'm a vegan!' you tell them, 'Well, you should have brought your own cookies then!'"
The world-class Museum of International Folk Art on Museum Hill is a treasure trove of global culture and outsider art. 20th-century designer Alexander Girard collected and installed this knockout array of toys, dolls, masks and other objects from over 100 countries. A traveling exhibit, "Alexander Girard: A Designer's Universe" showcases the modern masterpieces (textiles, typography, architecture, furniture) under his design (through Oct. 27). Also on Museum Hill: the Museum of Indian Arts and Culture.
We'll happily enthuse about dinner at the pop-up restaurant Opuntia, served in a 1930s greenhouse on the property of El Rey Inn vintage motor court sited on the old Route 66. Its ramen found sweet potato noodles and Atlantic salmon immersed in miso broth. Its green ecstasy tea mixed flavors of roasted shishito peppers, cut grass and grey salt. These were complex delectations.
Finally, five pressies from the Bay Area, Texas and Atlanta shared farewell cocktails and a glamorous five-course dinner seated at the chef's table of Terra restaurant in the Four Seasons Resort Rancho Encantado Santa Fe. The resort is miles away from the town center up the Interstate towards Taos, past Santa Fe Opera and across a Pueblo reservation. The trip is worth it for the ambience and sense of getting away from it all.
The full name of this wonderful place is La Villa Real de la Santa Fe de San Francisco de Asis, so it shares a patron saint with San Francisco. But just call it "the City Different" and enjoy its resplendent charms.
Comments on Facebook