Lunar illuminations
Tuesday Jul 16, 2019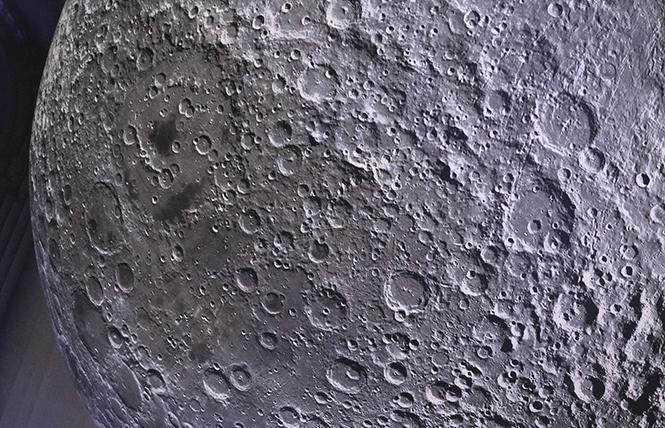 The Moon is such a constant presence in human arts & culture, it's easy to forget it's just an accident of astrophysics that we Earthlings happen to have one, and only one. Through July, the Exploratorium in San Francisco is offering a full range of lunar programming to celebrate their 50th anniversary and the 50th year since the Apollo 11 moon landing. Last week Out There attended a space-themed "After Dark" adults-only Thursday-night program, when the museum is open late, bars serve up liquor, and one can look up and bay at the moon.

All month long, UK artist Luke Jerram's "Museum of the Moon" looms over the galleries like the moon's own selfie. The surface of the photorealistic sculpture appears hyperreal due to its "high-resolution, topographically-correct NASA imagery." It's easy for a viewer to get lost in its cliffs and craters.

Last week's "After Dark" featured a live webcast all about objects built for space travel. "Lunar Lore" (7/18) will examine the stories we see in the night sky. "Out of This World" (7/25) takes up the search for life and theoretical models of the future universe. "Discover what we're learning about the most 'out there' parts of space." They're playing our song!

In a full-day celebration of the Apollo 11 lunar landing, the museum will be open from 10 a.m.-Midnight on July 20. Events will include expert presentations, screenings of NASA's newly-restored footage of the 1969 landing, and a late-night dance party with food, bars, retro cocktails and music. Take one small step for (wo)man, one giant leap for (wo)mankind!

This truly fun science museum has over 650 interactive exhibits that challenge what you think you know about science, perception and the natural world. Also on display through Sept. 2 is "Self, Made: Exploring You in a World of We," an exhibition focused on exploring the converging facets of identity. The Exploratorium, Pier 15, SF, is open 10 a.m.-5 p.m. Tues.-Sun.; 6-10 p.m. every Thurs. night (ages 18+).

Vintage gays

A recent exhibition at a local history museum featured nightlife photography from 1990s San Francisco, and it's not a knock on that particular photographer's body of work, but publicity materials claimed she was a singular sensation in chronicling that era's party life, which is completely and outrageously false. Out There can think of at least a dozen Bay Area photographers who were snapping away pictures during that era of Club Uranus and Club Universe, and that's just photogs we happen to know personally!

Top of the lot is the echt-San Francisco nightlife photographer Jim James, who has been capturing not only nightclubs and disco halls, but Gay Pride parades, street fairs and other louche scenarios and scenesters for many decades now. Last Friday night, OT was proud to be part of the jubilant crowd celebrating the opening of "Black and White Nostalgia: Vintage Gay SF," an exhibition of James' work showing through the month at Strut, 470 Castro St. We revisited favorite portraits, ran into old friends, enjoyed the gay social scene, and were able to make our way through the mob to blow air kisses at the man of the moment, our dear friend and recognized artist, JJ. Mm-whah, darling, major congratulations!
Comments on Facebook