Being LGBTQ in a traditional context
Tuesday May 14, 2019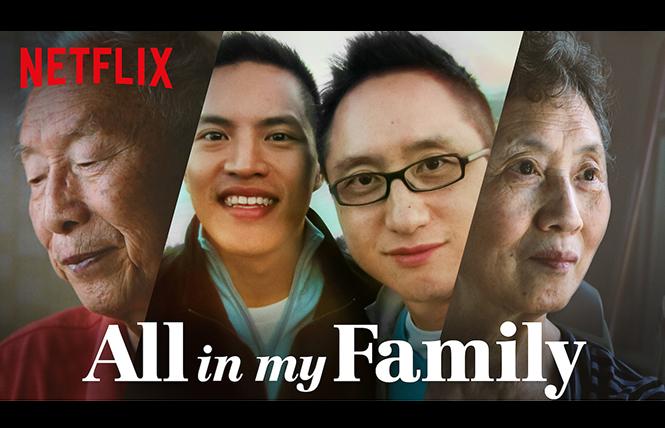 There has been societal acceptance of LGBTQ people in the last decade, but the process of coming out can still be stressful if one comes from a traditional family background. "All in My Family," a new documentary from Netflix, began airing on May 3 and is continually available for streaming. It deals with a culture, mainland China, not often examined in an LGBTQ context. Writer-director Hao Wu was raised there, and he films his trips to visit his extended family, most of whom don't know he is gay. "All in My Family" seems to be a coming out story, but it is more the tale of a collision between Western and Eastern expectations and values.

Wu grew up knowing he was gay, having found a textbook that labeled homosexuality a mental illness. But he was also the only son from a socially conservative family, so was expected to excel at school, land a prosperous job, marry a woman, and produce children. But Wu was a born rebel. In a society prizing conformity, he found it exhilarating to be different. At 20, he escaped to the U.S. to be who he wanted to be. But he says, "A son in a Chinese family can never run away from his past or his parents." He meets a younger Chinese-American partner, Eric. They parent two children conceived through surrogate, non-Asian mothers. Eventually Wu comes out to his sister in a letter and tells his parents he is gay, but neither is supportive. Though loving, they are controlling, screaming at each other and their children. The film's title is probably a tongue-in-cheek reference to the landmark 1970s TV show "All in the Family," about the bigot Archie Bunker, at war with the tolerant world around him, especially his own family.

Wu's domineering mother is brutally honest and headstrong to the point of bullying. Because she loves him, she reluctantly forgives him for being gay (though it takes her three years) but doesn't want to shame the family by revealing his truth to them, especially her father. Grandpa scolds Wu to settle down, find a wife, and give him grandkids. His mother considers Wu and Eric having surrogate kids as abnormal, worries the two won't stay together to raise the children, and pities the children because they lack the love of a mother. "In China, love means worrying" and figuring out how to allay those worries, according to Wu.

Wu, Eric, and their two children return to China for a New Year's celebration. Wu misses his family, "no matter how nutty and noisy they are." He wants to come out to Grandpa. He struggles with feelings of fear and exasperation with his mother, who still refers to Eric as Wu's friend. Despite Wu's professional success, he still grapples with his identity through the prism of his family's "acceptance." As he observes, "When you're young, you think truth is most important, but as you get older, other things become important, like people's feelings." Wu tries to balance the complexities of being a parent, questioning how much he can compromise for his overbearing family. The audience will empathize with Wu's vulnerability, but might not agree with how he resolves his dilemma.

At 40 minutes, this is one of those films you wish were longer. Wu's husband Eric plays a very small role. We learn little about how they met, or his feelings about Wu's family. He says to Wu that he's just like his mother: short-tempered, refuses to admit his shortcomings, but has a big heart. Still, the film's refreshingly honest approach to family, and candid struggles of how to integrate two different worldviews, make it easy to recommend. The last shot is a photograph of the entire family (traditional and very modern) posing together, which unwittingly reveals the shaky status of LGBTQ people.
Comments on Facebook