Litquake's finale & queer choices
Friday Oct 15, 2021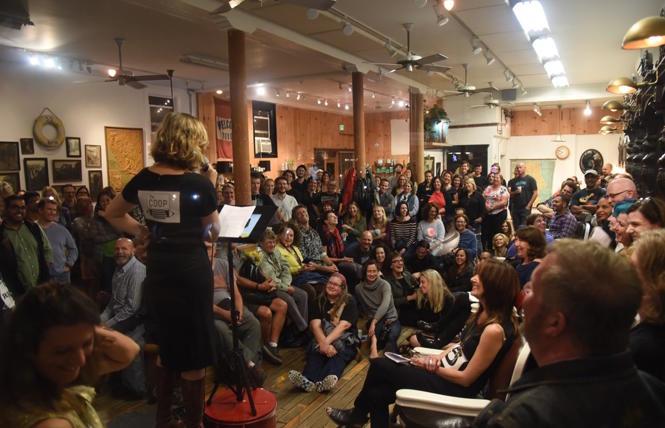 Wait, you haven't been enjoying Litquake's return to in-person (and online) events? There's still time to show some love for local literature, tonight through October 23. Check the schedule at www.litquake.org/

Among the many queer-themed events are Foglifter Press' Eyeing the Margins. Celebrate the new issue of the literary journal, a biannual compendium of the most dynamic, urgent queer and trans writing, with contributors Tauheed Zaman, Nefertiti Asanti, Sara Brody, Danny Thanh Nguyen, Z Kennedy-Lopez, Gia Shakur and Matthew DeCoster. Friday, October 22, 7pm at Strut, 470 Castro St.
www.eventbrite.com

One of the most anticipated literary nights of the year, San Francisco's Lit Crawl is a massive, one-night literary pub crawl throughout the city's Mission District. Started in 2004, Lit Crawl cultivates a unique, resonant brand: smart and silly, worldly and wacky events presented in venues usual (bars, cafes, galleries, and bookstores) and unusual (police stations, tattoo parlors, barbershops, and laundromats). https://www.litquake.org/litcrawl2021.html|www.litquake.org>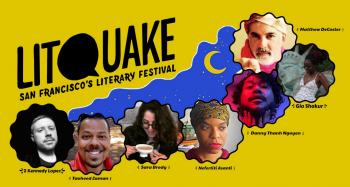 Here are a few of the LGBTQ-focused events. Amble Press is a new LGBTQ press with a focus on publishing both emerging and established queer writers. Alongside Litquake, they will present their first crop of writers. Their works are diverse in form, style, and content, encompassing crime fiction, memoir, short form fiction, and literary fiction: Matthew Clark Davison, Monique Jenkinson, K.M. Soehnlein, Joe Okonkwo, Casey Hamilton and host Michael Nava. Make-Out Room, 3225 22nd St.
www.eventbrite.com

Not that we're a tad biased, but the Bay Area Reporter is the sponsor of Lit Crawl's 13th night at Martuni's, the ever-popular martini piano bar. At Authors Shaken & Stirred, enjoy readings from Marc Huestis, Emily Nahmanson, Sumiko Saulson, and Preeti Vangani; hosted by myself, Jim Provenzano. FREE, $5-10 suggested donation.
Details

Also, in the 6:30pm slot, enjoy dynamic literary performances by some of the best Latin-American writers in the Bay Area at Dónde Esta Mi Gente? Ebullient host and queer poet Baruch Porras Hernandez welcomes guests Persia, Jaime Cortez and Thea Matthews. The Chapel, 777 Valencia St.
Details

A highlight of the 8pm-9pm slot, Red Light Lit authors will take place at Manny's (3092 16th St.) is devoted to writers who explore love, relationships, sexuality, identity, and gender. Christine No, Miah Jeffra, Kar Johnson Sarah Bethe Nelson and Monique Williams read.
www.eventbrite.com

See more events at www.litquake.org/litcrawl2021

Help keep the Bay Area Reporter going in these tough times. To support local, independent, LGBTQ journalism, consider becoming a BAR member.