Gay in cancel culture
Monday Dec 30, 2019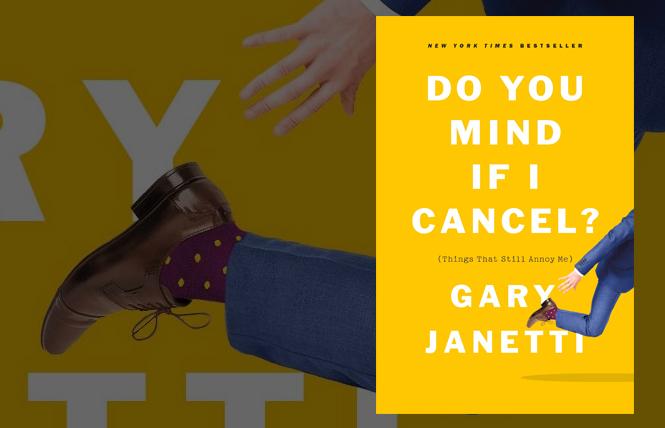 Do You Mind If I Cancel? by Gary Janetti; Flatiron Books, $27.99

Author Gary Janetti's list of accomplishments includes executive producer ("Will & Grace") and television writer ("Family Guy"), and includes minor fame through a series of memes about the Royal Family on Instagram, particularly nailing the lives of Meghan Markle and Prince Harry.

He cleverly channels his Hollywood entertainment acumen into "Do You Mind If I Cancel?," a new collection of personal essays, some truly hilarious, some wincingly self-deprecating. reflecting back on his childhood, his coming out process, and those little pet peeves that bug the heck out of all of us.

Pieces on his childhood reflect on the rampant teasing the author had to endure after representing his gayness from an early age. An obsession with Cher solidified any doubts in his mind, yet even so, Janetti didn't truly come to terms with his identity until he was late into his teen years and "was finally born." Elsewhere, he comments hilariously on the horrors of applying for a job, his fantasized tenure in the Peace Corp (he refused to give them a two-year commitment at age 22), his stress-filled days working as a waiter at Bennigan's Irish pub-themed chain restaurant, and an overly generous cashier at Waldbaum's supermarket.

Much of the book's humorous content comes in essays about how Janetti either laments or celebrates the technological differences between the early days of the Internet and its contemporary digital takeover. "I wish to God I were a millennial," he writes. "I'd be so good at it. Better than these shitty ones. I wouldn't be wasting my time being offended by every little thing or promoting positive body images or getting involved in politics. I'd be avoiding people. I'd be working from home. I'd be watching TV on my laptop. They don't know the nightmare it was to actually have to talk to people all the time."

He comments about his husband, celebrity fashion stylist Brad Goreski, and their life together, but more on his current life would have drawn the reader in closer for a more personal glance instead of random vignettes. Maybe another memoir is in the pipeline.

There are a few clunkers in the mix. Some of the stronger essays aren't satirical at all, but introspective. They delve deeper into Janetti as a gay man, a doting husband, and a thoughtful writer, as in the essay "Letter to My Younger Self." In this moving piece, Janetti's advice to his boy-self is applicable to anyone reading: "Don't go into debt over clothes. Hug your dogs while you have them. Know that you can skip most anything. You will fall in love eventually. Remember that."

Fans of David Sedaris' brand of wry humor should find much to savor in this collection of life observances and universally felt annoyances.
Comments on Facebook