Greatest love of all
Tuesday Dec 3, 2019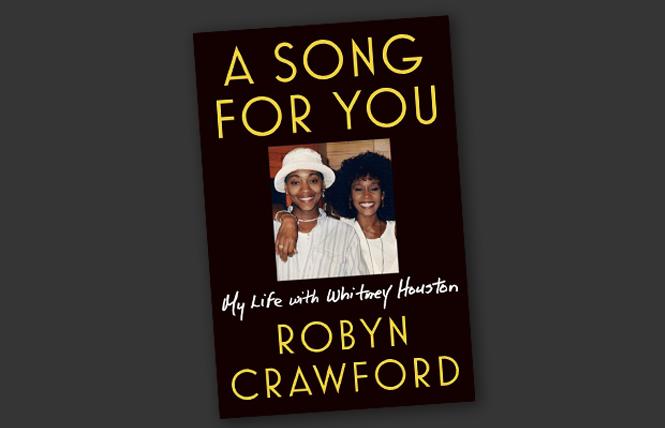 A Song for You: My Life with Whitney Houston by Robyn Crawford; Dutton Press, $28

It's been almost eight years since the death of Whitney Houston rocked the nation and the musical community, and though her autopsy report lists "drowning" as the principal cause, there are many questions that still remain, including why the accidental drowning death of her daughter Bobby three years later happened.

One of the most talked-about unsolved mysteries involved Houston's sexuality and whether or not she considered herself lesbian prior to her meteoric elevation to superstardom. One person who has secreted the details of her special best friendship with Houston is Robyn Crawford, a former music industry professional who now lives with her wife and children in New Jersey.

But back in the summer of 1980 in East Orange, sparks ignited when both Houston and Crawford were teenage camp counselors. Houston was a brassy, unashamed, pot-smoking music-lover who told Crawford to call her "Nippy," her father's nickname for her.

"We became inseparable," Crawford candidly admits in "A Song for You: My Life with Whitney Houston," even while her churlish mother Cissy, the most evil presence in the entire book, disapproved, and drugs like cocaine moved swiftly into the picture.

But it was Houston's desire to sing and her simmering celebrity potential that forced her to put the brakes on their physical relationship. When she announced her decision to keep things friendly between them, she handed Crawford a Bible, then pronounced, "You know how I feel about you, and we will always have that." The pair remained close friends, though Crawford's desire for Houston burned on. To Crawford, "the dream and the rise were beautiful" for her friend, and she went along for the ride as Houston's scheduler and devoted confidante.

Houston's ever-hovering family became increasingly skeptical and obsessively suspicious of Crawford's true intentions, issuing threats and warnings, and attempting to drive a wedge between the two women. But neither Cissy nor the entire Houston clan could compare to the menacing cloud known as Bobby Brown, who, according to Crawford, swooped into Whitney's life and immediately enacted a domineering and abuse-filled regimen of pain and degradation.

The stories in the book are difficult to read, but each rings true. When Brown's physical and mental abuse of Houston began extending into Crawford's orbit, she realized, at age 40, that she was helpless to save her best friend. Things had gone too far to think about getting back on track. It would be many years later that she would begin to consider telling her side of the story.

The publication of this book is obviously cathartic for Crawford, but the other side of the issue is, If Whitney were alive today to answer to these allegations of lesbian love and devotion, would she deny them or come clean? Unfortunately for all of us, she took these truths to the grave with her. But Robyn Crawford offers both a literary rosette and her heart to Whitney Houston's enduring memory, if only to "remind people of her greatness" and "to lift her remarkable legacy."
Comments on Facebook