Dishing Barbra: Ethan Mordden's 'On Streisand'
Tuesday Oct 15, 2019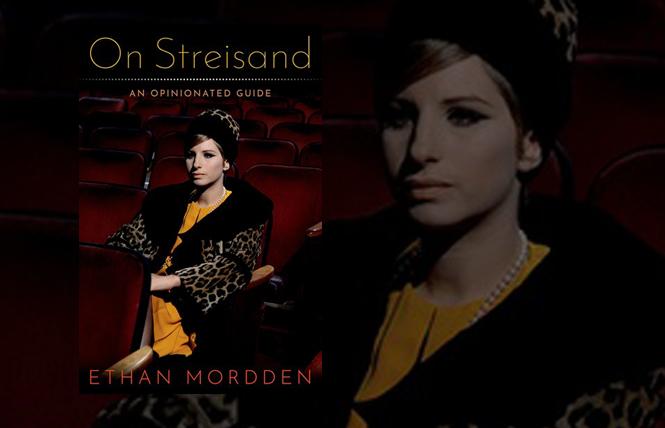 I was initially dismayed to see Ethan Mordden's latest book, "On Streisand" (Oxford Press, hardcover, $21.95). It was published last May, but disappeared from the news cycle zippity-doo-dah. Did you know about it? It certainly lacked heft with only 140 pages, and was, without covers, a mere half-inch thick.
But I'd judged too quickly, and found upon reading that "On Streisand" expanded far beyond my shortsighted initial appraisal. It offered so much new information and opinion to digest, so much delectable dirt, that I pored over each page, and read the whole thing twice in succession, savoring its many pleasures.
Mordden sees his authorial chore as "discerning the cultural substructure that contextualizes events." He does that for each project of his subject's life: stage, recordings, television, film. Throughout Mordden's many books, his modus operandi has been to synthesize a thesis, then use every sample he can find in a product or an artist, to validate his claim.
The thesis here is that Ms. B is an Original. Mordden says an Original (Picasso was one, as was Gertrude Stein) can make their own rules. Most of the time for Barbra (the first thing allowable an Original is to choose their own name), that works out successfully, which Mordden loves. When it doesn't, well, Mordden loves that, too, for the chances it gives him to rationalize, bend his rules, probe the reasons for the mishap.
Although the book charts Streisand's life, it isn't a biography. It's more particularly a biography of her art, an appreciation of her intent, and an assessment of its success or failure. Here are some traits shown by Mordden and his book:
His erudition. Did you ever expect a study of La Streisand to call out Alvah Bessie and Eva Le Gallienne?
His usual wit. Surviving a stultifying art event, he questions, "What could be worse? A 'This is Your Life' segment devoted to Ethelbert Nevin?"
His usual oddities. He says the song "Lazy Afternoon" has a "bosomy, long-lined melody." I'll go for the long-lined part, but what in tarnation is a "bosomy" song?
His use of obscure words where plainer English might do. In this book, some of these are "chalumeau," "carmagnole," and a real goodie, "farouche," which means unsociable in a fierce or surly way. It comes from the Old French word "forasche," meaning ill-tamed. Any of that sound like Our Lady Babs?
What with Streisand's father issues, as well as issues of sexual abuse and the #MeToo movement, Mordden thinks her least glamorous movie, "Nuts," is due for re-appraisal.
"On Streisand" offers a whole bunch of photographs (each with an essay-length caption), an index, plus a bibliography that's not a mere listing of Mordden's sources but a dishy eisegesis revealing their often-curious backstories and intrinsic worth. When have you come across a bibliography that's a bundle of fun?
Mordden ends his book with this realization from composer Jule Styne's wife, Margaret Styne: "The world is split into those who love Barbra and those who don't." The lovers will find their relationship to Ms. S significantly deepened by "On Streisand."
Comments on Facebook