Remembering Kevin Killian
Tuesday Jul 2, 2019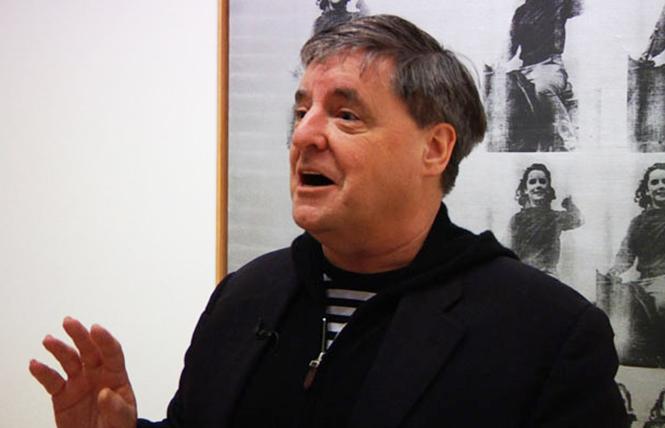 Poet, novelist, playwright Kevin Killian died at his home in San Francisco on June 15, and the B.A.R. published his obituary in our June 20 edition. Like many writers and artists, editors and committed readers, Out There was greatly inspired by Killian's life work, his community involvement, and his personal ethos. Like many, we considered ourselves lucky to have counted him as a friend.

Killian, 66, was a true man of letters. He wrote poetry, novels, stories, and plays for his "Poets Theater," but also a well-regarded biography of poet Jack Spicer, art and literary reviews, journalism, correspondence, even a cache of famous "Amazon reviews." He loved pop culture (Dario Argento, Kylie Minogue) and serious art. Most remarkably, he was always out there, interacting with culture: at poetry and prose readings, art openings, and academic conferences. In public he was open and accessible, and offered his friendship, humor and wisdom to younger writers and artists. He and his wife Dodie Bellamy, another avant-garde literary genius, were role models for half of San Francisco.

Out There met him in the 1980s, when we were ourselves young. OT was waiting in line at the Roxie Cinema for a Curt McDowell feature, reading Killian's early novel "Shy." We had ripped the paperback in half because our then-boyfriend wanted to read the beginning while we read the end. We guess Kevin was intrigued by this already-mutilated copy of his still-new book; he introduced himself as its author.

Not long afterward, we reviewed his early memoir "Bedrooms Have Windows" for Lambda Literary Review, a rave. Kevin sent a thank-you letter via the journal, ending it with a request to look out for Stanley and Blanche, Kevin and Dodie's cats, who had run away during the Loma Prieta earthquake. They were living on California St. then, and although he couldn't have known it, OT was then living on Jackson St., well in cat range. We invited them to our place for a party, and Kevin admired our then-lover's ceramic artwork.

We served on the steering committee for the 1991 OutWrite writers' conference with Kevin and other authors far more important than us. Kevin always made a point of introducing us to intimidating figures. "Gee, Kevin," we said in our wide-eyed innocence, "you know everybody who's anybody!"

"Stick with me, kid," he responded theatrically, "and I'll show you the world!" It was a line as if from a 1940s movie, but it was true, he did know everybody, and if he didn't he approached them anyway (his autograph collection is impressive), and that was very instructive for OT. We met many famous, established artists and writers through Kevin, and more importantly, we met younger, up-and-coming artists and writers as well, who are now at the top of their fields. We attended Dodie's legendary writing workshop, which Kevin often sat in on, and when we published a small monograph with artist Elliot Linwood, we had our opening party at Small Press Traffic, the nonprofit bookstore/New Narrative bulwark they helped establish. Kevin's literary energy and his whipsmart humor never flagged.

Kevin & Dodie proved to us at an impressionable age that you could be a successful, innovative writer, or a sensation in any field, and not be an asshole. We would go on to meet many famous writers on our own steam, through interviews or other opportunities, and learned that some of them were indeed jerks: the famous author who spent half of our allotted meeting time on the phone with his agent; the famous author who, after it was clear we'd read his entire published work, told us to make friends elsewhere. But Kevin always greeted us warmly when we saw him out; he never flaunted his popularity or genius.

We'll keep our favorite Kevin memories in our thoughts: going to a Thom Gunn reading, watching "Suspiria" in their flat on Minna St. But mostly we'll treasure Kevin's writings, which hold up, and his witticisms, which still tickle.
Comments on Facebook