Long, dark trip: 'The Light Years'
Tuesday Jun 25, 2019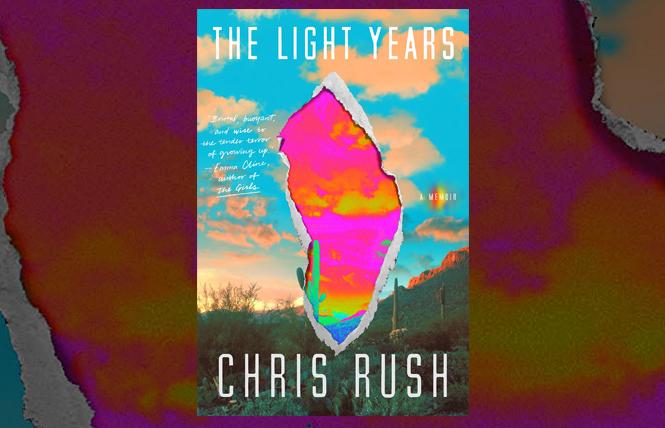 The Light Years by Chris Rush; Farrar, Straus and Giroux, $27

Deep, moving, and intensely personal, award-winning artist and designer Chris Rush's debut memoir "The Light Years" details a life navigating his drug-saturated years in the 1970s and beyond.

Growing up Roman Catholic in New Jersey in the mid-1960s was no picnic for Rush, who describes himself at age 11 as "thin as a matchstick, with a big dollop of blond hair across my brow." Quirky, frustrated, frequently melodramatic, and usually busy teaching himself how to faint, he had parents who were dismissive and inattentive, obsessed with hosting lavish cocktail parties where they would drink with wild abandon while expressing disinterest in their children.

The most memorable sibling support he received was from his sister Donna, a self-avowed hippie ("Just don't tell Mom") whose friendly, patient presence guided him into the wilds of New York City by bus, but also introduced him to an inaugural experimentation with "Orange Sunshine" LSD on his tongue. The drug would prove to be instrumental and formative from his early unmoored teenage years, when Rush set out on a journey of self-discovery across America to the Southwest.

His adventures, fueled by psychedelic drugs and constant wanderlust, colorfully propel the memoir along as Rush chronicles his time dependent on drugs, admitting, "I completely believed in the power of dope." Donna was his guiding force for a new life in Arizona, but once she'd departed, he's left scrambling for housing and ends up developing a same-sex sexual attraction while with a friend's family, an affair that he attempts to bury after moving back to New Jersey.

Rush begins a dark descent into a soulless, LSD-addled wasteland where freak accidents and overdoses nearly take his life. With substance abuse at full tilt, Rush also began seriously questioning his sexuality, which continued manifesting through fantasies of men in passing or "a beautiful blond boy I'd seen at Point Reyes." Later, in more realized intimate moments with men, he would greedily covet sex and thirstily lap up the sensuality, "saving it up like medicine for when I go back to the sickness of New Jersey."

Lyrical moments abound. "Fate is a crazy bird, swooping down from heaven," he writes. His fate eventually leads him toward some semblance of normalcy, but it's hard-won, and still a work-in-progress today.

From free-flowing prose that can be humorous, sad, harrowing, beautiful, and revelatory, often simultaneously, readers will get a complete sense of the author, his troubles, desires, hopes, dreams, and eventually his triumph at defeating drug addiction and achieving a sense of internal peace.
Comments on Facebook