The way men do: 'On Earth We're Briefly Gorgeous'
Tuesday Jun 11, 2019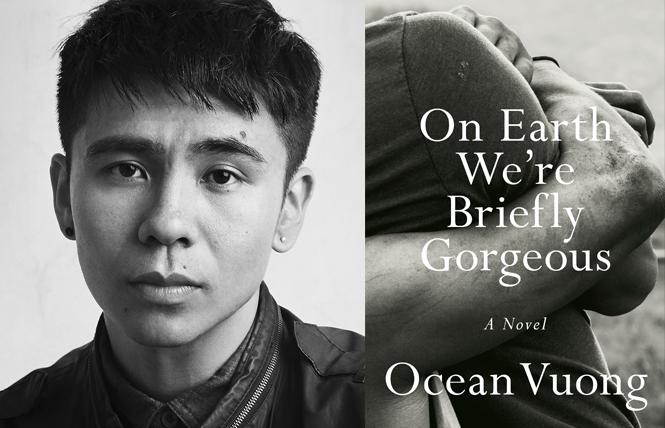 Surely one of the last things Ocean Vuong thought he'd become is topical, and hotly so. In advance of the monsoon of immigrant narratives predicted for the next year and half, Vuong's debut novel "On Earth We're Briefly Gorgeous" (Penguin) sets the high-water mark. In a story that self-pity would overtake in lesser hands, radiance holds sway.
Vuong was brought to the U.S. by his mother and grandmother when he was two. Credibly claiming he couldn't read at all until he was 10, he knocked an unsuspecting literary establishment sideways with his first book, "Night Sky with Exit Wounds," a collection of poems so fine they confounded expectations about the novel said to follow.
"On Earth" is no pansy prose-poem, and Vuong has again shocked his readers, with an epistolary novel, the genre's ur-form, which now only the best living writers (think Marilynne Robinson in "Gilead") venture. Vuong's is a letter to a mother who, he knows as does she, will never be able to read it. "Our mother tongue then is no mother at all — but an orphan. ... Is there a language for falling out of language?
"I am twenty-eight years old, 5ft 4in tall, 112lbs. I am handsome at exactly three angles and deadly from everywhere else. I am writing you from inside a body that used to be yours. Which is to say, I am writing as a son."
"On Earth" is prime Asian-American literary real estate, and we've barely unpacked in Hartford, Connecticut before the "mother/monster" conundrum is out of the bag. Ocean, waving out loud, identifies his Ma with a "woman warrior," an archetype Maxine Hong Kingston picked fresh from a tree that has yielded golden apples of perpetual renewal when anything less primal would have fallen, rotting, from the trees — as fruit literally does in the well-insured Hartford of Charles Ives and Wallace Stevens, where immigrants like Ocean are, at most, Midnight flaneurs. The metaphor resurfaces in Ocean's account of drawing his family tree in school, its branches akimbo, their joints the survivors whose interrelationships are less than clear.
Ma, "Rose" when she's in bloom, is not Kingston's imperious Brave Orchid but the beaten and beaten-down factory worker and nail-salon technician whose wild mood swings do not prevent her from visiting the beating she got from her husband on her fatherless son; "[W]hat happened was that I was a boy once and bruiseless." Even she is overshadowed by her mother, schizophrenic Grandma Lan, a priceless alloy of the mad and the madcap whose mandated burial in the "mother land" gives Ocean (Little Dog to the women) his first conscious encounter with Vietnam.
Another surprise is Vuong's realism, albeit a born poet's. There's not a patch in his vaulting prose where a reader has to stop to divine what's meant, and while Vuong leapfrogs across time frames, there's never uncertainty as to how the story goes.
The story that's almost exclusively his — until boomerang confessions by him, then Ma at Dunkin' Donuts — is gay first love. His is Trevor, the scion of a tobacco-farming family with its own history of trickle-down abuse. We are let in on Trevor's fate, an Oxy OD death, before the considerable pre-story, their more than five-year tryst. The sole extended rant, during which Vuong never loses verbal control, vilifies the cruelties of drug addiction that made off with so many of his friends.
Trevor, a delicate thug and cagy sexual aggressor, resists being "really" gay at the same time he cannot resist Ocean, and the tender terror of their fragile, daredevil relationship flirts with the archetypal before settling into the boys' own story.
I've not read an account of first-time anal bottoming more frank and minutely felt than Ocean's. The episode includes a baptismal interlude in an actual, cold river for both boys, leading to the climactic ass-fucking. "The whole point of us meeting was to say goodbye," Ocean reflects after Trevor's death, "or rather, just to be side by side, a farewell of presence, of proximity, the way men do."
The novel is as true to its title as Ocean is to Trevor, contemplating beauty in all its warring manifestations. "It was an accident, my beauty revealed to me." In the mirror Ocean sees "everything I hid from. ... And yet I stayed. I let the mirror hold those flaws — because for once, drying, they were not wrong but something that was wanted. ... [T]he thing about beauty is that it's only beautiful outside of itself."
"I read that beauty has historically demanded replication," he muses elsewhere. "We make more of what we find aesthetically pleasing [to] extend it through space and time. ... Staring into the mirror, I replicate myself into a future where I might not exist."
"I want to insist that our being alive is beautiful enough to be worthy of replication," he writes. "And so what? So what if all I ever made of my life was more of it?"
Vuong has said "so what?" if he never writes another poem or novel, but who else could bear that? Behold what has become of "Huckleberry Finn."
Comments on Facebook