Whatcha reading?
Tuesday May 28, 2019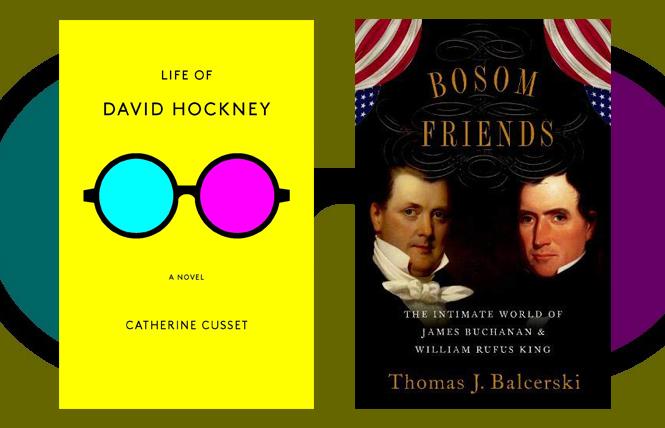 Out There has access to review copies and early galleys of published works, so when we're not at work, or attending theatre, musical events, film screenings or art openings five nights a week, or at a press conference on one of our "days off," we're often found with our nose in a book. Which ones? The following.
"Life of David Hockney," a novel by Catherine Cusset, translated by Teresa Lavender Fagan (Other Press), is a biography in the form of fictional narrative, an intriguing hybrid form that seems appropriate to its subject, the prolific, long-lived artistic talent most associated with beautiful young men and swimming pools.
"The Cook," a novel by Maylis de Kerangal, translated by Sam Taylor (FSG), is the minimalist telling of the making of a modern chef. Early chapters describe Mauro's cooking talents as a boy, and his apprenticeship and employment in first restaurants. Like many ambitious chefs, he works up to owning and running his own restaurant. Like many others, he suffers a nervous breakdown and collapse, then makes a comeback. All of this is related in simple prose over the course of exactly 100 pages. Points for compression!
"Mr. Know-It-All, The Tarnished Wisdom of a Filth Elder," by John Waters (FSG). Unstoppable wit.
"And How Are You, Dr. Sacks?" a biographical memoir of Oliver Sacks by Lawrence Weschler (FSG, Aug.).
"The Book of Flora" by Meg Elison (47North), our B.A.R. colleague.
"The Journalist of Castro Street — The Life of Randy Shilts" by Andrew E. Stoner (U. of Illinois Press, June).
"Forty-five Thought Crimes," new writing by Lynn Breedlove (Manic D Press).
"Alfred Stieglitz — Taking Pictures, Making Painters" by Phyllis Rose, part of "Jewish Lives" biography series (Yale U. Press).
"Rabbits for Food" by Binnie Kirschenbaum (Soho Press). Hilarity.
"Bosom Friends — The Intimate World of James Buchanan and William Rufus King" by Thomas J. Balcerski (Oxford U. Press, Sept.). "The friendship of the bachelor politicians James Buchanan (1791-1808) of Pennsylvania and William Rufus King (1786-1853) of Alabama has excited much speculation through the years. Why did neither marry? Might they have been gay? Or was their relationship a 19th-century version of the modern 'bromance?'" Gay.
"JR: The Chronicles of San Francisco" with a foreword by Neal Benezra (Chronicle Books).
"The Dominance Playbook — Ways To Play with Power in Scenes and Relationships" by Anton Fulmen (Greenery Press).
"Out in Time — The Public Lives of Gay Men from Stonewall to the Queer Generation" by Perry N. Halkitis (Oxford U. Press, June).
"Pride — Fifty Years of Parades and Protests from the Photo Archives of The New York Times," introduction by Adam Nagourney (Abrams).
Correction box
The review of "All That Heaven Allows: A Biography of Rock Hudson" in the May 21 edition of the B.A.R. misidentified the author Mark Griffin as "Mark Miller" throughout the review. It's possible that the confusion stemmed from the fact that Hudson's close friend and secretary of many years was named Mark Miller.
In the review, "Undertow" is mentioned as the feature in which Hudson made his film debut. As the book details, it was actually "Fighter Squadron" (Warner Bros., 1948). "Undertow," released the following year, was the first movie that Hudson made as a contract player for Universal, though he was billed as "Roc" Hudson in the credits. We regret the errors, which have been corrected in the online version.
Comments on Facebook