Lecherous literature
Tuesday Feb 26, 2019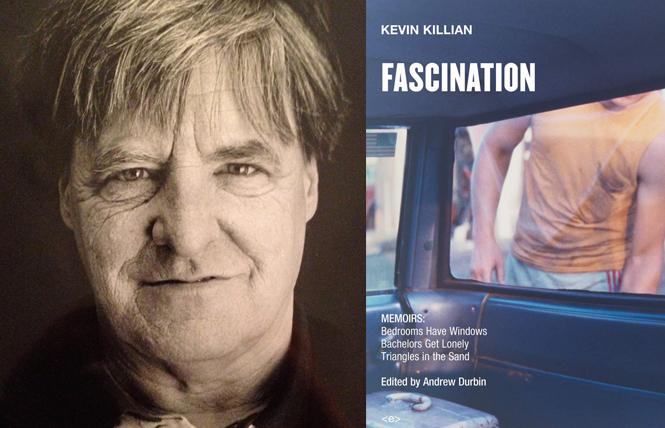 It's traditional, almost de rigueur, to enter into a review of a book by Kevin Killian with a dense, not particularly understandable, and (to me, at least) thoroughly irrelevant history of the New Narrative literary movement he co-founded with a small group of West Coast writers of poetry and prose. The Roll Call of Honor includes D'Allesandro, Boone, Bellamy, Gluck, Cooper, Acker, Abbott, etc. This would typically be followed by an explanation of what New Narrative is. And you know what? I'm gonna skip it. You don't have to know a jot about all that to find Killian's new book "Fascination" (Semiotext(e) Native Agents, $16.95) a goddam laugh riot.

The PEN Award-winning Killian has authored three volumes of gay short fiction, numerous essays, novels, a plethora of Amazon reviews and at least one previous memoir, the 1989 "Bedrooms Have Windows." In a wonderful decision by the publisher, it's been collected in this new volume, along with the previously unpublished prose work "Bachelors Get Lonely," and the item of perhaps greatest interest, the brand-new "Triangles in the Sand," which becomes the book's finale. In "Triangles," the boozed-up, sexed-up, drug-addled author depicts his early years of struggling to become a writer on Long Island's North Shore in the 1970s. There's a loneliness that desire conjures, and Killian nails it in his most free and unconstrained writing that I can remember. Like a mix of Michael Cunningham and Boyd McDonald.

While twirling through the pop culture references that he — and therefore, we — enjoy so much, Killian pauses in one hysterical section to demolish Allen Ginsburg's guru guise, writing that a Ginsberg poem was "one of the little pieces he liked to write in the vein of Blake — were Blake an American chicken Hawk." The book's main concern tells of Killian's brief affair with the composer Arthur Russell, in writing that is campy, edgy, rueful, and egregiously salacious. Naughty Kevin! It seems he's always got his nose up some droll satire, some revealing slice of gay sociology, or some guy's succulent ass. Now, that's literature.
Comments on Facebook