Williams & Laughlin, more than pen pals
Tuesday Feb 26, 2019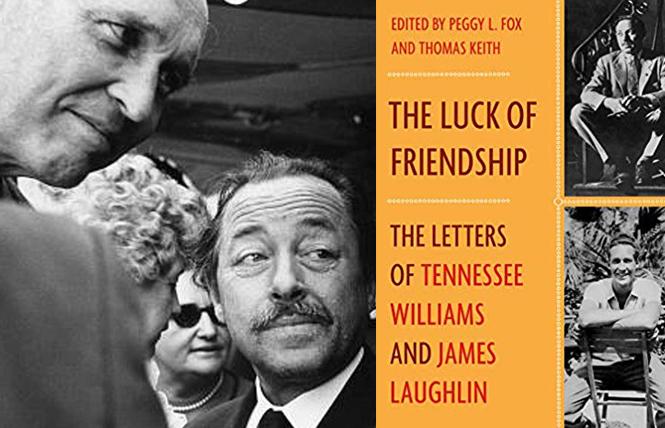 In life, openly gay Tennessee Williams (1911-83) was prolific, authoring over 20 full-length plays, many short ones, a large number of stories, novels, poems, screenplays, essays, and memoirs. Eighteen movies have been based on his works. Several have been adapted for television. In death, the two-time Pulitzer Prize- and Tony Award-winner has become a cottage industry: approximately 40 books have been published about him, including Lyle Leverich's magisterial "Tom: The Unknown Tennessee Williams" and John Lahr's comprehensive "Tennessee Williams: Mad Pilgrimage of the Flesh." These numbers are especially impressive because, after 1961, most of his new plays were critical and commercial failures. Yet Williams remains the most translated English-language playwright except for Shakespeare.
What's left to be said? Happily, a great deal. Edited by Peggy Fox and Thomas Keith, "The Luck of Friendship: The Letters of Tennessee Williams and James Laughlin" (Norton, $39.95) chronicles the decades-long relationship between the author and the founder of New Directions, the small house that published almost all of Williams' works.
They met in 1942 at a party given by American Ballet Theatre founder Lincoln Kirstein. The patrician, heterosexual Laughlin (1914-97) would champion all of Williams' oeuvre, but was most enthusiastic about his poetry. That mattered greatly to Williams, who considered himself a "poet-playwright" and who would have focused more on poetry had it earned him the acclaim and financial independence his plays did. In 1944, a year before "The Glass Menagerie" revolutionized the American theatre, Laughlin secured a grant of $1,000 for the struggling author, something Williams never forgot.
Laughlin was himself a poet. He also suffered from bi-polar disorder, for which he took Lithium. He seems to have coped well with this debilitating condition, although he did have bouts of depression. His illness may have made him sympathetic to Williams' alcoholism and his psychological and physical problems, for which he took far too many drugs and which ultimately resulted in his brother, Dakin Williams, having him institutionalized. Although he eventually understood why Dakin had done so, he nonetheless disinherited him. The drugs probably triggered Williams' growing paranoia, which led him to turn against longtime supporters, including agent Audrey Wood.
The letters reveal Williams' and Laughlin's generosity. New Directions used part of its earnings from Williams' works to finance publishing less-well-known writers, especially experimental ones. Williams often directed Laughlin to send money to struggling authors he admired.
He had assigned all royalties from "Menagerie" to his mother, Edwina. She left most of her estate to Dakin, something Williams realized when he disinherited him. Earnings from "The Rose Tattoo" (1953) had been given to his longterm lover, Frank Merlo. Williams also financed the care of his beloved, lobotomized older sister, Rose. When he died, his estate was used to provide for Rose's well-being until her death. Afterwards, most of it was left to the University of the South, his adored grandfather, the Rev. Dakin Williams', alma mater. The proceeds were to provide financial assistance to experimental writers.
The correspondence reveals the importance to both men of the paper, typeset, and cover of each volume published by New Directions. Hardbacks, quality paperbacks, and mass-market paperbacks, the latter aimed at college students, received equal attention.
Laughlin's opinions about Williams' plays during his glory years are fascinating. He agreed with the critics about the masterpieces — "Menagerie," "A Streetcar Named Desire," "Cat on a Hot Tim Roof," "Sweet Bird of Youth," "The Night of the Iguana" — but was equally supportive of those that weren't immediate successes, like "Summer and Smoke," and others that failed, like "Camino Real" and "Orpheus Descending."
Williams' own comments about the plays during rehearsals are often quite funny. Regarding Daniel Mann, who directed "Tattoo," he wrote, "[He] is no fool, in fact, he is a real New York intellectual but has humor and vitality to compensate for that defect." There is much about Elia Kazan, who helmed the original productions of "Streetcar," "Camino," "Cat," and "Sweet Bird," as well as the 1956 film "Baby Doll." Kazan was another straight man who admired Williams and whom the writer trusted. Others mentioned in the letters are Ezra Pound, Carson McCullers, Gore Vidal, Paul and Jane Bowles, Truman Capote, and James Baldwin.
Williams and Merlo were estranged when the latter was diagnosed with inoperable lung cancer. His physical decline and 1963 death coincided with Williams' failure to produce another successful Broadway play after "Iguana" (1961). None of his subsequent lovers/companions could organize Williams' life and keep him functioning. Although his later works have their admirers, and 1972's "Small Craft Warnings" ran for six months at two off-Broadway theatres, only 1967's "The Two Character Play," (also known as "Out Cry"), which took 10 years to write and revise, and which enjoyed a critically acclaimed New York revival in 2013, seems to have touched audiences.
Letters about 1975's "The Red Devil Battery Sign," starring Anthony Quinn, Claire Bloom, and Katy Jurado, which opened to mixed reviews but drew theatregoers in Boston, suggest a major breakthrough for Williams. But producer David Merrick abruptly closed the play, which never got to Broadway. New Directions published a revised version in 1979.
It's possible that substance abuse made it harder, perhaps impossible, for Williams to connect with audiences and critics as he once had, but he never stopped writing. Laughlin's belief in him never faltered.
Williams died the day Laughlin was scheduled to receive an award from The National Arts Club. Devastated, he composed a poem, "Tennessee," which he read at the ceremony. It begins, "Tennessee called death the sudden subway, and now he has taken that train."
Excellent notes follow each letter, although Vivien Leigh's name is twice misspelled, a rare error. While the collection isn't for the general reader, Fox and Keith have made a tremendous contribution to understanding Williams, and have given Laughlin his rightful recognition. This volume will be mined by scholars in years to come.
Comments on Facebook