Stranger in the house
Tuesday Feb 5, 2019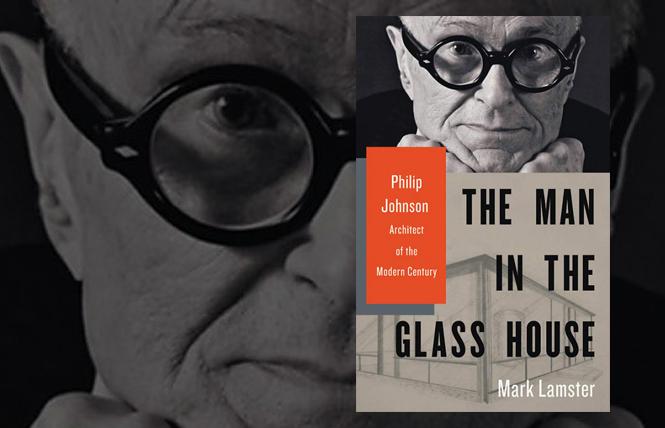 For reasons that will go to the grave with me, I once stood on the open 49th floor of Philip Johnson's 48-floor San Francisco tower, the poetically named 101 California, when it was still just a frame. There are photographs, and the photographer, my partner at the time, and I each separately crawled on our bellies to the edge of the roof to look out and, inevitably, down. Beyond definitively confirming my acrophobia, the experience was as aesthetically disappointing as the skyscraper that succeeded it.
My best friend at the time was an architectural historian who could barely speak the name Philip Johnson without retching. His fulminations are weak next to the portrait of Philip Johnson in Mark Lamster's rich, authoritative, compulsively readable new biography, "The Man in the Glass House" (Little, Brown).
The title refers to the all-glass house Johnson built for himself on his ever-expanding estate in New Canaan, Connecticut, his boxy, see-through up-yours to Frank Lloyd Wright's Falling Water. His longest, arguably never-finished project, it sometimes served as a salon in which the very rich, powerful and famous mixed, but its creator was one of the few who could tough out its fundamental design flaw: the trapped temperature extremes caused by its transparent defiance of nature. Call it Pissing into the Wind.
Lamster dispenses with the wait-for-it joke in his Prologue: "[Johnson] was a gay man with a fascist history living in a glass house, and he liked nothing better than to throw stones." But on the first page he sums up his detailed view of Johnson's place in 20th-century culture thus: "Philip Johnson began his career proselytizing the public in the name of modern design. He finished it building for Donald Trump."
What keeps this 500-page-turner chronicle from being a mere hit job are Lamster's expertise as a professor and architectural historian, his unfailing feel for context in a life that lasted nearly a century (1896-2005), and the fact that he "has the receipts." Lamster's sentences can leap tall buildings, if not in a single bound (though the short sentences are leveling), then with an alloy of structure and purpose his subject could only have envied. He no more rolls out the carpet for postmodernism's "starchitect" than you watch him yank it out from under him.
The platelet count begins an inexorable rise with the epigraph to the first chapter, surgically removed from "The Great Gatsby": "A sense of the fundamental decencies is parceled out unequally at birth." Do not skip the epigraphs, mostly chilling quotes from Johnson himself.
The very fact of Lamster's study recognizes Johnson's ever-increasing power and influence, and if it's hardly sympathetic, neither is it vicious. He likes some of the buildings, and he appreciates the double-edge sword of Johnson's being independently wealthy, rampantly gay before it was a token of modernism, and bipolar, and there's no conflation of the homosexuality and the mental illness.
Despite his peers' being keenly aware of the sexuality of this dapper man with extravagant tastes and chiseled American good looks, he could not be said to be out until, perhaps, his final years with David Whitney in such privacy as a glass house afforded them. Both promiscuous and possessive, he was unafraid to use his money and influence to meet his daily need for sexual contact. Even so, it comes as a late-breaking shock in Lamster's account of Johnson's trying to elbow his way into one of New York's most ambitious gentrification projects. "Times Square had always had a tawdry underbelly, and nobody knew that history better than Philip Johnson, whose life had been nearly upended by an assignation gone bad with an underage rent boy in the 1930s." Lincoln Kerstein called young men Johnson's "specialty."
Lamster is exhaustive on what some others have deemed Johnson's dalliance with fascism. It spanned more than a decade, in Europe and the States, and was action-oriented, not ideological. Only his own political ineptitude and practiced lying spared him graver consequences than an FBI investigation. Unsparing as Lamster is with the details, he makes a fascinating if hardly exculpatory observation: "Rejection of aesthetic ambition had also fueled the rise of Adolf Hitler."
Lambert catalogues Johnson's technical deficiencies, amateurism and unpreparedness, in realizing his grand ideas, for which he compensated by being doctrinaire. "The conceit of his own lack of creativity was beginning to be just that," Lambert writes, "although the 'unoriginal' tag would hang on him throughout his career." Lambert decries Johnson's devolution from modernism to postmodernism as "obscene" and "preposterous," calling Johnson postmodernism's "patient zero."
In spite of Johnson's predilection for showmanship, Lambert concludes, "If there was any single hallmark to his designs, any defining characteristic, it was the void. The Glass House, his most intimate and personal artistic statement, is in essence an empty container."
Comments on Facebook