1,001 slights
Tuesday Jan 29, 2019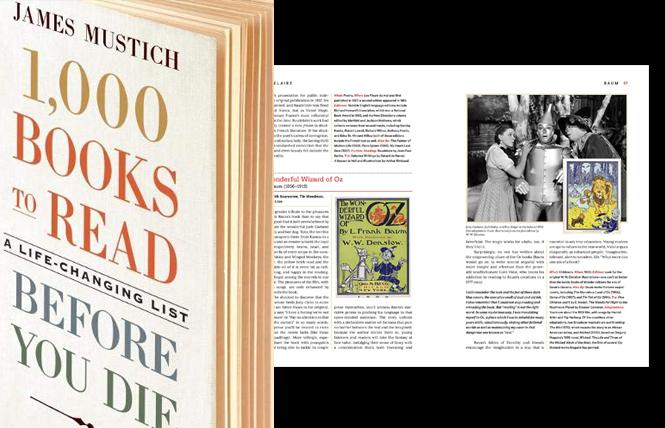 With a title like "1,000 Books To Read Before You Die — A Life-Changing List" by James Mustich (Workman), you know someone like Out There is going to be coming along to deflate the balloon.
Our major quibble with this list is its blind spot regarding LGBTQ literature. With 1,000 spots, surely room could have been made for one of the novels of Alan Hollinghurst? If not his latest, "The Sparsholt Affair," perhaps the Man Booker Prize-winning "The Line of Beauty" or "The Stranger's Child?" Hollinghurst is our contemporary Henry James, a meticulous chronicler of social manners, mores and status quo. His "The Swimming-Pool Library" is one of the great gay discovery novels of all time.
Similarly, Colm Toibin is one of our great gay men of letters, a novelist, playwright and essayist of real distinction. From a quite full oeuvre we'd choose as canonical his first novel, "The Story of the Night," an elegant story of gay youth.
Edmund White makes the index, but for his biography of Arthur Rimbaud, not for his classic gay trilogy that begins with "A Boy's Own Story." Inexcusable.
Unsurprisingly for a New York-based publishing house, West Coast gay authors are seriously underrepresented, including Kevin Killian, Bob Gluck and Jim Provenzano, all fiction-writers whose work will stand the test of time.
Lesbian authors are all-but-invisible. Radclyffe Hall's "The Well of Loneliness" was a groundbreaking work in lesbian literature, but it's missing in action here. Dorothy Allison's "Bastard Out of Carolina," such a big book for contemporary readers, is absent. Sarah Schulman and her social conscience go unmentioned.
Gary Indiana, Dennis Cooper, Tom Spanbauer, important novelists all, are ignored. Other writers any gay reader would know — Ethan Mordden, Andrew Holleran, David Sedaris — also fall through the cracks.
The lacunae extend well past the invisibility of the homosexual library for Mr. Mustich. His literary sensibility is of a particular time and place that makes all sorts of room for the canonical, but gives not so much as a glance for the off-the-beaten-trail. For example, he's great on John Barth — represented by "The Sot-Weed Factor," a good choice — but missing-in-action on Donald Barthelme. His Samuel Beckett essay includes not only the play "Waiting for Godot" but also the novel "Molloy." There's room for Tony Kushner's "Angels in America," but not for Mart Crowley's "The Boys in the Band."
Some of the oversights just seem random. There's mention of Alice Munro ("Selected Stories"), but not Iris Murdoch. We get Mark Twain, but not Hart Crane. E.M. Forster, but not Stephen Spender. James Thurber, but not Ann Beattie. Russell Banks, but not A.M. Homes. Where is the determinative criterion?
Poetry is another whole kettle of fish. Robert Frost crosses the Mustich threshold of consciousness; John Ashbery does not. Nor does Frank O'Hara. But Margaret Wise Brown ("Goodnight Moon"), come on down!
Missing in action: William Burroughs, Andre Gide, James Purdy, Will Self, none of them 1,000-aires. Look, obviously, there's a lot of give-and-take in one's taste in literature, and there's room in the canon for all sorts of background assumptions. But why does this collection include Hilary Mantel and not Sarah Waters? Why Edmund Wilson and not Robert Wilson? This way madness lies.
What did we appreciate in this 948-page monument to its own importance? Well, it's good on the ancient classics (Aristophanes is introduced as "the world's oldest comic"). If it dwells on the intellectual, it doesn't totally neglect the artistic (the rather short squib on James Baldwin pays attention to his essays, but does list the novels as well). A lot of bases are touched ("The Decameron," Roberto Bolano, Borges). "A Common Reader" cataloguist Mustich has set himself an impossible task. If he predictably fails, it's not for lack of trying.
Comments on Facebook