Kiss & makeup
Tuesday Jan 29, 2019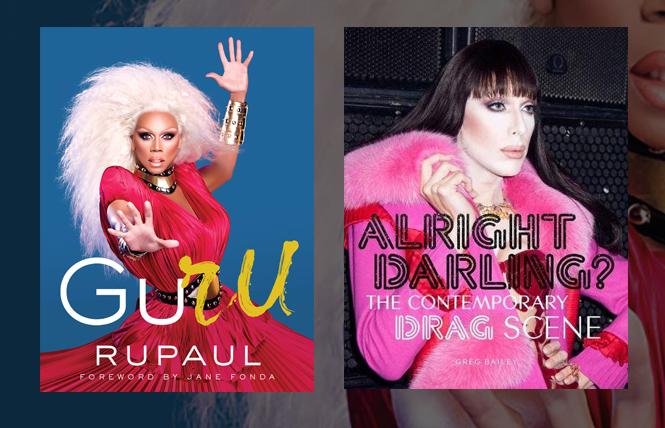 Guru by RuPaul; Dey St. Books/William Morrow, $25.99
Alright Darling? The Contemporary Drag Scene by Greg Bailey; Laurence King Publishing, $19.99
Over the last decade, the art of drag in its many forms and iterations, with queens draped in every color of the spectrum, has become fully popularized, name-branded, and somewhat oversaturated. Aside from television, social media posts, conventions, makeup palettes, wig stylists, clothiers, and hip pad manufacturers, the picture books, which came early on in this evolution to greatness, thankfully still carry on.
Whether or not you appreciate "Drag Race" hostess and impresario RuPaul Andre Charles, he remains one of the pioneers of the drag queen universe after three decades as a public figure. He continues to pen books with uplifting self-help messages to navigate the big bad world as it revolves today.
His latest aptly-titled book "Guru" focuses on the mind-body connection and dispenses advice and counsel to those in search of life guidance or just a daily pick-me-up message to live by. Refreshingly free of negativity and criticism, his advice is universal and timely, applicable most to those just beginning their journey into drag.
As a longtime friend of the author, Jane Fonda provides the book's introduction and gushes over her recent presentation of a star on the Hollywood Walk of Fame to RuPaul in 2018. From there, the author writes frankly about his preparatory onstage regimen, akin to "preparing for battle" at a staggering six hours (though he admits he could do it in two), and about the "magic team" of multitalented professionals who assist him, all collectively embodying the "creative warrior spirit" necessary to make his onstage performance sparkle.
Further chapters form an amalgam of wisdom and superficial, indulgent drag truths, such as the immense benefits of false eyelashes coupled with smoky-eye makeup, proper dental care, wearing vinyl-strapped slide-in mules for long events, and adorning fancy outfits, "even if you're the only one who appreciates it." More serious internal encouragement includes bullet points on being attentive to your body's inner dialogue, working on overcoming your own self-imposed limitations, and also, perhaps most importantly, galvanizing motivation to unapologetically be your own true self, no matter what.
In addition to the sage truths contained on these glossy pages, RuPaul fans will find the glossy full-color imagery satisfying as well. The author graces just about every other page in photographs that beautifully celebrate his legendary legacy in drag and the colorful cornucopia of looks he has presented over the years. Though his career has had its share of controversy (Pearl's interaction with him on the set of her "RPDR" season, his barbed comments on cis-gender women as "RPDR" contestants, etc.), the takeaway of this book is the importance of unity, positivity, and increasing one's self-worth from the inside out.
More proof that drag is languishing in the limelight of popularity is UK photographer Greg Bailey's collection of fashion photography featuring some of the most recognizable queens on the performance circuit today. Based on the queer zine of the same name, "Alright Darling?" is a collector's item coffee-table book and definite conversation-starter, showcasing royalty like Alaska Thunderfuck, who graces the cover and writes the insightful, clever introduction.
Personalities like Adore Delano, Bob the Drag Queen, Coco Peru, Detox, Jinx Monsoon, Manila Luzon, Milk, Raja Gemini, and a parade of others (including Francois Sagat!) are all exquisitely featured through dramatic photography and in commentary that directly addresses readers both involved in the wonderful world of performance and who may be contemplating dipping their toes in the lady-boy pond.
As Alaska acknowledges, for the drag queen (this reviewer included), "Drag doesn't make much sense. It takes all our time and our money and our energy. It ruins our feet and our spines and our sheets. It makes our roommates move out and our grandmothers shake their heads. Drag fucking hurts. But we do it anyway." Amen, sister.
Comments on Facebook