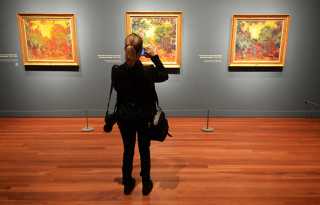 The received wisdom, at least for some, is that Impressionist master Claude Monet is too easy, but, as with all great artists, he only makes it look that way.
"Show Me as I Want to Be Seen," a scintillating in-house exhibition filled with the new and different, is, by turns, revelatory and unsettling, and one of the most intriguing shows mounted by the Contemporary Jewish Museum in a while.
"The Sea Ranch: Architecture, Environment, and Idealism" is a small but vital exhibit at the San Francisco Museum of Modern Art, on view through April 28.
The year is off to a thought-provoking start at local galleries and nonprofit spaces, with artists zeroing in on topical issues from the environment to immigration.
Harlem's temporary loss is a gain for San Francisco's Museum of the African Diaspora, the first stop for "Black Refractions," the largest touring exhibition The Studio Museum in Harlem has ever undertaken.
There was a certain electricity in Davies Symphony Hall last Friday night as Esa-Pekka Salonen conducted the San Francisco Symphony for the first time since his appointment as Music Director Designate was announced at the end of last year.
After rebelling against the constraints and realism of street photography in 1974, Steve Kahn commenced what became known as "The Hollywood Suites."
In every community there is an artist who best captures the zeitgeist of that place, that time, and what it was like to live there then. For AIDS activist-era San Francisco, that artist was Jerome Caja.
German artist Johannes Brus delivers a rare and welcome jolt to the jaded in his first American solo exhibition, now at SFMOMA.
Before the holiday season was over, Out There was offered an overnight stay at a landmark San Francisco hotel to add to our continuing investigation into excellent places to indulge in a Bay Area staycation.
Here's a sneak peak of art just around the bend.
When composer Bryce Dessner was named one of the collaborative partners who will be joining Music Director Designate Esa-Pekka Salonen and the San Francisco Symphony in 2020, his name rang a bell with Out There.