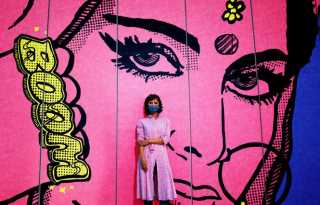 As health safety precautions remain in effect, some large museums have reopened under careful guidelines, while others, including smaller galleries, showcase beautiful and thought-provoking works online.
A new comics anthology hopes to showcase the work of Bay Area People of Color and LGBTQ artists in a fundraiser for its first issue. Titled The BAYlies, the project will include both established and rising illustrators.
Lesbian documentary filmmaker Catherine Gund has an exceptional eye for subject matter when it comes to her movie projects. The subject of her new doc 'Aggie' is about her mother; art collector-philanthropist Agnes Gund.
The fashion documentary of 2020 is here. At 98 years old, Pierre Cardin still has the magic, as does the film about his incredible life and 70-year career, House of Cardin.
Whether you're planning to participate in the June 28 march or watch online events, a stroll or ride up or down Market Street is worthwhile to take in artist Win Mixter's bold series of Pride history works at multiple bus stops.
The latest Black Lives Matter street mural, created on June 12 by was painted on Fulton Street with a direct view toward San Francisco's City Hall. Photographer Gooch captured a unique angle when he and his husband participated in the painting event.
Northwest Press, the Seattle-based publisher of dozens of artist's vibrant comics and graphic novels, has started a Kickstarter project with LGBTQ-themed postcards featuring artwork by five artists.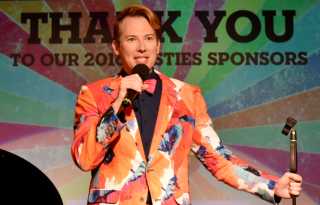 Thank you very much, it has been both humbling and encouraging receiving your generous support when so many are also in need of help. So far, we have raised just over $25,000 and are just 15% away from reaching our goal of $30,000.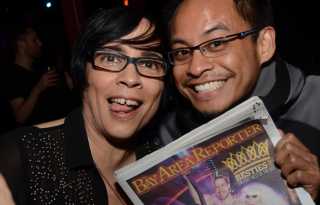 San Francisco is one of 11 US cities that is fortunate to have a legacy LGBT publication by us, for us, and about us. Help preserve the BAR as an historic and important community institution for the future.
The California Academy of Sciences is committed to providing free, high-quality resources to our community, even while closed.
Considered one of the most accomplished, artistically inventive American quilt-makers of the late 20th and early 21st centuries, Rosie Lee Tompkins deserves an appreciative retrospective, and a comprehensive new show at BAMPFA demonstrates why.
If fiendishly concocted escapism is what you hanker for right now, consider "The Burnt Orange Heresy," a highly entertaining new Italian melodrama opening Friday.