Fall offerings at museums and galleries
Tuesday Aug 31, 2021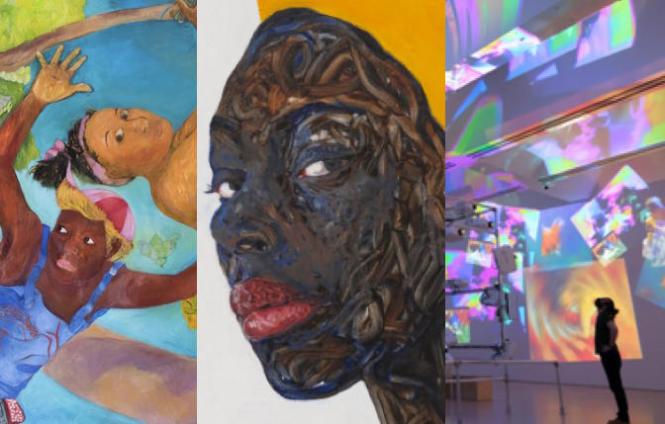 Many cherished art institutions were shut down this year, only to resurrect themselves in recent months and be welcomed back by a grateful public. The good news is that some previously scheduled shows that didn't arrive on time are opening this fall, late but unbowed; and, in a refreshing turn of events, several are solo exhibitions devoted to female artists. The following is a sampling of what's in store in an unusual, if somewhat curtailed art season.

de Young Museum
Hung Liu, the Oakland-based, Chinese American painter and beloved teacher, who grew up under the thumb of Mao's Cultural Revolution and was dispatched to a "reeducation" camp before emigrating to the U.S. in 1984, died unexpectedly in August. Her site-specific installation, Golden Gate, based on archival photographs of displaced peoples and historical documents, is another chance to appreciate her deeply rooted humanity. Through March 13, 2022.

Judy Chicago's first ever retrospective, a long overdue, comprehensive overview of her career from the 1960s onward, is finally here. Adopting a perfect moniker for an ace girl detective, Chicago, ne Judith Cohen, was a friend of Anais Nin, and a founding mother of the feminist art movement in the 1970s.

She's best known for her critiques of patriarchy and The Dinner Party. The controversial installation, completed in 1979, set a table for 39 accomplished women: goddesses, historic figures and other notables, from Sojourner Truth, Artemisia Gentileschi and Candy Stanton to the Egyptian pharaoh, Hatsheput, and Emily Dickinson. Quite the guest list. The project, seen by over a million people, catapulted Chicago to prominence but its notoriety overshadowed artwork she produced before and after.

This show serves as a corrective, incorporating representative examples of all her major series, bodies of work that reflect her interest in birth and creation, gender and constructs of masculinity, her Jewish background, the Holocaust and mortality. And, yes, she hails from the Windy City. August 28 - January 9, 2022.

Pizazz is the word for Patrick Kelly: Runway of Love, which, for those suffering from a fun deficit, answers a craving for a sparkly, irreverent costume extravaganza. This one sports 80 exuberant, body-conscious, unabashedly out—there ensembles by the openly gay Black fashion designer, who didn't flinch from addressing race in his work. Kelly gleefully riffed on legendary couturiers and the glitzy gay club scenes of New York and Paris, while paying homage to the Eiffel Tower, Billie Holiday and Jessica Rabbit. (Bette Davis was among his ardent fans.) Oct. 23-April 24, 2022.
www.deyoung.famsf.org

Contemporary Jewish Museum
Judy Chicago also pops up in Experience Leonard Cohen, which offers takes from Jewish artists on the moody poet, singer-songwriter philosopher king in a quartet of solo exhibitions. Chicago's Cohanim is a suite of a dozen paintings on porcelain, each interpreting lyrics by Cohen that are meaningful to her. Her exhibition and George Fok's Passing Through, a video pastiche of memories and concert footage, are up until January 2; Candice Breitz and Marshall Trammell's responses to Cohen's legacy will be on view Sept. 18- Feb. 13, 2022.
thecjm.org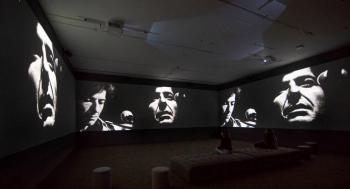 Berkeley Art Museum/Pacific Film Archive
One of the most extensive exhibitions the museum has mounted, New Time: Art and Feminisms in the 21st Century is an ambitious, if not definitive survey of contemporary feminist art.

Organized thematically in sections with catchy titles like "Prelude: Arch of Hysteria," "Returning the Gaze," "The Body in Pieces," and my favorite, "Too Nice for Too Long," it brings together 140 objects by collectives and 76 artists of all genders, mining a wide range of media.

Don't let the threat of pretentious academic scholarship scare you off. The show promises to be a blast. Keep your eyes peeled for art stars Kiki Smith, Francesca Woodman, Louise Bourgeois, Kara Walker, the wily Marilyn Minter and the shit-kickers of Pussy Riot. Through Jan. 31, 2022.
bampfa.edu.org

San Francisco Museum of Modern Art
A magical mystery tour of the fifty-year career of Nam June Paik, the playful electronic video artist, packs in more than 200 multidisciplinary works that titillate the senses with a fusion of music, art and technology. The exhibition illuminates how the Korean-born Paik presaged our obsession with screens, and foresaw the dominance of 24/7 mass media and the internet age.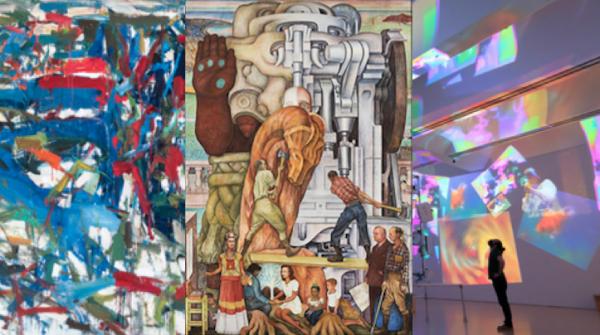 In "TV Garden," dozens of TV sets dot makeshift garden foliage like alien flowers. Elsewhere, a pair of robots are dedicated to collaborators John Cage and Merce Cunningham. But, the piece de resistance has to be his large-scale, techno version of the Sistine Chapel, a trippy, kaleidoscopic razzle dazzle of sound and images emanating from dozens of projectors. Could it be Paik has done Michelangelo one better? See for yourself before the carnival departs October 3.

Measuring twenty—two by seventy-four feet and weighing in at over sixty thousand pounds, Pan American Unity, Diego Rivera's epic last mural in the U.S., was created for the 1940 Golden Gate International Exposition on ten steel-framed panels, while an audience, gathered in an airplane hangar, looked on. A shout-out to cultural solidarity, it depicts artists, artisans and innovators, with the Bay Area as backdrop. Through summer 2023.

Yet another retrospective, in this instance of Joan Mitchell works, co-organized by SFMOMA, debuts this month. Artfully melding the psychological, the emotional and the physical with bold experimentation and cascading color, the Chicago native attained critical success in the predominantly male circles of the New York art scene in the 1950s, before moving to Paris in 1959 and spending the ensuing four decades in France. The show includes 80 transporting abstract oils, which draw on music, memory, poetry and both internal and external landscapes, as well as the artist's personal correspondence, photographs and sketchbooks. Sept. 4-Jan 17, 2022.
www.SFMOMA.org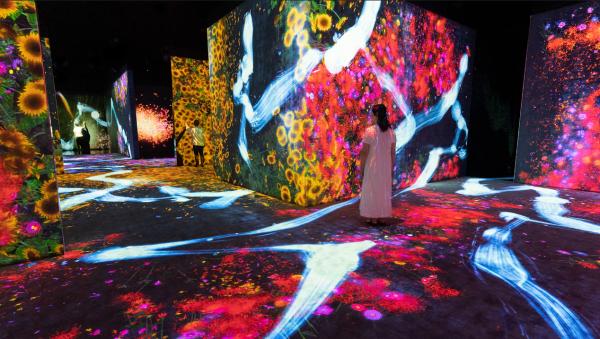 Asian Art Museum
Perhaps driven by the desire to escape the confinement of lockdowns and accompanying sensory deprivation, curators and audiences alike have been attracted to enveloping alternative environments. With teamLab: Continuity, the uncorked imaginations of a Tokyo-based collective, a mash—up of artists, animators, engineers and software nerds, have conspired to create a constantly morphing, digitally projected universe of sound, light and a riot of saturated color imagery, inspired by East Asian art and the natural world. Enter a darkened realm with 14 movement-triggered works covering the floor and walls of the museum's new, 8,500- square foot pavilion, and get ready to bliss out. Through February 2022; reservations required.
www.AsianArt.org

Catherine Clark Gallery
Billed as a multi-city social justice event, Shimon Attie's Night Watch will traverse the San Francisco Bay, hugging the city and Oakland shorelines. A floating art installation loaded with metaphor, it's comprised of a dozen jumbo-sized portraits of otherwise faceless refugees granted asylum in the U.S. —most of them members of LGBTQ+ communities around the world— who fled persecution and violence in their home countries.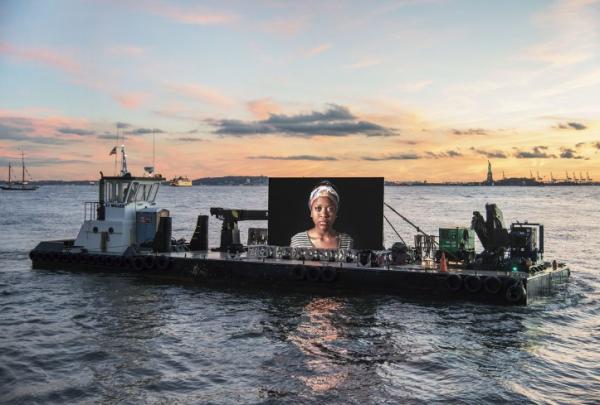 The larger-than-life images, displayed on a 20-foot wide, high-res LED screen, will cruise the coast on a slow-moving barge that shoves off in the early evening. Fort Mason, Pier 15 & 39, Rincon Park, Waterbar Restaurant, Oakland Estuary and Brooklyn Basin are prime vantage points on the shorefront, where one can also partake of nightly performances by musicians, martial artists and dancers. Sept. 17-19.
www.cclarkgallery.com

Museum of the African Diaspora
After an extended closure, MOAD is back with a raft of solo exhibitions, including two spotlighting important contemporary African artists. In Soul of Black Folks, art market sensation and Ghanian painter Amoako Boafo, lavishes twenty recent canvases with thick sensual brushstrokes, capturing the luminous skin tones and contours of intense Black figures isolated in single color fields.

Boafo's show is paired with that of Malawi/South African artist Billie Zangewa, who started out in fashion and advertising. Those trades, a flair for textiles and an emphasis on the undervalued contributions of women and the interconnectedness of the personal and the political, are embodied by her first museum show, Thread for a Web Begun, where she challenges traditional stereotypes and the objectification of the female form in collages of hand-sewn silk. Oct. 21-Feb. 27, 2022.
moadsf.org

Jenkins Johnson Gallery
In Entangled in Truth, the New York-based, African American narrative painter Philemona Williamson explores the precarious, often fraught passage between adolescence and adulthood and innocence and experience. Deploying lush colors and characters inhabiting dreamlike scenarios informed by the artist's childhood reveries, she evokes the vulnerability and uncertainties of boys and girls of color on the cusp of adulthood. Sept. 11-Oct. 30.
www.jenkinsjohnsongallery.com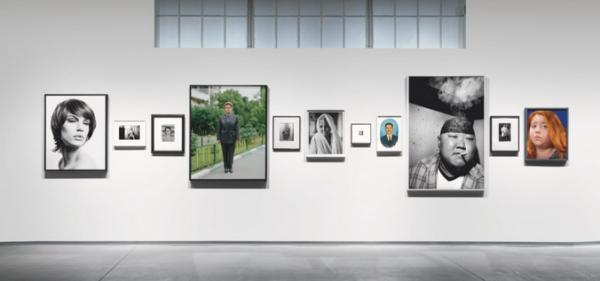 Pier 24 provides an unparalleled, cathedral-like experience for viewing photography. Looking Back: Ten Years of Pier 24 Photography, the first of two consecutive exhibitions marking the tenth anniversary of the singular venue, highlights photographers favored by the foundational private collector, many of whom, including Robert Adams, Diane Arbus, Richard Avedon, Dorothea Lange and Hiroshi Sugimoto, played pivotal roles in the medium.

One can peruse 120 years of portraiture by more than 50 different photographers, from mugshots —a guilty pleasure— to works by unknowns and veteran artists. Visits are by appointment only, and can be made online; you'll get two hours with a mere handful of other lucky souls to leisurely prowl the vast space in contemplative pleasure. And it's free! Through December 31.
www.Pier24.org

Help keep the Bay Area Reporter going in these tough times. To support local, independent, LGBTQ journalism, consider becoming a BAR member.