Subversive ceramics: Ron Nagle at BAMPFA
Tuesday Jan 21, 2020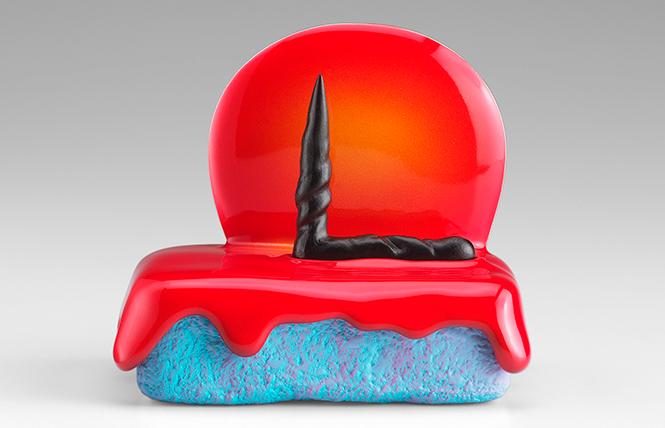 Mischief is Ron Nagle's middle name. The Bay area artist, musician and songwriter, who has the subversive mind-set of a cartoonist, a wicked sense of humor and the wiliness and rebel spirit of a Surrealist, has been producing luminously colorful miniature ceramic sculptures since the 1960s. Those boffo saturated colors, ranging from heart-racing, deeper-than-deep magentas to the fading glory of an evening sky reluctantly melting into twilight, owe something to the low-fire slip-casting techniques that have become his signature. The 80-year-old San Francisco native, the son of parents he has called "Fascists" and a mother who declared him talent-free, grew up in the Mission District and has a studio in Bernal Heights. When fame arrived, it came late. It wasn't until 2013, when he was included in the Venice Biennale, that he gained the international recognition that had eluded him.

"Handsome Drifter," his first survey in 25 years, is now at BAMPFA. The show's name was inspired by the psychopathic killer, masquerading as a preacher, played by Robert Mitchum in Charles Laughton's 1955 film "The Night of the Hunter." The malevolent character's knuckles were tattooed with letters spelling out love and hate, emblematic of oppositional forces, such as abjection and beauty, that underlie Nagle's work.

The new show of 27 witty sculptures and 16 drawings and doodles, some sketched on lined notebook paper and destined for sculpture immortality, picks up where the last one left off. A masterful glazer partial to working in a series format, he pinches and molds clay, revolting, like his late mentor, the unconventional UC Berkeley art professor Peter Voulkos, against the confines of traditional pottery practices. He's certainly no stranger to executing delicate, obsessively detailed work on tiny "canvases" that can be held in the palm of one's hand, a holdover from his teens, when he made jewelry that took a cue from the Beats.

The exhibition's cool, all-white minimalist installation, designed by Yves Behar, encloses artworks inside glass boxes and spotlights them from above, as if they were precious gems on display at Tiffany's. Except these babies are intellectual incendiary devices and a tad warped, in the best possible way. The recessed exhibition cases ring the room and also surround a blond wood ramp in the center of the gallery. Note: a companion brochure organizes the objects chronologically; the show does not.
Nagle traffics in playful pop-culture references, from surfing and rock music to movies and hot rods, that can veer toward dark humor and the macabre. Though he cites eclectic influences such as ceramicist Kenneth Price, painters Giorgio Morandi, Josef Albers and Philip Guston, Japanese Momoyama ceramics and Abstract Expressionism's "embrace of the imperfect," it's the punning, sometimes naughty titles that Nagle awards his creations that tell the devilish tale. Take "Urninerouble" (2015), a high-sheen, cracker-sized square slathered in a substance resembling melted American cheese that also drips over the sides of a small gray oval platform. (For Nagle, cheese is synonymous with success.)

He worked almost exclusively with ceramics until 2010, when he began incorporating polyurethane and resin, as he did in "Handsome Drifter" (2015), the mini-sculpture that gives the show its name. It's a stunner, with a curved fan-shape the color of a scarlet Southern California sunset at its apex, and two reptilian cords attached to it, positioned like the hands of a clock. Red rivulets seep over the sky blue base, whose surface is "air-brushed" with pale violet through a process Nagle calls cross-fading.

"The Ice Queen" (2005), a throwback to his salad days when he fashioned funky teacups, is a lopsided, hourglass-shaped drinking vessel with a pinkish glow and red-and-black playing-card triangles fit for Alice in Wonderland's Queen of Hearts. One can easily imagine her raising it and uttering a rousing "Off with their heads!" From the evocatively titled Snuff Bottles series comes the amusingly pornographic "Bad Clown" (2003), a pair of nubile, baby-blue porcelain orbs, as translucent as glass, accented with a fat cherry strategically placed in the middle. Might it be some alien's interpretation of an Ice Cream Sundae?

Nagle can go visceral, a quality enhanced by his skillful layering of colors. Triggered by the sight of his father's skin tags, the bilious-tone "Beirut Canal" (2009), which resembles a billfold, is edged in magenta and pocked with indentations from the artist's fingertips. "Fortgang" (2002) has the roughened, uneven texture of stucco or a sponge. Its hues are a mossy green eating around the base and multiple shades of tangerine, an homage to his Mission District childhood. A seashell throne crowns the rear, while a flaccid member, or perhaps a limp arm left behind by a departed starfish, lazes in the front. Go ahead: let your imagination run wild.

Through June 14. www.bampfa.org
Comments on Facebook