Andy Warhol unmasked
Tuesday May 21, 2019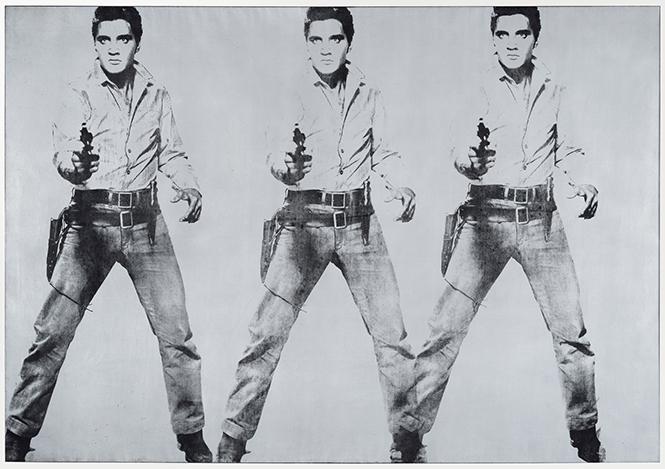 "You cannot reach the end (or get to the bottom) of Warhol," Whitney Museum curator Donna De Salvo recently commented. Some visitors to "Andy Warhol — From A to B and Back Again," a comprehensive, 40-year retrospective of more than 300 works now at SFMOMA, may feel the same. The exhibition attempts to separate the man from the myth and humanize the innovative gay artist whom many consider the most influential of the 20th century. It arrived last week after a run at the Whitney, where it originated, with a few additions. One of them is "Silver Clouds" (1966), a playful, slumber-party installation where Mylar helium balloons float around a room of their own with the help of a wall fan. You can bat them around and start a polite pillow fight if you so desire.

Divided among three levels of the museum, the show is put together smashingly well with a crackerjack installation by SFMOMA's senior curator of painting and sculpture Gary Garrels, whose superb supporting scholarship is top-flight, per usual. He somehow integrates into a cohesive whole: large abstract canvases; an example of Warhol's numerous collaborations with Jean-Michel Basquiat from the mid-80s; iconic paintings of Campbell soup cans that may outlive Warhol like the pyramids did the Pharaohs; famous multi-image portraits of a grieving Jackie Kennedy, and movie goddesses Liz Taylor and Marilyn Monroe (two of his favorite subjects). Oh yeah, and Dick Tracy and Superman, too. A word to the wise: Triage, pace yourself, or plan for more than one visit.

With a knack for generating buzz and an unmatched ability to read the zeitgeist, grab the eye, and stage an immediate impact, Warhol presaged the image-driven society of today. While his originality and meticulous execution engender admiration, they don't inspire the exhilaration that greatness does. Like advertising, where he began his career, his work can seem the opposite of deep. That assessment doesn't apply across the board or to substantive subjects like the societal turmoil of the 1960s. Take "Death and Disasters" (1963-64), a suite of large-scale history paintings that, in repeated images, depict a panoply of violence and carnage: car wrecks with orgies of twisted metal ("Orange Car Crash Fourteen Times"); horrifying scenes of dogs attacking civil rights protestors in the South, washed in red or mustard yellow ("Little Race Riot"); and "Lavender Disaster," macabre pictures of an electric chair sitting idle in a medieval dungeon, awaiting the next resident of death row.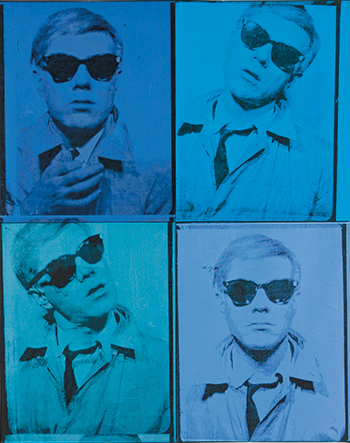 Born Andrew Warhola in Pittsburgh, PA during the Depression, the gay son of working-class, immigrant parents, he grew up as an outsider infatuated with pop culture, glamour and Hollywood. He reportedly was a charter member of the Shirley Temple fan club. His celebrity worship reached its apex in commissioned silkscreen portraits of the rich, powerful and famous. Nearly 40 memorialized personages from the 1970s are displayed in grids of mixed company. A young Mick Jagger, so pouty there must be a law against it, is stationed above the Shah of Iran, a juxtaposition not as jarring as one might think.

Warhol, a notorious shape-shifter who adopted many masks and personas, plays with fire in "Male Desire." The section, special to this exhibition, emphasizes coded imagery, allusions to the criminalization of homosexuality, and gay fantasies of sex and danger with unattainable rebels and virile men behind bars. "Thirteen Most Wanted Men" (1962), a line-up of antiheroes taken from an NYPD bulletin featuring the accused and yet-to-be-convicted, is across the way from "Silver Marlon," a double-trouble image of a leather-clad, motorcycle-riding Brando in outlaw mode, circa "The Wild One." For "Large Sleep" (1965), Warhol enlarged two frames from an underground film of his sleeping lover, then "etched" them with ink on Plexiglas panels, creating a mirage of languor and longing. It's worth noting that at the same time Warhol was producing risqué, sexually explicit art, he was also a deeply religious Catholic and regular churchgoer who lived with his mother for most of his adult life. She occupied the basement of his home with her army of cats, and was rarely seen.

The exhibition also includes lesser-known, previously dismissed artworks stretching from the 1970s until his untimely death in 1987. Chief among them is the 1975 portrait series "Ladies and Gentleman," which represented Warhol's most overt engagement with gender and queer identities since the 1950s. The subjects were Latino and black drag queens and trans women recruited from the Manhattan bars and hang-outs they frequented, their outsized personalities heightened by the application of layers of bold contrasting colors.

Eminently reproducible, much of Warhol's oeuvre has been overexposed, which makes his earlier work even more interesting and the highlight of the show. Galleries on the second floor focusing on the 1950s and his formative years expose the vulnerable side and homoerotic inclinations of a precocious artist who landed in New York in 1949. Included are delicate line drawings of Truman Capote, whom he idolized, and commercial advertising art such as a flirty perfume bottle with a dopey expression published in Glamour magazine in 1953. A 1956 collection of dazzling, hand-drawn ink illustrations of snazzy, pointy-toed footwear is collaged with gold leaf and embossed foil. Each elicits an instant "I have to have a pair of those" response (mission accomplished!) and is named for an important figure in Warhol's orbit. Elvis Presley gets a fancy cowboy boot flared at the top; Jean Vaughn is awarded sleek high heels showered with dainty metallic flowers; and a kick-ass, lace-up ladies' boot is dedicated to Mae West.

Nestled in the collection of sketches and exquisite collages are Warhol's objects of desire of the moment, like the handsome "Unknown Man," an Apollo ideal, limned in gold leaf and ink. But it is in a group of private drawings of men's feet one can see the future: a bare tootsie casually resting on top of a Campbell's soup can.

Through Sept. 2. www.sfmoma.org
Comments on Facebook