Peter Paul Rubens thinks big
Tuesday Apr 9, 2019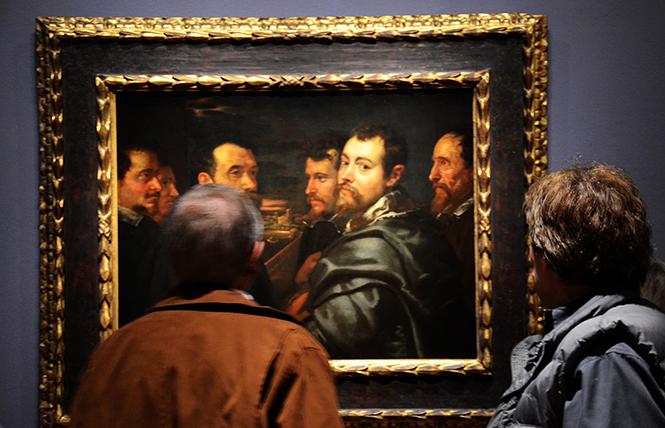 Voluptuousness fills nearly every inch of the massive paintings by Flemish artist Peter Paul Rubens, a multi-talented man who knew a thing or two about thinking big. His action-packed, busy canvases, crowded with fleshy, bodacious women and creatures both human and beast, are the opposite of minimalist, which is another way of saying they're unfashionable and out-of-tune with our modern sensibilities.

"Early Rubens," a survey of 50 paintings and prints, now on view at the Legion of Honor, won't be everyone's cup of tea, but it does highlight a chapter in art history worth revisiting, if only to partake of the ambition and immense scale, psychological drama and shocking, theatrical narratives that helped the ambitious Rubens forge a Northern European Baroque style all his own, while revitalizing the artistic fortunes of his hometown, Antwerp. The first truly international artist, he was also a shrewd diplomat, canny businessman and friend to intellectuals and people in high places; the connections contributed to his success and a workshop with a legion of assistants to produce commissioned projects and works on spec collected by aristocrats and European royals.

Radical for his time, Rubens demolished prevailing conventions of storytelling. In an era deprived of cinema or Netflix, what could be better than the trio of larger-than-life-sized, emotionally charged history paintings that magnificently dominate the entry to the exhibition? Among them is "Daniel in the Lions' Den" (1613/14), where the terrified Jewish exile, punished for refusing to pray to the Babylonian king, is surrounded by a pride of ferocious hungry animals contemplating the next entrée on the dinner menu. He's clearly a man who stumbled into the wrong party. Nearby is "The Boar Hunt" (1615-17), crammed with adrenaline and multiple players: fancily attired equestrian women mounted on excited steeds, snarling hunting dogs, and center stage, a fellow pointing a wooden spear at a vanquished boar that has breathed its last.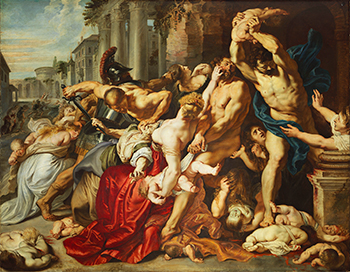 The exhibition's main focus is the artist's early career and ascent to prominence, beginning in 1608, when he returned to Antwerp after traveling through Italy and studying the masters. He arrived to find a thriving city in search of art to decorate public buildings and the grand homes of politicians and wealthy burghers who craved wall coverings and portraits reflecting their status.

The show's earliest piece, likely inspired by Michelangelo, "Conversion of St Paul" (1601/02), with a shaft of celestial light beaming down on mortals from the heavens, is oddly enough the smallest. But most works from this period tend toward epic proportions with well-defined contours, heroic figures and tales from mythology, classical literature and Biblical texts, and a remarkable intensity and clarity of color. Note the irrefutable orange of the billowing robe in "Annunciation" (1610) and the positively brilliant blue background for "Portrait of Paracelsus" (ca. 1615-20), a composition thought to have been drawn from 16th-century paintings by Antwerp artists Joos van Cleve and Quentin Massys. Among Rubens' other early proclivities are stark contrasts of light and dark, exemplified in the apocalyptic high drama of "Hero and Leander" (1604). It portrays the tragic myth of forbidden love between Hero, a priestess of Aphrodite, who placed a lamp in her window as a beacon for her lover Leander, who swam to meet her each night. One evening, a violent storm snuffed out the flame and Leander perished in the waves. A flash of lightning in an ominous sky illuminates Rubens' frightening scene, where naked sea nymphs ferrying Leander's dead body to shore are tossed by roiling seas into which the inconsolable Hero has hurled herself.

Rubens took a troubling subject of religious origin and made it at once sensuous and repellent in "Lot and His Daughters" (1613-14), a scene that depicts a prelude to incest following the fall of Sodom and Gomorrah. The father leers at the sumptuous golden flesh of his naked daughter, who appears willing or compliant. The reclining posture of Lot is based on that of Michelangelo's Leda seduced by Zeus, who assumed the guise of a swan.

Rubens didn't shy away from visceral renderings of death, mutilation and the grotesque designed to shock and incite reaction. The approach was taken to a new extreme in "The Massacre of the Innocents" (1611-12), a spectacle of slaughter with blue babies, piles of dead bodies and blood-spattered marble pillars. According to the Gospel of Matthew, the carnage ensued when King Herod, upon learning a new "king of the Jews" would be born in Bethlehem, dispatched his soldiers to murder all male children under the age of two. The painting, which quoted works by Renaissance and Baroque artists who used the subject as an exercise in mediating horror and beauty, is included in a group of gruesome, admittedly magnetizing pictures. In Rubens' disembodied "Head of Medusa" (1617/18), the defeated monster of Greek mythology, whose infamous gaze could turn a man to stone, is ashen with a bloodied neck, wriggling snakes detached from their host, and a hundred-yard stare.

Through Sept. 8. Info: legionofhonor.famsf.org
Comments on Facebook