Attack of the Killer Kimonos!
Tuesday Mar 5, 2019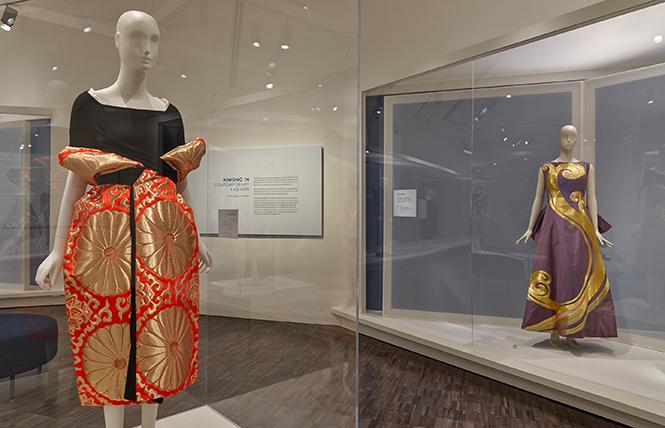 Gleaming like Dorothy's ruby slippers in a case at the very beginning of the Asian Art Museum's new exhibition "Kimono Refashioned" sit a pair of sparkling Christian Loboutin ankle boots with chunky six-inch heels — ooowee! Gold-studded, red-soled and embroidered with pine, bamboo and blossom motifs from the late Edo period, they signal this won't be just another voyage into the past.

Almost everything you wanted to know about the Kimono, or could reasonably be condensed into the space of two galleries, is shared in and around the exhibition's immaculate, minimalist display cases. Featuring garments, a sprinkling of killer accessories, and fabrications that often triumph over style, the show emphasizes how, since the late 19th century, the kimono's two-dimensional, non-body-hugging silhouettes and meticulous hand-crafted textiles sparked trends in Western fashion and inspired top international designers.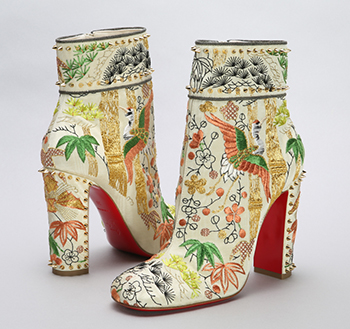 As one would expect, there's a parade of sedate dresses in silk satin damask and plum taffeta with bustles and bows, traditional floral patterns and metallic threads. Pausing to offer a basic tutorial in kimono construction and note Japan's historical contributions to global fashion, the exhibition highlights glamorous attire influenced by the Western Japonism craze that gripped artists and a public that craved Japanese aesthetics.

At the turn of the 20th century, kimono went cosmopolitan, and the couture houses of Paris, London and New York followed suit, adopting elements of its designs for their collections. Inspired by real kimonos and those seen in popular ukiyo-e woodblock prints of the day, a selection of demure, strikingly feminine pieces, on view here, are distinguished by overlapping front closures, sleeves without structured armholes, and colorful obi sashes. Parisian couturier Amy Linker aped the shape in a chic, silk satin and crepe evening coat in black and lime green, its graceful curved back embellished with silvery white, beaded embroidery and a prominent black and lime striped shawl collar (1913). Chanel's loosely draped Kelly green and black evening coat of silk crepe and gold brocade (1927) is complemented by a bronze chrysanthemum pattern on the cuffs and midriff, while British designer Lucy Duff-Gordon's deep purple silk, cut velvet and organdy evening dress (1910), accented by a chartreuse sash that's finished off with a ribbon corsage, epitomizes restrained elegance.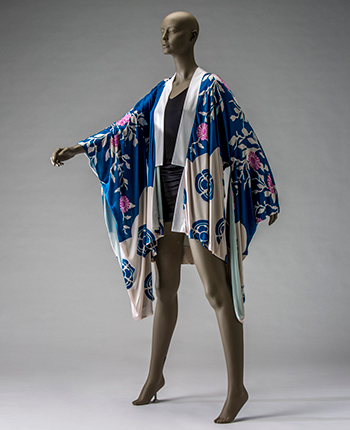 All hell breaks loose in the second half (and most fun part) of the exhibition, which focuses on the mischievous revolutionaries of contemporary Japanese fashion Issey Miyake, Rei Kawakubo and Yohji Yamamoto, who stormed the gates in the late 1970s and early 80s, and delighted in shocking their staid competitors. The unholy trio, who favored asymmetry, exposed seams and unfinished-looking, often-outrageous clothing seemingly unrelated to the human form or notions of nominal comfort, continue to haunt haute couture.

Informed by Miyake's 3D Steam Stretch technique, Yoshiyuki Miyamae's synthetic, flat-construction, pleated mini-dress in blue-green flares at the oh-so-short hemline with no concession to modesty, leaving the wearer to pray she doesn't encounter an updraft from an escalator or a subway grate. Stiff fabrics stand away from the body in pieces such as a Yamamoto dress from 1995 that blends Western dressmaking and traditional Obi fabric. The square neckline in the black jersey is fitted, but the lower body is wrapped in bulky tangerine and gold brocade that juts out at the hipline. Warning: moving forward requires waddling. East again meets West in Kawakubo's strapless dress (1991). The bodice is ruched and skin-tight, while its full, silk taffeta skirt, hand-painted in a flying cranes pattern, floats on air, the edges of its bright red crinoline peeping out under a wave-like padded hem.

Updated Shibori dyeing and tying techniques have resulted in a variety of ultra-modern fabric textures, some downright repulsive like that which produced Iris van Herpen's edgy but icky, form-fitting, polyester filament "Super Organza" concoction. Imagine a stretchy body suit made from a spider's web, and you get the picture.

John Galliano must have raised eyebrows in 1994 with his tacky, unrepentantly naughty micro-mini ensemble. It consists of a candy-colored lingerie jacket whose triangular sleeves are wound and tied, and a thick red-and-black satin obi climaxing in an oversized bow at the back that could make a woman resemble a wayward birthday present. Black stockings and garters stand in for a skirt, completing the perfect look for a waitress at a Japanese dive bar.

The cherry blossom pattern on an androgynous jumpsuit from the late Alexander McQueen's label contrasts with a masculine leather harness suggesting Samurai armor. But the real payoff comes in a pair of kinky, knee-high, plastic platform sandals with leather strips woven gladiator-style all the way up the calf — torture chambers of which Vivienne Westwood would heartily approve.

Through May 5. www.asianart.org
Comments on Facebook