Jerome Caja lives on in his artworks
Tuesday Jan 15, 2019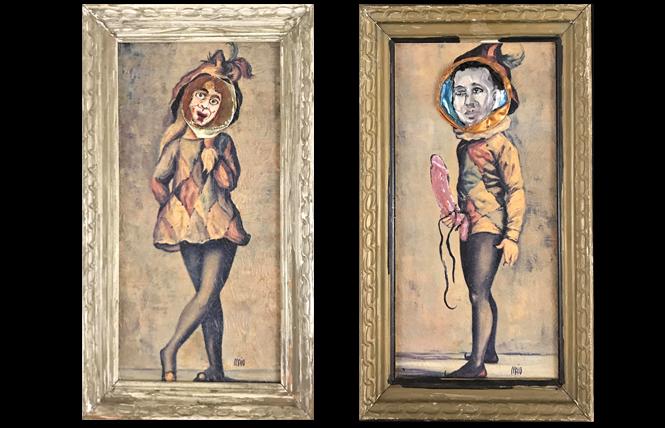 In every community there is an artist who best captures the zeitgeist of that place, that time, and what it was like to live there then. For AIDS activist-era San Francisco, that artist was Jerome Caja. When he wasn't creating his idiosyncratic and highly original queer art, Jerome could be found acting out atop the bar at Club Uranus, a vision in limbs akimbo, broken heels and torn fishnet stockings.
From "The Jerome Project" blog, written by Anthony Cianciolo and devoted to Caja's artistic legacy: "Jerome Caja (1958-95), Painter, Prankster, Performer, was born in Cleveland into a Catholic family of 11 boys. He majored in studio art at Cleveland State and earned a master's degree in ceramics at the San Francisco Art Institute. This humble, self-possessed artist painted exquisite miniatures with everything that you would find in a drag queen's handbag: nail polish, glitter, make-up, lipstick, and eyeliner. His canvases included pistachio shells, lockets, discarded bottle caps, and small scraps of paper. Jerome's iconography pays homage to a wide cast of saints and sinners: Jesus, the Virgin Mary, Saint Lucy, Satan, imps, priests, cherubs, demented clowns, cannibalistic birds, pigs, and gay icons.
"Jerome died at the height of the AIDS-Art-Activism era in San Francisco from complications related to HIV. His papers are housed in the Smithsonian Archives of American Art, and his work is collected in major museums around the country."
Both SFMOMA and the GLBT Historical Society have recently received donations of significant Jerome Caja works. "The Shroud of Buddha" (1992) is the first addition to the SFMOMA collection of Caja's artworks since the artist's death in 1995. The GLBTHS' acquisitions are a matched pair of inexpensive 1960s dime-store-reproduction paintings of harlequins in plastic frames transformed by Caja into significant queer art. The late art critic David Bonetti gave the paintings to the Historical Society's Senior Public History Advisor Gerard Koskovich about a year before Bonetti's death, and Koskovich donated them to the Society in his memory last fall.
Both are "Untitled," 5 in. x 9 in., date of creation unknown. Out There had some questions about the works that were graciously answered by the GLBT Historical Society's Collections + Exhibitions Registrar Dr. Ramon Silvestre, via email.
Roberto Friedman: Are there any extenuating circumstances as to the conservation of these works? Because Jerome used non-art materials such as nail polish and Wite-Out, are there dangers of these pieces deteriorating? What if any steps are in place to prevent that?
Dr. Ramon Silvestre: "Our consulting conservator on board, Elisabeth Cornu (emeritus objects conservator, formerly from the de Young Museum in San Francisco), says that with proper handling and storage, these works of art should have the longevity expected from this type of work. The GLBT Historical Society's new location continues to provide these pieces of art the appropriate conditions for continued preservation.
"Clearly there remains a lack of information regarding the vast majority of non-art materials in modern or contemporary art, in terms of understanding how they behave (either alone or in combination with other materials), and how they may alter with age, in storage or with treatment and or in transit. There is a clear need for more research to understand these specific issues, and conservators are definitely working on these."
Are there any plans for exhibition or publication?
Dr. Ramon Silvestre: "After we complete the Art and Artifact Project currently underway, we have discussed future possible exhibition of specific art and photography pieces of significant provenance that will include artists like Jerome Caja, Tom of Finland, Quaintance photographs, Orejudos and a few other known queer artists at the GLBT Historical Society Archives."
Thank you, Dr. Silvestre and the GLBTHS. The Caja renaissance has begun!
Now seems like a good time to mention the publication of a new book published by Visual AIDS, "Duets: Nayland Blake & Justin Vivian Bond in Conversation on Jerome Caja," and share its description: "Blake and Bond introduce us to the art and life of the extraordinary Jerome Caja, an artist and provocateur who transgressed the supposed boundaries of gender, performance, and art in the nightclub scene in San Francisco during the late 1980s and early 90s. Caja's outsize personality was matched by his powerful visual art, made with nontraditional materials like nail polish and human ashes, which details with humor, pathos, and deep insight the struggles of living with AIDS, finding love, and surviving. With additional contributions by Anthony Cianciolo, Craig Corpora, Anna van der Meulen, Amy Scholder, and Chris E. Vargas."
We were among the first reporters to write about Caja's art in the press, along with Steve Abbott, Glen Helfand, and of course, David Bonetti. This column is dedicated to his memory.
These untitled Jerome Caja artworks were a gift to the GLBT Historical Society by Gerard Koskovich from the collection of David Bonetti. Photos: Courtesy GLBT Historical Society
Comments on Facebook