The first few moments of 'Ma Rainey's Black Bottom' are electrifying. It's 1927 in rural Georgia. Hundreds of people, all of them Black, are lined up at the entrance to a huge tent. Inside, Ma Rainey, the Mother of the Blues, is singing her heart out.
Viewing 1 thru 12 of 1894 Stories
San Franciscans have had rare opportunities to catch exciting new shows performed in London and New York without traveling, even as nearby as Petaluma, where the gay-themed 'The Absolute Brightness of Leonard Pelkey' will stream for online audiences.
Call it serial monology. Los Angeles-based comic actor and writer Tom DeTrinis' new one-man show, 'Making Friends,' streaming through January 18, is the latest link in a director-actor trio of productions.
The opportunity to see Marlene Dietrich in person came 23 years after her U.S. film dbut. In 1953 the Sahara Las Vegas offered her $30,000 per week to perform. And so her career as a cabaret singer was born. The film star later performed in San Francisco.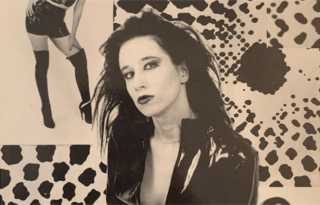 Danielle Willis's collection of poetry and prose 'Dogs in Lingerie' came out three decades ago. The author, who had porcelain fang implants, stripped, did porn and pro-dom work, caused quite a San Francisco literary sensation in the 1990s.
The filmed version David Pevsner's one-man show, Musical Comedy Whore (Breaking Glass Pictures), is indeed a musical. As for the "whore" part, Pevsner goes into great detail about his sexual exploits, including his time as a male escort.
Like everything else, Kung Pao Kosher Comedy has been affected by the pandemic, but that isn't stopping Kung Pao founder Lisa Geduldig from putting on a show. For 28 years, Kung Pao Kosher Comedy has been a San Francisco tradition.
Holiday-themed music, choral and dance concerts continue, albeit in virtual formats, including San Francisco Ballet, San Francisco Symphony, Chanticleer, Kitka, Cal Performances, San Francisco Bach Choir, and more.
The San Francisco Gay Men's Chorus isn't letting the pandemic spoil their Christmas holiday. The chorus' annual Christmas Eve concert, '(At) Home for the Holidays,' will go on this year as a virtual event with guest-star performers.
In a blend of classical ballet, pointe work and contemporary styles, the new Oakland-based company Ballet22 will premiere new dances recorded at SF's ODC Theater, some with a modern holiday edge.
Katya Smirnoff-Skyy, our favorite local exiled Russian opera diva, takes to the online airwaves in a holiday-themed concert that'll make the Yuletide extra-gay.
The tinsel-strewn variety show has long been a staple of December entertainment. Taylor Mac revives his 'Holiday Sauce' at the Curran, and New Conservatory Theatre Center's 'Queer Variety' show should bring some holiday cheer.
Nah, humbug! Tune in to newly adapted radio versions of 'A Christmas Carol' produced by American Conservatory Theatre and San Francisco Mime Troupe.
Viewing 1 thru 12 of 1894 Stories