Written by Mark Harris, the husband of gay playwright Tony Kushner, the new Mike Nichols biography profiles a prickly genius who was a virtuoso observer of others, yet a stranger to himself.
Viewing 1 thru 12 of 1905 Stories
As we continue to celebrate the Bay Area Reporter's 50th anniversary, each week we'll take a nostalgic look at a highlight from each year's issues. In May 1, 1971 , a plumaged party seemed like a lot of fun.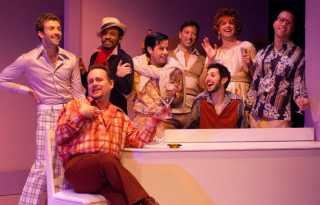 If you search the word "theater" in the archives of the Bay Area Reporter, you'll discover plenty of features and reviews. A few productions with LGBT themes stand out.
Philip Campbell summates 50 years of the Bay Area Reporter's classical music and opera coverage, noting examples and adding personal remarks to recount his four decades of contribution.
From the beginning, the Bay Area Reporter has covered celebrities, both Broadway and Hollywood stars. many have indeed sat down with us for a chat. There are many such examples in the B.A.R. archives.
Playwrights, actors and voices in support of the arts, queer Black artists are bringing heartfelt and sometimes harrowing work to the Bay Area and national theater scene in the week ahead with streaming audio and video productions.
Names like Mo B. Dick and Sexy Galexy will grace your computer screens when Drag King Legends takes to Zoom on Feb. 21 at 5pm. Kings with 25 years or more experience will be honored in a show that promises to be informative, exciting, and entertaining.
Maury Yeston, the composer behind Tony Award winners 'Nine,' 'Titanic,' and what has come to be known as the "other" 'Phantom of the Opera,' has two new recordings of his best and rarely heard songs.
'One Night in Miami...' is a fictional dramatization inspired by true events that bring together four men from different backgrounds whose contributions to Black culture continues to resonate to the present day.
Remember chatting after the curtain call? Marin Theater Company's online staging of Lauren Gunderson's 'The Catastrophist' and "goofy-cute" Ryan J.Haddad's autobiographical 'Hi, Are You Single?' will make you crave a post-performance discussion.
Cohosting YouTube shows with his husband with guests in theatre, television and film, plus composers and health officials, since March 2020, has been an amazing, if not dizzying, accomplishment for the multi-talented Seth Rudetsky.
San Franciscans have had rare opportunities to catch exciting new shows performed in London and New York without traveling, even as nearby as Petaluma, where the gay-themed 'The Absolute Brightness of Leonard Pelkey' will stream for online audiences.
The first few moments of 'Ma Rainey's Black Bottom' are electrifying. It's 1927 in rural Georgia. Hundreds of people, all of them Black, are lined up at the entrance to a huge tent. Inside, Ma Rainey, the Mother of the Blues, is singing her heart out.
Viewing 1 thru 12 of 1905 Stories