Netflix's 'Tiger King: Murder, Mayhem and Madness,' is the hottest show in America right now. But many other hit shows with LGBT characters (minus the murder, mayhem and well, a bit of madness) are either free online or available on subscription.
Viewing 1 thru 12 of 403 Stories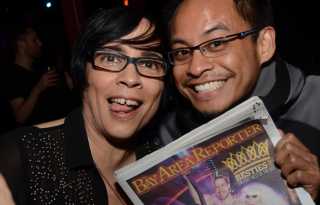 San Francisco is one of 11 US cities that is fortunate to have a legacy LGBT publication by us, for us, and about us. Help preserve the BAR as an historic and important community institution for the future.
Joseph Caldwell's 'In the Shadow of the Bridge' is a heartfelt memoir about being gay in the New York City of the 1950s an '60s, as well as a remembrance of the peak years of the AIDS crisis.
Welcome to the new dystopia. While we are self-isolating for the foreseeable future, let's make our time in quarantine as manageable as possible and create a TV routine that is helpful, not harmful.
Oakland couple Richard Board and Flynn DeMarco's first bit of notoriety for their shared love of Legos came in 2018 when they wowed the crowd and judges at the annual Bricks by the Bay convention. They recently appeared on the TV show 'Lego Masters.'
We watched ABC's two-hour fright-fest special on "20/20," "Coronavirus: Outbreak," and it was flat-out terrifying.
"Visible: Out on Television," streaming on Apple TV+, charts the history of LGBTQ representation from 1950s/60s Dark Ages through today's hard-won diverse visibility.
"I Am Not Okay with This" is just what we need in this dystopian hellscape Trump has created for us.
'INSIDE PRIDE', the official magazine of San Francisco Pride is now accepting space reservations.
Iconic TV star Barbara Eden, best-known for her role as the genie in the 1960s sitcom "I Dream of Jeannie," will be honored with the Distinguished Alumni Award at San Francisco Conservatory of Music's Annual Fanfare Luncheon on Fri., Feb. 14.
TV left our head spinning when it wasn't outright exploding this week. From the erasure of Pete Buttigieg's big win in Iowa to the authoritarian rantings of the squatter in the White House.
This year marks the 10th annual Bay Area Reporter readers' poll, the Besties, and voting begins Thursday, January 30.
The first episode of the new season of ABC's "A Million Little Things" focused largely on Danny (Chance Hurstfield) and his crush on Elliot (Bodhi Sabongui). Spoiler alert: the episode ended with the two finally getting to kiss.
Viewing 1 thru 12 of 403 Stories