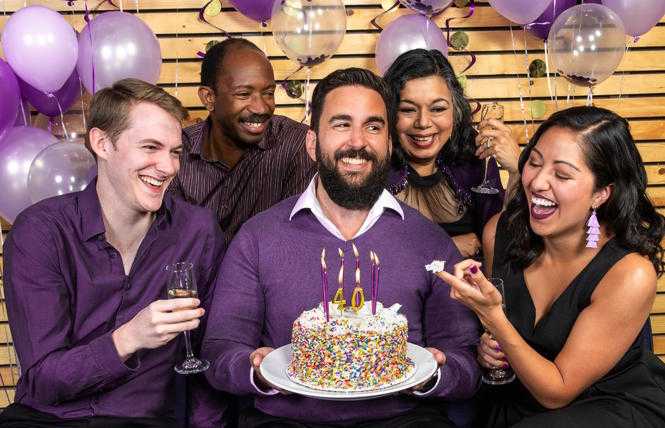 With the opening of "Encore" this weekend, San Francisco's stalwart gay stage celebrates its 40th birthday with a roster of dozens of songs from musicals staged at New Conservatory Theatre Center.
Viewing 1 thru 12 of 2213 Stories
Lady Zen is one of the best singers you may never have heard of. With operatic training and a natural feel for jazz, country music and the fusion of all three, she has been called a "shockingly good" singer.
San Francisco's Theater Rhinoceros hosts the debut of an altogether different 'Hart to Hart' (not the TV show) project from gay cabaret ace Mark Nadler, a solo show abrim with its own bonanza of queer bonafides.
Several months ago, MTV celebrated its 40th birthday, with no mention of the subtext of the channel: the open exploration of the use of ambisexuality as a visual and cultural hook. Let's take a queer look back at some music video highlights.
Queer duos have been a part of the modern LGBTQ music landscape for years. Florida-based Dogjoy, a musical duo as well as a couple, are purveyors of daring edgy and evocative electropop.
Nine years after she released her last full-length disc "In Us We Trust," Bitch is back with "Bitchcraft" (Kill Rock Stars), an album that draws on all of her strengths with dazzling results.
On May 15, Eli Conley will perform in Queer Country West Coast at the Ivy Room in Albany. It's an afternoon show with Conley, Mya Byrne, Polythene Pam and Side Pony.
Enjoy new grooves from singer-songwriters Mitski, April March, Jenny Hval, Flock of Dimes, Anika and Basia Bulat.
We've got plenty of fascinating arts, nightlife and community events of interest, plus a plethora of pleasing online amusements as well.
Jacob Stensberg has been hired as the new Artistic Director of San Francisco Gay Men's Chorus, following an extensive nationwide search. Stensberg succeeds Dr. Timothy Seelig, who will retire at the conclusion of the chorus' 44th season in July 2022.
The London Symphony Orchestra's recording of Igor Stravinsky's 'The Rite of Spring,' conducted by Simon Rattle, reminds us what a still-stunning piece 'Le Sacre' is. Also, gay barihunk Stephane Degout sings Ravel.
In a career that has lasted more than forty years, Betty Buckley has done it all. On her new album, 'Betty Buckley Sings Stephen Sondheim,' she celebrates the lyrics of one of the greatest songwriters in musical theater history.
Makeover (Nonesuch), the marvelous 14-track k.d. lang remix album, is just one of the great albums you may have missed recently. Also, Sarah Shook, Joe Troop and others.
Viewing 1 thru 12 of 2213 Stories