It was the poem that defined a generation. "Howl," Allen Ginsberg's defiantly gay manifesto, and other poems, will be released on audio by Omnivore Recordings on CD, LP, and in multiple streaming and download formats.
Viewing 1 thru 12 of 2110 Stories
On April 22, SF Gay Men's Chorus will present their 15th annual Crescendo: Voices Rising, an online gala with guest-stars LeeAnn Rimes, Jake Shears, Shangela, Rita Moreno and others.
As we continue to celebrate the Bay Area Reporter's 50th anniversary, let's look to arts nightlife and community groups that share our collective history. Long-running theater companies and even new online forums span the decades.
Philip Campbell summates 50 years of the Bay Area Reporter's classical music and opera coverage, noting examples and adding personal remarks to recount his four decades of contribution.
It appears that countertenor John Holiday can sing just about anything. From his TV splash on 'The Voice' to a Vivaldi concert, to the operatic "Summertime" from 'Porgy and Bess.'
Depending on how long you've lived in San Francisco, the name Howie Klein may be familiar to you. His 415 Records brought bands like Romeo Void to popularity, and he's worked with greats like Joni Mitchell, Neil Young, Green Day and many more.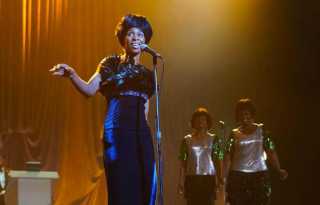 Singer-songwriter Aretha Franklin's life and career is dramatized in National Geographic's five-part series, which also serves as a testament to Franklin's talent and determination amid decades of civil rights inroads for Black culture and women in music.
There's so much to recommend about 'Daddy's Country Gold,' the dazzling new album by out singer/songwriter Melissa Carper, it's hard to know where to begin. Carper's distinctive vocal style transcends a single genre description.
Now in her seventh decade as an entertainer, Olivia Newton-John has proven herself to be a versatile artist, including recent duet with her daughter, and a recently published memoir.
Maury Yeston, the composer behind Tony Award winners 'Nine,' 'Titanic,' and what has come to be known as the "other" 'Phantom of the Opera,' has two new recordings of his best and rarely heard songs.
It may be an acquired taste, but once music lovers develop an interest in the music of 20th-century composer Alban Berg, it can become a passionate preference, particularly via SF Symphony's new recording.
Shuttered at home, musicians are producing new songs in abundance, including local artists and longtime favorites. Also, we honor a singer-songwriter lost too soon.
Interpreting other musician's classics can be tough. Some fine accomplishments include film soundtracks, Billie Holiday and Leonard Cohen tributes, and the amazing senior chorus that brings a touching new perspective on Bowie and Rolling Stones hits.
Viewing 1 thru 12 of 2110 Stories