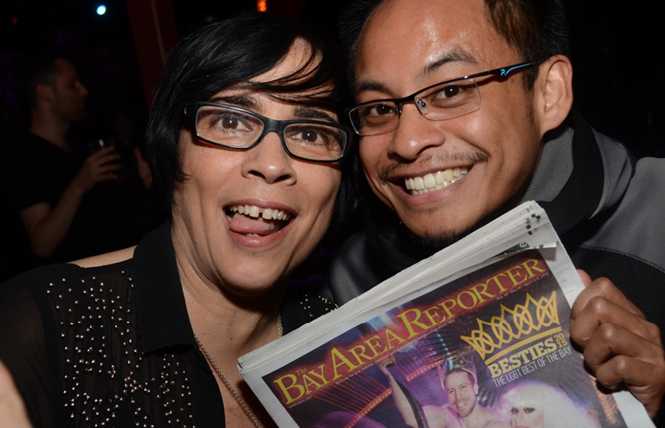 San Francisco is one of 11 US cities that is fortunate to have a legacy LGBT publication by us, for us, and about us. Help preserve the BAR as an historic and important community institution for the future.
Viewing 1 thru 12 of 2006 Stories
Like virtually all performing artists, Lena Hall, best known for her Tony-winning turn as Yitzhak in the Broadway run of 'Hedwig & The Angry Inch,' has had her music and acting career set on pause.
San Francisco Symphony's 'Keeping Score' series goes free online; Their performance of Aaron Copland's monumental Third Symphony's online at many music outlets.
I watched the new DVD of Tchaikovsky's 'Eugene Onegin,' the most emotionally brutal of the Tchaikovsky operas, in a Bolshoi production by Dmitri Tcherniakov, my personal favorite of the current gang of opera enfants terribles, from my bed.
Talk about a living legacy. Singer and actress Lucie Arnaz is the daughter of Lucille Ball and Desi Arnaz. Go ahead, try and top that!
Any performance of a Mahler symphony with Michael Tilson Thomas promises to be an event. His lifelong commitment to the composer always produces insight. Some works are so intertwined with MTT, it's hard to tell where composer ends, interpreter begins.
A traveling violin superstar and two young singers on the rise filled local concert halls recently with sold-out crowds undeterred by worries about coronavirus.
Hard on the heels of the recent announcement of Esa-Pekka Salonen's first season with the San Francisco Symphony, the Music Director Designate commenced two weeks of guest appearances at Davies Symphony Hall.
If you don't think you know who Keala Settle is, a single song title will make you realize otherwise: "This Is Me."
The lobby of Davies Symphony Hall felt more like a big, glamorous bar last week as the San Francisco Symphony announced the 2020-21 Season, its first with Music Director Designate Esa-Pekka Salonen on the podium.
In the opening frames of the fabulous rock-history memory piece "Once Were Brothers: Robbie Robertson and The Band," the one-time pretty boy and still quite handsome bandleader Robbie Robertson ruefully reflects on a human tragedy.
'INSIDE PRIDE', the official magazine of San Francisco Pride is now accepting space reservations.
The San Francisco Symphony's February concerts cover the orchestra's full dynamic range, from Conductor Laureate Herbert Blomstedt's mastery of tradition to Music Director Designate Esa-Pekka Salonen's contemporary flair.
Viewing 1 thru 12 of 2006 Stories