"Bloody Bloody Andrew Jackson" is a rock musical originally produced in the year of Obama's first election and now onstage at the Custom Made Theatre Co., through Oct. 27.
Viewing 1 thru 12 of 11599 Stories
Curtain up, light the lights, we've got nothing but arts at their heights, with an extra helping of the visual, thanks to Open Studios, and the literary, as Litquake stirs up the Bay.
Blondie cofounders Debbie Harry and Chris Stein were guests at the Arts & Ideas series hosted by the Jewish Community Center on October 3, to discuss Harry's memoir, 'Face It.'
Alonzo King LINES Ballet's fall program at Yerba Buena Center for the Arts featured two brand new works: "The Personal Element," which premiered at the Vail Dance Festival in August, and the world premiere of "Azoth."
The first new Henry Rios mystery novel in 20 years, "Carved in Bone" (Persigo Press) by award-winning gay author Michael Nava, is set in mid-1980s San Francisco.
Guest conductors, soloists, and the world premiere of a San Francisco Symphony Commission will keep the home fires burning.
Surely the jewel in the crown of OT's hotel columns must be the night we spent last week at The Palace Hotel, one of San Francisco's truly grand old hotels, a downtown landmark.
You don't expect a show called "Dance Nation" to be about a lack of coordination. But Clare Barron's bold, original play, at the San Francisco Playhouse through Nov. 9, is exactly that.
Pier Paolo Pasolini (1922-75) had an iconoclastic career as a gay Italian film director, poet, novelist, journalist, actor, playwright, political figure, philosopher, and intellectual.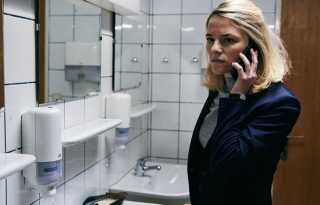 "The Ground Beneath My Feet" is a minutely observed drama about the downside of success in Austria.
The 2019 Mill Valley Film Festival more than fulfills its duty of showcasing the best of the year's award-worthy films.
Everybody's fave "Queer Eye" doyenne, Jonathan Van Ness, was on "The Jimmy Kimmel Show" explaining how the Trump administration's attacks "demonizing Planned Parenthood" forced them to reveal their HIV+ status.
Autumn's harvest of arts events brings a bounty of beauty, beguiling visuals, scintillating sounds and staged stories.
Viewing 1 thru 12 of 11599 Stories