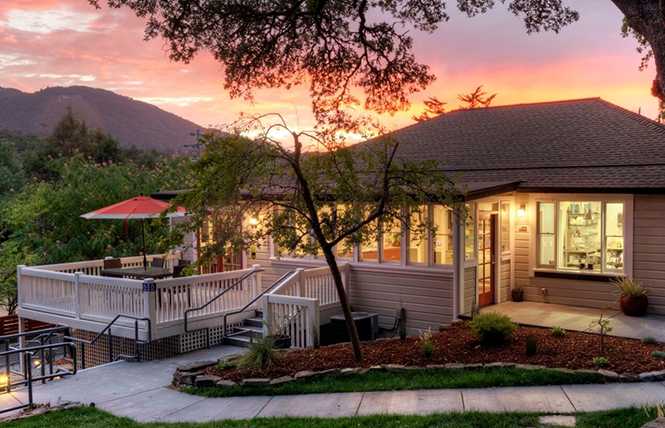 Even though Out There is a very urban person, we know that it's very important to get out of the big city every now and then. So we try to get away, and high on our list of destinations are the resorts, eateries and wineries of Sonoma County.
Viewing 1 thru 12 of 11235 Stories
Take a bow. You're supporting the arts, with local and visiting talents bringing you their vision of the world.
In Germany's official entry for the Best Foreign Film Oscar "Never Look Away," director Florian Henckel von Donnersmarck takes us through a horrific episode from the WWII genocidal tragedy known as the Holocaust.
Stephen Sondheim's "A Little Night Music," inspired by an Ingmar Bergman movie, endures as one of his most successful shows. It's that "Send in the Clowns" musical, as marketers are quick to remind.
Rory O'Malley takes the stage at Feinstein's at the Nikko for a two-night run of "Pub Crawl," his deeply personal one-man show, on February 22 & 23.
"Unbreakable," an epic choral work performed with San Francisco Gay Men's Chorus last summer, is now available on CD and streaming platforms.
"Show Me as I Want to Be Seen," a scintillating in-house exhibition filled with the new and different, is, by turns, revelatory and unsettling, and one of the most intriguing shows mounted by the Contemporary Jewish Museum in a while.
Here's a rundown of 18 Sundance 2019 winners, along with a brief description of why they stood out among the thousands of submissions received by the Sundance judges every year.
It's Black History Month — unless you're in Virginia, in which case it's Blackface History Month.
Steve Grand will be performing at Feinstein's at the Nikko on Feb. 20 & 21. The openly gay singer-songwriter will present "Up Close and Personal."
Brahms' last piano compositions are often recorded together (at least three new sets have just hit the market) but hardly ever performed complete in recital.
"Jerome Robbins: A Life in Dance," published by Yale University Press as part of its "Jewish Lives" series, is no love letter.
An Israeli documentary about a transgender woman and her relationship with her family is among the highlights of the 6th Annual WinterFest, the Jewish Film Institute's special presentation of new Jewish cinema.
Viewing 1 thru 12 of 11235 Stories