'Umbrella Academy's' season two includes gay and lesbian longing, 'Lovecraft Country' inhabits a creepy inherited mansion that leads to frightening netherworld amid real racist horrors, and 'NOS4A2' blends supernatural limos and vampire kiddies.
Viewing 1 thru 12 of 426 Stories
Since moving to London with his husband Chris Turner, Bay Area fans of best-selling 'Tales of the City' author Armistead Maupin have missed his local appearances. On August 12, he'll discuss his life and writing with his friend, actor Sir Ian McKellen.
After years of producing straight-only romance films, Lifetime this week announced pre-production on the network's first holiday-themed cable film with gay male leads.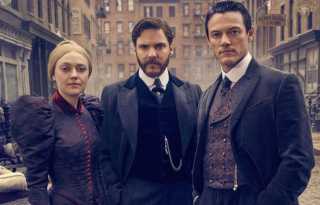 The 'Ellen' show is under investigation, 'Grantchester's gay story line gets more compelling, and 'The Alienist' (with out gay actor Luke Evans) addresses historic and contemporary problems.
The late Naya Rivera is remembered for her cheerleader role on 'Glee,' and was also a strong LGBT ally. Also, The CW's 'Batwoman' gets a new star, Black bisexual actress Javicia Leslie.
Walter Mercado will make you laugh, make you surprised, make you raise an eyebrow or two. And he will bring you to tears with his sincerest wish that you have love, the "Mucho mucho amor" part of the title of the new Netflix documentary about his life.
Black Lives Mattered in recent broadcasts, and casting decisions in animated series; plus, the popular 'Noah's Arc' will enjoy a new episode and online cast reunion.
The PBS documentary 'Prideland,' the premiere show in their June LGBTQ programming, arrived like a healing balm. Prideland is now also a six-episode short-form series on PBS Voices, hosted by Dyllón Burnside.
'Pose' season 2 hits Netflix, 'Queer Eye' takes a fifth, 'Hannibal' is devilishly delicious, 'Dear...' showcases iconic Americans, and Pride simulcasts should rainbow up your viewing.
The Disney castoff 'Love, Victor,' now on Hulu, is nothing like its source, 'Love, Simon.' Lacking the modest charm and suspense of the original, the characters and plot sound familiar, like Disney's 'High School Musical,' without the songs.
The It Gets Better Project will partner with musicians, artists, beauty and fitness experts, actors, gamers, and drag queens from around the world to present a three-day Pride extravaganza, with host Peppermint, Rebecca Black, Crystal Methyd & others.
If you loved Love, Simon, the 2018 movie based on Becky Albertalli's popular Y/A novel, then you will most likely feel the same affection for Love, Victor, the new Hulu series with Ana Ortiz as the mother of a gay teenager.
From protests to crime and conspiracy shows, reality is reflected in TV fiction. 'Law & Order,' 'Welcome to Chechnya' and even a vogue contest get a watchful eye.
Viewing 1 thru 12 of 426 Stories