After more than 200 years, the perpetually hip writing team of Mozart and Da Ponte still has a hit on their hands. "The Marriage of Figaro" opened at the War Memorial Opera House last week, and it's funnier and timelier than ever.
Viewing 1 thru 12 of 1955 Stories
Out There has famously thirsty ears, but here are three CDs that have lately quenched them.
Guest conductors, soloists, and the world premiere of a San Francisco Symphony Commission will keep the home fires burning.
Well-established Philharmonia Baroque Orchestra & Chorale (PBO) and youthfully ambitious Bard Music West (BMW) are ready to light some musical bonfires in October.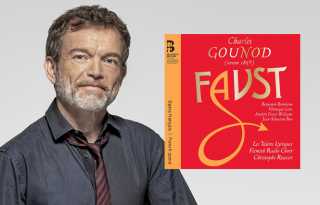 If San Francisco Opera's "Romeo and Juliette" left you with a sweet tooth for Gounod, a dessert buffet has just arrived.
One of the best things about the vinyl revival is that albums initially issued on CD only, during the mid-to-late 1990s and through the early part of the 2000s, are finally getting the chance to be heard in the beloved, "warm" classic format.
September concerts in Michael Tilson Thomas' 25th and final season as Music Director of the San Francisco Symphony are telling us what we may expect as he sets the seal on an historic legacy.
"Billy Budd," Herman Melville's unfinished allegory of innocence and guilt upon a British war ship, deeply examined by composer Benjamin Britten and librettists E.M. Forster and Eric Crozier, is the second offering in San Francisco Opera's fall line-up.
B-52s lead male vocalist Fred Schneider was kind enough to answer a few questions before the band embarked on a multi-city concert tour.
The 32-year-old Igor Levit, three of whose four commercial releases for Sony have included Beethoven, has just seen the release of "Beethoven: The Complete Sonatas," all 32 of them.
The San Francisco Opera's 97th season opened last week with a sturdy, often stirring performance of Gounod's elegant version of Shakespeare's "Romeo and Juliet."
With a booming announcer citing his achievements and the orchestra blaring the theme from "Masterpiece Theatre," San Francisco Symphony Music Director Michael Tilson Thomas made his final Opening Night walk to the podium at Davies Symphony Hall last week.
Security was unusually tight for the San Francisco Symphony season opening gala this year. We couldn't understand why we needed a "Press" wristband until we witnessed the concert's closing ovations.
Viewing 1 thru 12 of 1955 Stories