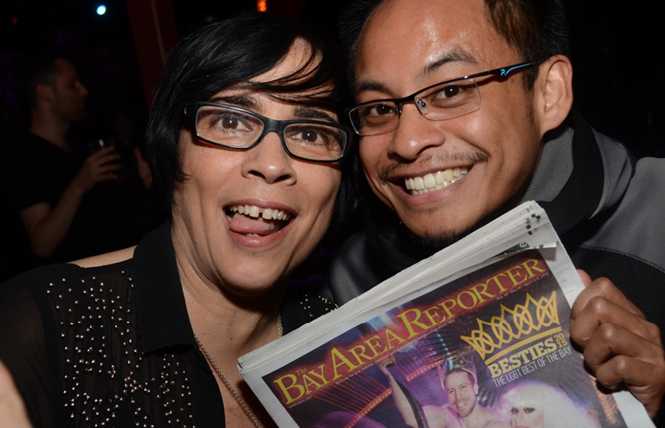 San Francisco is one of 11 US cities that is fortunate to have a legacy LGBT publication by us, for us, and about us. Help preserve the BAR as an historic and important community institution for the future.
Viewing 1 thru 12 of 1290 Stories
Terrence McNally, the playwright, librettist, and screenwriter who portrayed gayness to a mainstream theater audience, died March 24th at 81, becoming one of the first celebrities to succumb to COVID-19.
Joseph Caldwell's 'In the Shadow of the Bridge' is a heartfelt memoir about being gay in the New York City of the 1950s an '60s, as well as a remembrance of the peak years of the AIDS crisis.
Although born in Detroit, Elaine Stritch was essentially a New Yorker. She performed on TV, film, and cabaret, but Broadway was the venue for which she is best remembered by two generations of theatre cognoscenti. She triumphed in musicals and dramas.
The Lambda Literary Award finalists were announced last week, ahead of the awards presentation to take place on June 8 in NYC.
"The American People, Volume 2" ebbs, flows, and in true Kramer style, overflows in grand fashion as the arrival of the AIDS epidemic is laid at the feet of an unsuspecting gay community.
Two collections of prose poems began Out There's reading week: "Tracing the Unspoken" by Slovenian poet Milan Selj, and "The Blue Absolute," a new collection of prose poems by renowned Bay Area poet Aaron Shurin.
In anticipation of the change of seasons, here are some forthcoming books to add to your reading list.
Two misfortunes, one likely unforeseen, attend the publication of Peter Kispert's new short story collection "I Know You Know Who I Am" (Penguin).
Japanese manga artist Gengoroh Tagame is well-known for his intricate drawings of men tied up in various forms of Japanese-style bondage and rope play.
"An Apartment on Uranus: Chronicles of the Crossing," by Paul B. Preciado, was translated by Charlotte Mandell.
'INSIDE PRIDE', the official magazine of San Francisco Pride is now accepting space reservations.
Writing deeply informed reflections about classical music in language that engages the non-specialist, Stephen Hough's pieces are collected in "Rough Ideas: Reflections on Music and More" (FS&G).
Viewing 1 thru 12 of 1290 Stories