It was the poem that defined a generation. "Howl," Allen Ginsberg's defiantly gay manifesto, and other poems, will be released on audio by Omnivore Recordings on CD, LP, and in multiple streaming and download formats.
Viewing 1 thru 12 of 1383 Stories
Delany's latest creation is a racy, pungent illustrated novella of explicit gay erotica inspired by and dedicated to childhood friend Kenroy Thorsten "who started it all on the first night of summer camp in the boys' bunk-five tent in 1952."
Written by Mark Harris, the husband of gay playwright Tony Kushner, the new Mike Nichols biography profiles a prickly genius who was a virtuoso observer of others, yet a stranger to himself.
Another Women's History Month is winding down with lesbian, bisexual, queer and trans women largely left in the shadows, where they have spent most of history.
The legacy of Michael Callen is remembered in 'Love Don't Need a Reason: The Life and Music of Michael Callen,' a new biography by gay historian Matthew J. Jones, a riveting account of Callen's 38 year sojourn on Earth.
The Lambda Literary Foundation announced the finalists for its 2021 awards in multiple categories, making for a terrific to-read list of LGBTQ books. Nicknamed the Lammies, the finalists in 24 categories were chosen by 60 judges from 1,000 submissions.
In his impressive debut, Washington, D.C. writer Zak Salih chronicles the ongoing reunion of two gay men who were friends throughout childhood yet became estranged by the ebb and flow of adult life.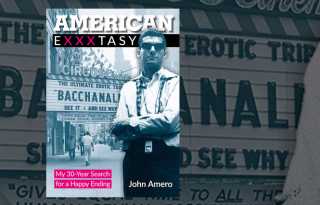 In his newly published memoir, 'American Exxxtasy: My 30-Year Search for a Happy Ending,' gay filmmaker Amero recalls those bygone days with wit, humor and heart.
Shortlisted for the 2020 Booker Prize, Brandon Taylor's 'Real Life' is a reimagined campus novel from a fresh perspective, a gay African-American graduate student.
With an entire literary festival, from readings to panels, all online, the 18th annual Saints & Sinners LGBTQ Literary Festival, usually held in New Orleans, returns with a robust roster on March 11-14.
Two photo books, one new, the other re-issued decades after first being published, show stark differences, and similarities, in the depiction of their subjects.
Now in her seventh decade as an entertainer, Olivia Newton-John has proven herself to be a versatile artist, including recent duet with her daughter, and a recently published memoir.
In Brontez Purnell's deliciously voyeuristic collection of salacious vignettes, we are drenched in the sights, smells, sounds, and hedonistic delights of orgasmic connection.
Viewing 1 thru 12 of 1383 Stories