Imagine having a conversation with your favorite living British actors. 'For One Knight Only' will include Dame Judi Dench, Sir Derek Jacobi, Sir Ian McKellen and Dame Maggie Smith host Sir Kenneth Branagh in a fundraiser for UK theater workers.
Shotgun Players, Berkeley Repertory and Marin Theatre Company each have new shows ready to be viewed safely online, with astute and timely political and social messages told through innovative ways.
The most unusual new theater season in ages is now officially underway at Bay Area companies. From live-streamed productions to audio adaptations, new and classic plays are finding online audiences.
Get some creepy clowns and ghoulish gals delivered to your door, or a ghoul-friend's, with the new Screaming Telegrams service.
Robin de Jesus, who plays Emory in both the recent stage and new film adaptations of Mart Crowley's groundbreaking play, discusses portraying a joyful "flamboyant, effeminate queen."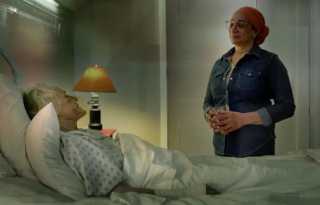 Seven pivotal scenes from the epic Tony and Pulitzer-winning two-part AIDS drama 'Angels in America' will stream online on October 8 as a benefit for amfAR's Fund to Fight Covid-19. Much more than a Zoom reading, look for some unusual changes.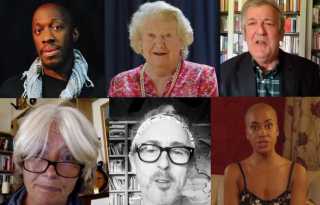 In an online fundraiser for two nonprofits, dozens of acclaimed actors and musicians perform intimate excerpts from the gay playwright/composer/author's plays, songs, poems and essays.
Matthew Simmons, known to many as his drag persona Peggy L'Eggs, died peacefully and unexpectedly on Tuesday, September 8 at his Oakland apartment. Friends and colleagues offered a stream of tributes and remembrances.
In her live-streaming queer Cuban comedy-drama 'Spanking Machine,' Marga Gomez shares the story of the first boy she ever kissed and how it made them both gay forever.
Howard, the new documentary on the life and career of gay lyricist Howard Ashman, encompasses the joy of creating now-classic musical animated features, and his tragic decline and death from AIDS.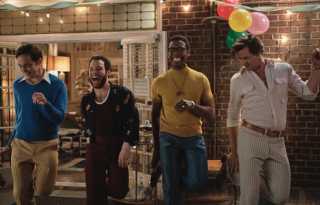 Ryan Murphy's film adaptation of the star-filled 2018 Broadway revival of Mart Crowley's historic play, The Boys in the Band, will be released online September 30.
New Conservatory Theatre Center announced the release of a new podcast, In Good Company, available for streaming and download starting August 26.