Like everything else, Kung Pao Kosher Comedy has been affected by the pandemic, but that isn't stopping Kung Pao founder Lisa Geduldig from putting on a show. For 28 years, Kung Pao Kosher Comedy has been a San Francisco tradition.
Holiday-themed music, choral and dance concerts continue, albeit in virtual formats, including San Francisco Ballet, San Francisco Symphony, Chanticleer, Kitka, Cal Performances, San Francisco Bach Choir, and more.
The San Francisco Gay Men's Chorus isn't letting the pandemic spoil their Christmas holiday. The chorus' annual Christmas Eve concert, '(At) Home for the Holidays,' will go on this year as a virtual event with guest-star performers.
In a blend of classical ballet, pointe work and contemporary styles, the new Oakland-based company Ballet22 will premiere new dances recorded at SF's ODC Theater, some with a modern holiday edge.
Katya Smirnoff-Skyy, our favorite local exiled Russian opera diva, takes to the online airwaves in a holiday-themed concert that'll make the Yuletide extra-gay.
The tinsel-strewn variety show has long been a staple of December entertainment. Taylor Mac revives his 'Holiday Sauce' at the Curran, and New Conservatory Theatre Center's 'Queer Variety' show should bring some holiday cheer.
Nah, humbug! Tune in to newly adapted radio versions of 'A Christmas Carol' produced by American Conservatory Theatre and San Francisco Mime Troupe.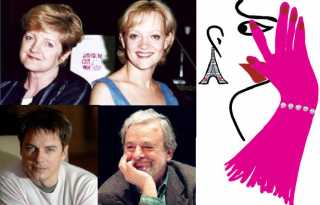 A 1997 recording of the full score of Stephen Sondheim and Arthur Laurent's cult favorite musical about corrupt politics, a miracle fountain and asylum inmates will be released on December 4, giving musical theater fans a new score to enjoy.
Imagine having a conversation with your favorite living British actors. 'For One Knight Only' will include Dame Judi Dench, Sir Derek Jacobi, Sir Ian McKellen and Dame Maggie Smith host Sir Kenneth Branagh in a fundraiser for UK theater workers.
Shotgun Players, Berkeley Repertory and Marin Theatre Company each have new shows ready to be viewed safely online, with astute and timely political and social messages told through innovative ways.
The most unusual new theater season in ages is now officially underway at Bay Area companies. From live-streamed productions to audio adaptations, new and classic plays are finding online audiences.
Get some creepy clowns and ghoulish gals delivered to your door, or a ghoul-friend's, with the new Screaming Telegrams service.