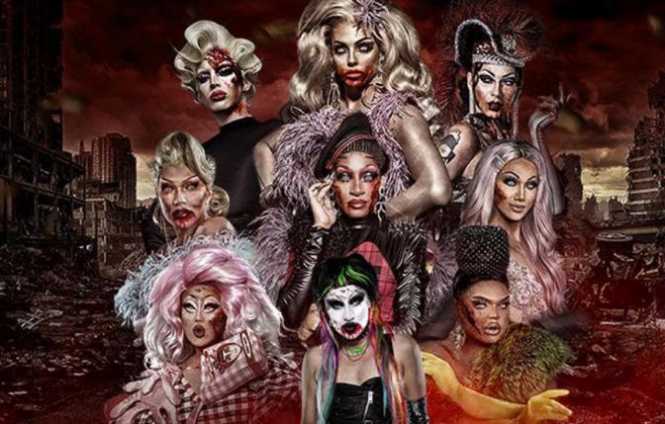 "Halloween costumes are absolutely a form of drag," says Rosé, who performs with seven other 'RuPaul'sDrag Race' vets in 'Night of the Living Drag,' a pumpkin month performance tour that makes its San Francisco stop at the Warfield Theater Oct. 25.
Viewing 1 thru 12 of 1942 Stories
Justin Huertas wrote the lyrics, composed the music and is one third of the cast in 'Lizard Boy,' his cheeky-but-sincere superhero sci-fi musical that cracks wise about everything from Grindr to Yoda.
After five years as Artistic Director of AXIS Dance Company, choreographer Marc Brew closes his tenure with a new disability-inclusive dance about finding home; all before he'll soon be moving to his own new home in the UK with his partner.
New art exhibits, big-time musicals, dragtastic club shows, and sonorous classical concerts await you all over the Bay Area.
'Dear San Francisco: A High Flying Love Story' officially opens a residential run at Club Fugazi on October 12, but previews audiences are already raving. Creator Gypsy Snider talks about the new acrobatic show.
Beginning September 23 until October 31 the San Francisco Mint will play host to 'The Immortal Reckoning,' a live, fully immersive haunted adventure that combines live theater with haunted mazes and special effects.
The entire Oasis nightclub becomes a stage when a new and innovative production of the 'The Rocky Horror Show' opens on October 7, with D'Arcy Drollinger as the 'sweet transvestite' mad scientist Frank N. Furter.
Circus Bella is now in the Bay Area offering the excitement of a circus in their new live shows taking place at various Bay Area parks. Two members of the company are out and proud members of the LGBTQ community.
After critical acclaim for the online version of her latest solo show, veteran comic and storyteller Marga Gomez returns to The Marsh to share tales of Catholic school days, kinky sex, and childhood bullying.
With a blend of the comic, erotic and intellectual, Baloney SF, the "all-male" burlesque review, finally returns to Oasis' stage for its seventh season.
While companies continued to postpone their season openers throughout the past month, at press time the productions below are impatiently waiting in the wings, ready for their entrances.
Broadway's return will be celebrated on August 29 with 'Wicked in Concert,' a musical event featuring the songs from one of the most successful musicals in Broadway history.
In addition to the disastrous earthquake (see this week's News edition of this series), 1989 was full of AIDS: protests, drug treatments, and the staged reading of a new play-in-progress about AIDS by Tony Kushner titled 'Angels in America.'
Viewing 1 thru 12 of 1942 Stories